By Parke Shall
Litigious CEOs, when their company's stock is crashing, are a red flag for us.
We don't do a lot of short selling but we are certainly skeptics. A lot of times, when we are positioned short a company, we generally have some type of option spread or a hedge in place. We are not traditional short-sellers in the sense that we don't go out and actually short a significant amount of shares. In a day and age were most equities have options, that is the easier way to do things.
But between the four of us we do have a fair amount of contacts who are still relatively well known names in the world of short selling. Among this group of individuals, certain red flags are widely held by the group as signs that a company is probably heading in the wrong direction.
Anytime you get a room of short-sellers together, they're likely to agree on several items. Short-sellers look for the same things; they look for management without credibility, they look for companies with too much leverage, they look for companies with unsustainable business models, and they look for companies that get litigious when they are questioned by short-sellers. If the stock is crashing while this happens, it's an (obvious) bigger red flag.
This leads us to one reason we are not long or short Concordia Healthcare (NASDAQ:CXRX). As you can see from the chart below, short sellers have already won the day. They've also won the month and the year.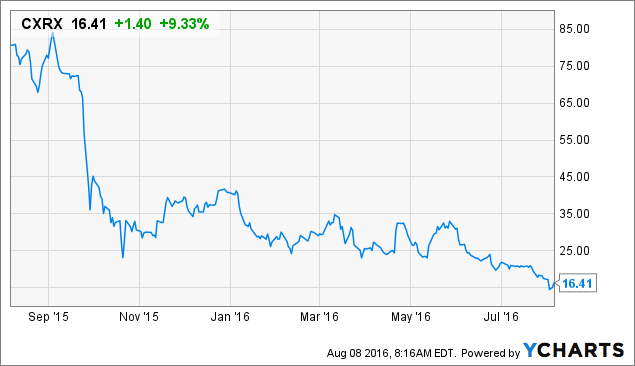 CXRX data by YCharts
Concordia has gotten slammed over the last year as a very similar company, Valeant (NYSE:VRX), has also fallen apart and lost over 90% of its value.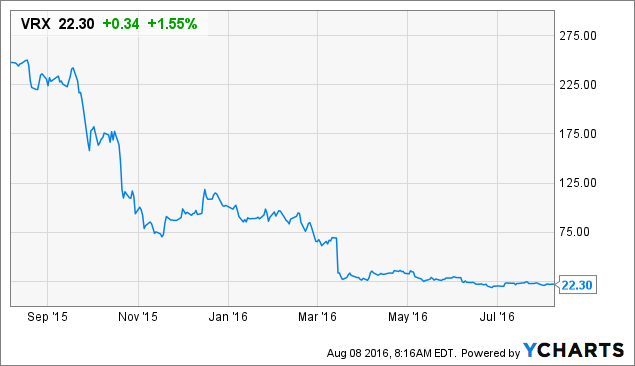 VRX data by YCharts
The companies were styled and grew in the same fashion, both acquisition prone healthcare roll ups, both taking on a lot of low interest debt and hoping that the sum of the future cash flows of these acquisitions would eventually be able to service and fully repaid the debt.
It sounds like a great idea on paper when interest rates are low, but as we saw with Valeant, it doesn't always go as planned.
Valeant had several outspoken critics in investors like John Hempton and Andrew Left. Ultimately their analysis was proven to be spot on as Valeant took a tremendous tumble. Concordia has also had its critic, Mark Cohodes, who has been outspoken in his views about the company both in media interviews and on his personal Twitter account. Cohodes has a long history as a short seller dating back to the days of overstock.com.
It is likely that Cohodes recognizes the same faults about Concordia that investors noticed about Valeant, just without Philidor. The company is a rollup, carries a lot of debt, and has questionable cash flows going forward. That's enough of a foundation to base a short case for almost any short seller.
But the most recent piece of news to come out of the saga is that Concordia's CEO is suing Cohodes for libel, based on comments Cohodes made during an on air television interview. Wall Street Journal reported,
The chief executive of a Canadian drugmaker is suing a noted short seller for libel after the investor criticized the CEO's tenure at another drug company, which earlier settled charges of accounting fraud.

On one side of the feud is Marc Cohodes, who worked at a short-selling hedge fund but now raises chickens in California and invests his own money, including shorting shares. Mr. Cohodes has been short the shares of Concordia International Corp. since last year. On the other side is Mark Thompson, CEO of Concordia, who was formerly a lawyer for another Canadian drug company that was a target of short sellers.

Mr. Thompson personally filed a lawsuit against Mr. Cohodes, a former portfolio manager at the now-defunct hedge fund Rocker Partners, in Ontario Superior Court of Justice last month, according to documents reviewed by the Journal. Mr. Thompson is seeking $4 million Canadian dollars (US$3 million) in damages for libel, according to those documents.

Mr. Thompson alleged in the complaint he has "suffered damage to his reputation and feelings" as a result of "false and defamatory statements" by Mr. Cohodes.

The lawsuit cites an April 29 television appearance by Mr. Cohodes on the Canadian financial news channel Business News Network as a libelous action. "The management of Concordia, their past gig was at something called Biovail, which I was short a long time ago [and] was a complete and utter fraud. So [Mr.] Thompson has a history of nonsense when he was at Biovail," Mr. Cohodes said at the time.
Concordia is a company that we wouldn't have any interest in investing in normally.
Given the litigious nature of the CEO, it makes us far less inclined to consider the company going forward. What any short seller will tell you is that you should let the performance of the business do the talking and that CEOs and top-level executives should welcome short-sellers, as they can not only point out critical flaws in your business model but also ensure that the market is getting a fair and objective view of both sides of the coin of any company.
Talk to any group of short sellers and they are going to tell you that a lawsuit for libel is enough of a red flag for them to either avoid going along or to further a case for going short. A lawsuit while the stock is crashing and management should be paying attention to the business is even worse.
To further CXRX's problems, analysts at Mackie disclosed this morning they were no longer covering the stock. It was reported on Twitter by BNN's Amber Kanwar,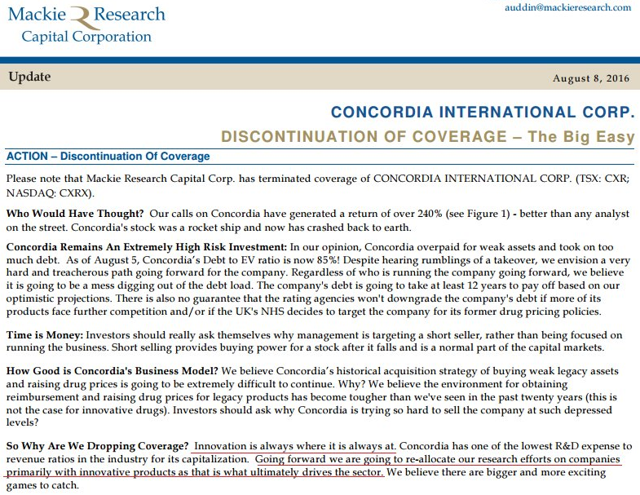 The lack of R&D that Mackie cites was the key problem pointed out with Valeant. It was raising prices and slashing R&D.
According to Yahoo, the $837M market cap Concordia carries $3.31 billion in debt. Numerically, not nearly as bad as Valeant's $30 billion plus. But at almost 10x EBITDA, it is certainly a disproportionate amount of leverage for such a small company. This risk has been rightfully pointed out by bears and shorts, and is a good enough reason to avoid the stock on its own.
We will look to see how the case plays out in court, but in the meantime we have no position in Concordia and are watching from the sidelines.
Disclosure: I/we have no positions in any stocks mentioned, and no plans to initiate any positions within the next 72 hours.
I wrote this article myself, and it expresses my own opinions. I am not receiving compensation for it (other than from Seeking Alpha). I have no business relationship with any company whose stock is mentioned in this article.