Rubicon Project (NYSE:RUBI) lost a third of its value after the second quarter report. The company reported Q2 EPS and revenues ahead of the analyst consensus, but the stock fell after the market realized that the Q3 revenue guidance and the FY revenue guidance are lower than expected. Management went into great detail about the headwinds the company is facing this year on the Q2 call and shared its plans to tackle them. I must admit that I underestimated management's caution after the Q1 report and attributed the lower-than-expected Q2 guidance to their usual conservatism. I am disappointed with the 2H 2016 revenue outlook but think that the market significantly overreacted and that Rubicon around $9 represents a solid long-term opportunity. The company reshaped itself several times over the last few years and eventually benefited from the rapidly changing digital advertising landscape by providing best-in-class rather than first-in-class solutions. This time should be no different. The desktop business is slowing down, but mobile and video should make up for the potential revenue and profit losses and should become the major top and bottom line contributors in 2017 and beyond.
The stock craters after the company provides poor Q3 and FY revenue guidance
As mentioned in the introduction, Rubicon lost a third of its value after the second quarter report. The company beat Q2 EPS and revenue estimates, but the stock cratered after the company provided weak Q3 and FY 2016 revenue guidance. Management provided a very detailed and reasonable overview of the problems the company is having in 2016 as well as the potential solutions:
The digital ad market experienced significant changes over the last few quarters. The macro slowdown in desktop managed revenue is worse than the company expected.
Desktop advertising spend on Rubicon's marketplace is additionally affected by the accelerated adoption of header bidding. The company thought header bidding had a short existence based on historical trends, which was a big mistake in hindsight, as the company lost market share to some smaller and less established players (though it did not lose any of its customers). As a result, the company saw leakage of impressions which led to a deceleration of managed revenue growth. Rubicon reacted swiftly and launched its own header bidding solution - FastLane in December 2015.
Management initially believed that a combination of rapid growth in mobile and the implementation of FastLane will be enough for a painless transition in 2016. In hindsight, this was a false assumption. The company has done an extensive strategic review in the second quarter which showed that desktop is not behaving as well as expected and that the above-mentioned adoption of header bidding was faster than anticipated by its competitors and customers.
As a result, Rubicon decided to try to accelerate the adoption of FastLane to ensure its desktop leadership position and to expand "more deeply" into mobile. The company said earlier this year that it expects to reach 100 FastLane installations by the end of Q2 and the actual result was 130. FastLane's growth is also accelerating month-over-month. At the start of 2016, header bidding was responsible for less than 1% of total ad spend in Rubicon's marketplace and it was 10% in Q2, 13% in June and on its way to reaching 20% of total ad spend by the end of the year.
Another shift is occurring on the buyer side that is negatively impacting Rubicon this year. Management noted that "buyers are now choosing to spend via self-service programmatic methods versus the managed service methods they deployed before… At the same time, they are seeking greater transparency in the ad market, at a time when there was increased competition from agency-owned technology." This shift has negatively affected the company's intent marketing opportunity and this will also be a drag on growth in 2H 2016. Rubicon will try to address this issue by developing new buyer capabilities in order to take advantage of the move towards guaranteed audiences.
Take rate should be lower in the following quarters. A product mix shift and lower, more competitive pricing are the culprits.
The lower revenue guidance is clearly a consequence of the headwinds in the desktop business and the company's miscalculation about the attractiveness of header bidding. This is a rapidly evolving market and Rubicon's plunge over the last few months reminds me of Facebook's troubles before it started monetizing mobile. Rubicon has successfully adapted to changing market conditions in the past. For example, static bidding was responsible for all of the company's managed revenues a few years ago. Static bidding accounted for 3% of total managed revenue in the second quarter, and the company plans to shut it down completely later this year, which will free up resources to support mobile, video and Orders initiatives.
Short and medium-term headwinds a long-term opportunity
The above-mentioned headwinds are probably a long-term growth opportunity. The company has adapted before and will try to adapt again. Rubicon has always focused on being best-in-class rather than first-in-class. The emerging threats, like ad-blockers, the product mix changes and the shift from desktop to mobile are reshaping the industry. Facebook and Google are consolidating the industry, and some are saying the digital ad market will be all about them, but I find that hard to believe. The digital ad space is much wider than the two large caps can cover.
And while desktop managed revenues will probably decline in the following quarters, the rapid growth in mobile and video should make up for the potential losses and then some. But the problem is they are coming off a lower base and are not enough for Rubicon to achieve its prior full-year revenue guidance. Ad budgets are gradually shifting from desktop to mobile and Rubicon's Q2 managed mobile revenues increased 68% Y/Y to $85 million and have grown 15% sequentially as well. The FastLane header bidding solution should also help with those efforts in 2H 2016.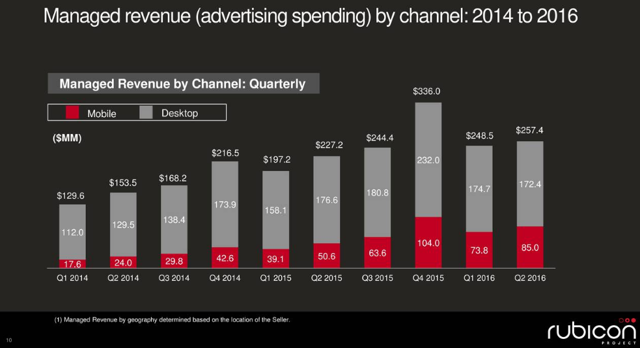 Source: Rubicon investor presentation
Rubicon has also barely scratched the surface in international markets, which represents another significant growth opportunity. The company has international scale that smaller competitors are lacking and the growth in video and mobile should really take off internationally in the following quarters.
Valuation very attractive for a secular growth company, but is Rubicon a growth trap, or a GARP trap
I must admit that I have underestimated management's caution after the Q1 report, but considering the lower FY revenue guidance, they have, too. This poses an important question: is Rubicon a growth trap or even a GARP (Growth At a Reasonable Price) trap?
The valuation looks very attractive right now. The stock is trading around $9 as of this writing, giving the company a market cap of around $450 million. Cash and equivalents at the end of Q2 were at $187 million and since the company has no debt, the enterprise value is just around $265 million, or roughly 1x expected 2016 revenues. Taking the FY EBITDA guidance at mid-point ($64 million), the forward 2016 EV/EBITDA ratio is just around 4. Companies with a secular growth profile rarely have such valuations. The question is, will the $270 million in revenues in 2017 become $200-250 million or $300+ million in 2017? The same goes for next year's EBITDA.
Given the growth trends in mobile and video, which are secular growth drivers and which should account for more than 50% of total revenues in 2017, I am leaning firmly towards the continued growth camp. If the company manages to beat Q3 expectations and execute in line with its current FY guidance, I think an EV/EBITDA ratio in an 8-12 range is realistic (11-12 if it executes ahead of expectations). This translates into a price target range of $14.50 to $19. I am lowering my base case price target from $27 to $16.50 and the bullish case PT from $32.50 to $19. The new base case price target is based on a forward 2016 EV/EBITDA ratio of 10, representing the middle of the expected valuation range.
And what could drive the valuation back to those levels? Growth acceleration in mobile and video and international growth. If Rubicon's managed revenues grow in line with the U.S. programmatic digital ad market's growth in 2016 and 2017 (the company actually boasts above-market growth rates and international growth should be actually higher, as it was in recent years), total managed revenues would rise to around $1.2 billion in 2016 and $1.33 billion in 2017. Assuming the average take rate in 2H 2016 is down from 25.45% to 22%, 2H 2016 revenues would be $151.5 million, and FY 2016 revenues would be around $281 million, which is above the company's guidance range of $260-$275 million. This means that the company will either have below average growth in 2H 2016 (which is possible) or that management has been overly conservative with the FY guidance (also possible). I would be satisfied if the company delivers FY revenues near the top end of the new guidance.
Based on the market growth rates for 2017 and a further decrease in take rates, 2017 revenues should be roughly flat. This is a pessimistic scenario since the company is growing faster than the digital ad market and since its mobile and video revenues are increasing from a smaller base (33% of total managed revenues came from mobile for Rubicon compared to 69% projected for the global programmatic ad market). I also think that mobile and video revenues could accelerate in 2017 and not decelerate as projected by emarketer, which is the basis for my bullish case.


Source: Rubicon, author's estimates, and calculations
Both the bearish and bullish case estimates for 2017 are significantly lower than the current Street consensus, but analysts have yet to change their models based on lower guidance.
It is also worth noting that Rubicon generated $17.4 million in free cash flow in Q2. The company generated $47 million in free cash flow over the last four quarters, implying a free cash flow yield of 10.5%. The steady free cash flow generation and the rising cash balance could be used for M&A, which could also help accelerate top line growth in 2017 and beyond. There are also other growth opportunities that are not even monetized yet. CEO Frank Addante said on the Q2 call (emphasis mine):
Our Orders platform has now demonstrated support for a wide range of non-traditional ad units, including digital billboards, elevator screens, in-mall displays and linear television. In the coming months, we will be announcing our first over-the-top television integration for digital television further proving the value that automation can deliver to literally every format of advertising globally. Orders is clearly a long-term play for our company, and with each passing month we are seeing it open bigger brands, new formats, and entirely new markets to our business.
I still believe that Rubicon is a secular growth story and that the current valuation is really attractive from a long-term perspective.
Not expecting a quick share price recovery, this is now a turnaround story
Given all the mentioned headwinds and uncertainty, I doubt we will see a fast share price recovery. The market probably needs to see a recovery in the fundamentals and make sure the company can deliver at least in line with the lowered guidance. Management was asked about share buybacks on the earnings call, but said they would rather invest in growth and M&A, so we cannot count on support there.
Most analysts have downgraded Rubicon from market outperform or buy to hold or market perform, with just one underperform rating:
Citi downgraded from buy to neutral and lowered its PT from $26 to $17. It's interesting to see a neutral rating with almost 100% upside to the firm's price target.
Needham from buy to hold.
Royal Bank of Canada from outperform to sector perform. PT down from $22 to $14.
Cantor Fitzgerald from buy to hold.
Raymond James from neutral to underperform.
Oppenheimer from outperform to market perform.
The stock could receive support around $9 or slightly lower.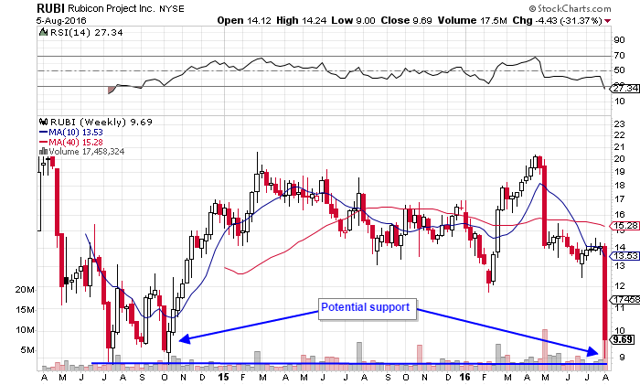 Source: Stockcharts.com
Conclusion
I am reiterating my view on Rubicon, but reducing the price target from $27 to $16.50. More than a third of the company's market cap is now in cash with the company being cash flow positive with a TTM free cash flow yield of around 10%. I do not see the fundamentals imploding, which is implied by the current valuation and think we will see a gradual recovery over the next few quarters. The company did not lose customers despite neglecting the header bidding solution and the growth in mobile and video should make up for the lower desktop revenues.
Disclosure: I am/we are long RUBI.
I wrote this article myself, and it expresses my own opinions. I am not receiving compensation for it (other than from Seeking Alpha). I have no business relationship with any company whose stock is mentioned in this article.
Additional disclosure: This article reflects the author's personal opinion and should not be regarded as a buy or sell recommendation or investment advice in any way.