The Kraft Heinz Company (NASDAQ:KHC) surprised the market yet again with its upbeat quarterly earnings results. The company's ongoing integration program is creating higher-than-expected cost savings, resulting in an impressive 20% EBITDA growth in second quarter 2016. The fact of the matter is that the third largest North American food and beverage company is making auspicious progress towards generating value for the shareholders.
The precise focus on accelerating profitable and sustainable growth enabled the company to beat the estimates, but second-quarter results also highlighted some weak spots of Kraft Heinz. For instance, Kraft Heinz witnessed a 4.7% decline in revenue due to continued poor sales performance within frozen meal, coffee and foodservice businesses. Nevertheless, the robust portfolio of well-established brands complemented by a renewed focus on big bets and growth potential in the domestic market will help Kraft Heinz develop much-needed top-line growth momentum.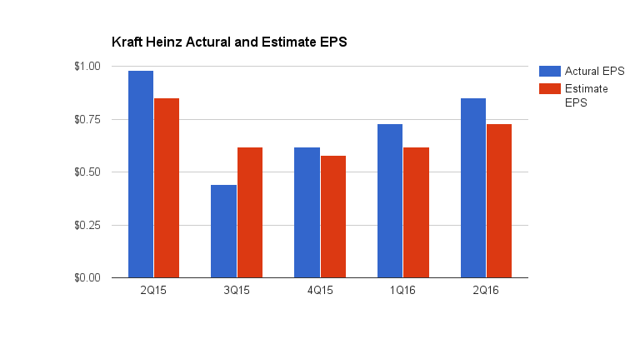 Source: markets.ft.com
Don't Panic Over Sales Drop
In the second quarter 2016, Kraft Heinz's sales in the U.S. declined 1.9% to $4.7 billion while Canada, Europe and Rest of World segments recorded a drop of 3.9%, 6.9% and 16.7%, respectively. The numbers look slightly disappointing at first glance, but this is not the case because negative sales growth is attributable to a 4% unfavorable impact of foreign exchange rates. The organic growth of 1.2% in Canada and 7.1% in Rest of World means investors should not panic as the long-term growth story is intact.
Another critical reason for lower-than-expected sales is lackluster volumes. Kraft Heinz hiked the average selling price by 1.6% while sales volumes across all the markets dropped by 2.1% during second quarter 2016. The pricing is not the only factor impacting volumes. In fact, fewer volumes are largely attributable to reduced shipments of low-margin brands. Despite tumbling volumes in the key markets, Kraft Heinz recorded an EBITDA growth of mid-twenties in the U.S. and Canada due to its solid pricing strategy.
The slower economic growth scenario and phasing out low-margin products in the U.S. may continue to hurt sales volumes for a while, but setting up in-store activity and building a portfolio of new products in desserts, cheese and frozen categories will positively impact volumes.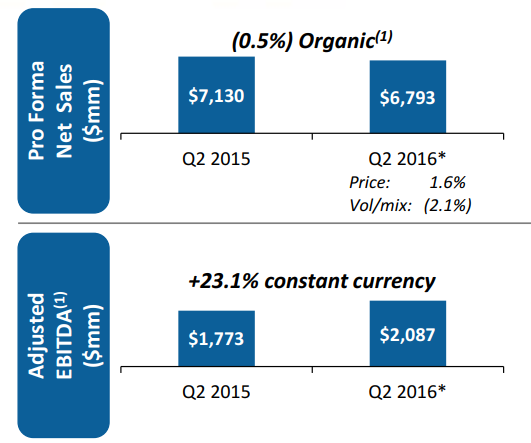 Source: Kraft Heinz Presentation
Can Kraft Heinz Build A New Pipeline?
Kraft Heinz is making all the right moves around its three primary objectives - profitable sales growth while maintaining best-in-class margins and the superior return of capital. The company has successfully administered the cost-cutting program, but the critical and most difficult objective to achieve is accelerating profitable sales growth in a very competitive environment.
While the food and beverage companies are suffering from ailing sales growth as consumers continue to move toward healthy food options, such as snack bars, meat snacks and Greek yogurt, Kraft Heinz is building a new pipeline of innovative products that can appeal to a broader audience. The success of new Lunchables and P3 shows that Kraft Heinz is addressing sales growth challenges.
Kraft Heinz has global footprints, but the company generates approximately 70% of total revenue from the U.S. where industry dynamics are comparatively favorable. According to Euromonitor, retail sales of sauces, dressings and condiments in the U.S. will grow at an average rate of 3% between now and 2020. Besides the healthy demand for brands like Heinz ketchup and yellow mustard sauce, the growing popularity of five new flavors of barbecue sauce have the potential to help the company gain market share.
Like sauces, dressings and condiments, Kraft Heinz dominates the U.S. cheese market with a market share of 27%. However, the intense competition in a slowly growing market is creating challenges for Kraft Heinz to maintain its dominant position, which is evident from 1% decline in market share last year.
Cheese sales are expected to grow at a CAGR of 2%, driven by only a 1% increase in volumes and pricing actions by 2020. The increasing demand for high-quality cheese with differentiated taste will bode well for Kraft Heinz, and a blend of premium brands and a smart marketing strategy will help the company gain market share. While the sales of existing cheese brands, such as Kraft Mac & Cheese Philadelphia Cream Cheese, are already growing at a high single digit, rolling out premium Cracker Barrel Mac & Cheese under its big bets umbrella will further increase the revenue stream.
Kraft Mayo is one the top brands in the spread category, but new kosher, gluten-free and non-GMO brands are quickly penetrating the market. The emerging competitor with an innovative product line is a new threat to Kraft Heinz in this category. Sabra Dipping Company, a joint venture between PepsiCo (NYSE:PEP) and Strauss Group, is rolling out Sabra Spreads with 75% fewer fats than the leading brands. The digital engagement activity and in-store promotions will help the brand gain quick attention. A couple of months ago, Kraft Heinz launched Heinz Seriously Good Mayonnaise, which has quickly gained share due to an aggressive marketing push. However, the company needs to introduce a whole bunch of unique flavors as consumers continue to explore new tastes.
Kraft Heinz's Capri Sun ready-to-drink organic beverage is doing well, but the growth potential seems limited as PepsiCo, Coca-Cola (NYSE:KO) and other beverage companies are aggressively flooding the market with healthy drinks. To benefit from robust demand for organic beverages, Kraft Heinz should buy a stake in a startup with a significant growth potential.
Just Stick With Kraft Heinz
Dynamics of the food industry have become more challenging over the past year primarily due to slowing economic growth in emerging and European markets, and the food and beverage companies are witnessing dull growth. Perhaps some investors are expecting the next acquisition move, but it seems unlikely that Kraft Heinz will announce a new deal anytime soon. Management has indicated it may take six to 12 months to achieve some significant milestones, including the ongoing integration process.
Bearish investors have questioned the management's ability to boost sales. Although Kraft Heinz will continue to face challenges in North America and Europe in the near to medium term due to intense competition and soft demand, the continued investments in innovation and marketing will accelerate long-term sales growth. Kraft Heinz is making the right moves, and the success of big bets is a clear evidence of the management's ability to boost sales.
So far in 2016, Kraft Heinz has outperformed most of its peers with a return total return of 24%. Despite an impressive price run, Kraft Heinz is trading at a forward price to earnings multiple of 23 times, slightly below the peer average of multiple of 24.3 times. The cost savings have boosted the second quarter adjusted earnings per share to $0.85 from $0.61 in the same quarter 2015, which translates into an impressive growth rate of 39%. This level of growth rate is not sustainable in the long run, but Kraft Heinz has still a lot of room for further cost reductions. Management expects $1.5 billion in cost savings next year, which will further increase the margins and bottom-line while big bets do the job in the long run. Thus, in my opinion, Kraft Heinz is an attractive stock to buy and hold for long-term capital gains and growing dividends.
Disclosure: I/we have no positions in any stocks mentioned, and no plans to initiate any positions within the next 72 hours.
I wrote this article myself, and it expresses my own opinions. I am not receiving compensation for it (other than from Seeking Alpha). I have no business relationship with any company whose stock is mentioned in this article.