Almost nine months have now passed since I added high yield BDC play Hercules Capital, Inc. (NYSE:HTGC), then known as Hercules Technology Growth Capital, to my $100,000 high yield income portfolio. You can read the kick-off article to this article series here (if you haven't already), and the investment thesis with respect to Hercules Capital here. And three months have passed since I said that mortgage investment company New Residential Investment Corp. (NYSE:NRZ) was 'My Top High Yield Income Pick For The Next 5 Years'.
I had a lot of reasons to buy Hercules Capital last year, among them were the following:
Positive interest rate sensitivity. The company just recently said that a 25 bps increase in the prime interest rate would lead to an increase in net investment income of ~$1.9 million, or $0.02/share.
High cash flow income.
A capable management team that knows how to execute on its business strategy.
A low valuation at the time.
The last reason was crucial for me because I was able to gobble up a couple of hundred shares (950 to be precise) at a weighted average purchase price of $11.33 a piece at the end of last year. My investment in Hercules Capital was set to deliver $1,178 per year in pre-tax dividend income since it came with a dividend yield of ~11 percent.
Fast forward nine months and Hercules Capital's dividend yield has compressed to ~9 percent, thanks, first and foremost, to an increasing share price.
Hercules Capital's shares have advanced ~15 percent in the last year, and ~21 percent since I bought at the end of November 2015.
Source: Hercules Capital
Hercules Capital really doesn't have to hide when it comes to performance comparisons since the BDC has performed spectacularly well when compared against its peer group: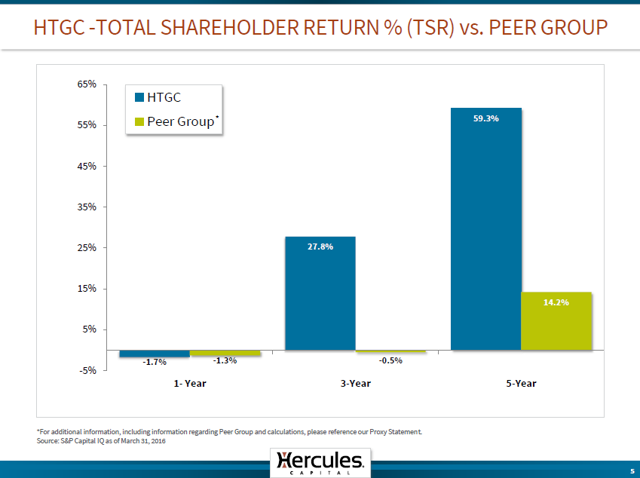 Source: Hercules Capital
Net Investment Income Could Surpass 2015 Levels
Hercules Capital said that it earned $23.4 million in net investment income in Q2-16. Net investment income for the first six months of 2016 hit $43.5 million, putting the company on track to surpass its 2015 net investment income of $73.5 million this year.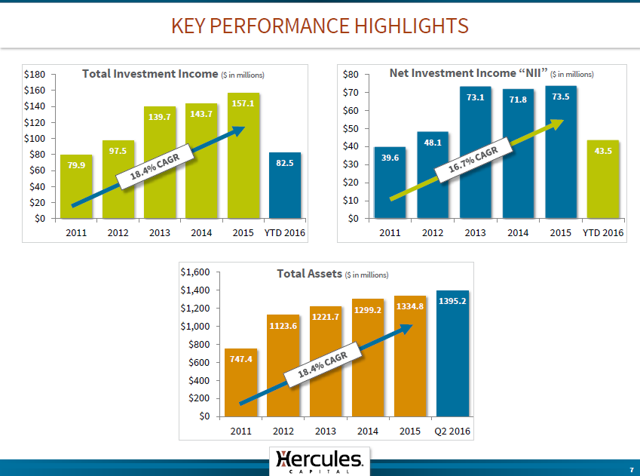 Source: Hercules Capital
Low Valuation On NII and DNOI basis
Though Hercules Capital has been a winner for most income investors that bought in the last year or so, the BDC is not too expensive yet, leaving room for growth.
Hercules Capital earned $0.32/share in NII, and $0.34/share in DNOI (distributable net operating income) in the last quarter.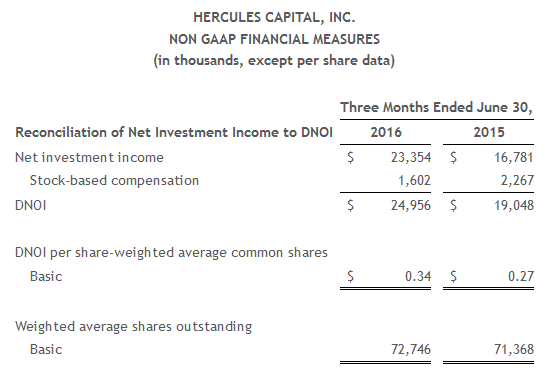 Source: Hercules Capital
As a result, Hercules Capital today sells for ~10.7x Q2-16 run-rate NII, or ~10.1x Q2-16 run-rate DNOI, which makes the business development company NOT overpriced considering that it retains significant upside from interest rate hikes and related NII tailwinds: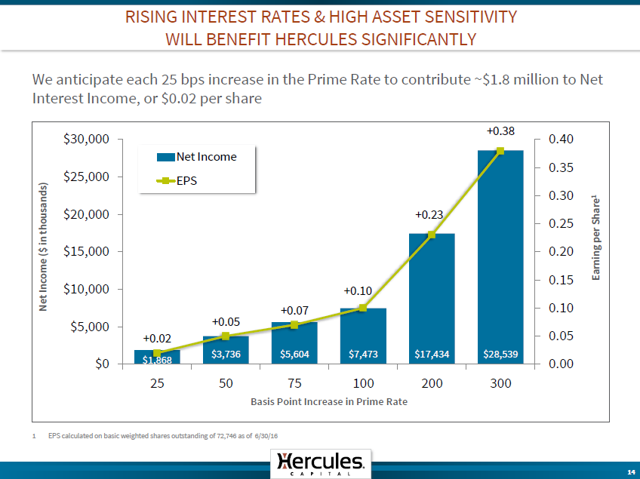 Source: Hercules Capital
Your Takeaway
I can't help but like Hercules Capital. Management is doing a good job growing investment value for shareholders. If I had to make the decision again whether to buy the business development company for long-term income generation, I would do so in a heartbeat. Though Hercules Capital's dividend yield has compressed to ~9 percent, positive asset sensitivity and NII upside related to higher interest rates are a big plus for income investors. Buy for income and capital appreciation.
If you like to read more of my articles, and like to be kept up to date with the companies I cover, I kindly ask you that you scroll to the top of this page and click 'follow'. I am largely investing in dividend paying stocks, but also venture out occasionally and cover special situations that offer appealing reward-to-risk ratios and have potential for significant capital appreciation. Above all, my immediate investment goal is to achieve financial independence.
Disclosure: I am/we are long HTGC, NRZ.
I wrote this article myself, and it expresses my own opinions. I am not receiving compensation for it (other than from Seeking Alpha). I have no business relationship with any company whose stock is mentioned in this article.