Overview
Ascent Solar (NASDAQ:ASTI) has long been a troubled company with a history of monumental dilution. As detailed in my prior article, the company has extremely poor fundamentals and experiences growing losses. From mediocre sales growth to negative gross margins (the company's 2015 cost of revenues was 44% higher than their total revenues), it is clear that the company's business model is deeply flawed.
I plan to address these points in more detail in future articles, but with Q2 reporting just around the corner, I plan on addressing the elephant in the room. This is the persistent and punitive dilution that Ascent Solar inflicts upon its shareholders.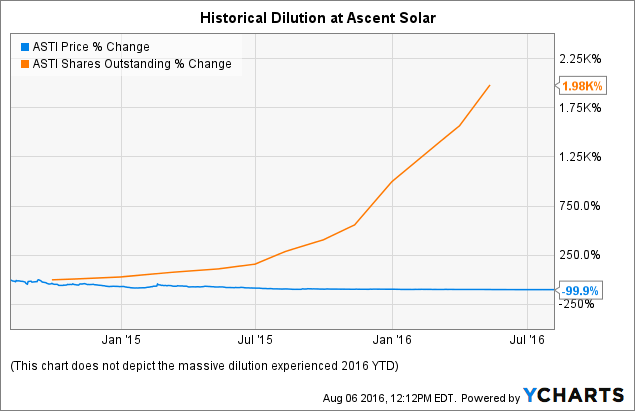 Dilution and Toxic Financing at Ascent Solar
In the past two years since the company decided to transition to producing consumer products, shares outstanding have increased by about 2,000% while the stock price has decreased 99.9%. The chart above stops at Q1 reporting in 2016, and excludes the immense dilution and share price declines that have taken place since then.
After the company implemented a 20-1 reverse split on June 1st 2016, the date of which is denoted with a red arrow in the share price chart below, the stock crashed over 60%. What many didn't notice was the ~44% increase in shares outstanding that took place in the two months between Q1 reporting and the reverse stock split, as shares outstanding quietly grew from 11.8M to ~17M.
From the reverse stock split on, June 1st through August 5th, the pace of dilution greatly accelerated.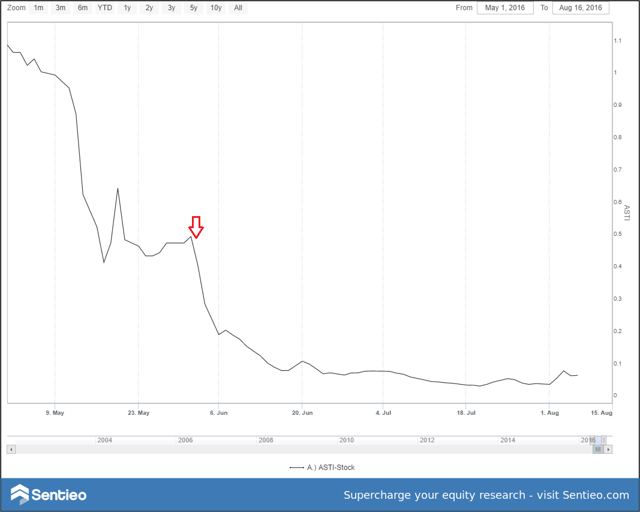 In the company's August 5th proxy statement, which looks to massively expand authorized shares from 450M to 2B, the document noted that there were 70.8M shares outstanding as of August 3rd. At first I didn't believe it, thinking they perhaps forgot to adjust for the reverse split and there must be some sort of mistake. Even for Ascent Solar, this initially seemed a little extreme to me.
After looking more closely, I discovered that the company has in fact grown shares outstanding by 316% in just about 10 weeks. It appears to me that a notable amount of this dilution (and resulting share price decline) may have come as a result of the firm's preferred stockholders converting to equity and selling their shares into the open market.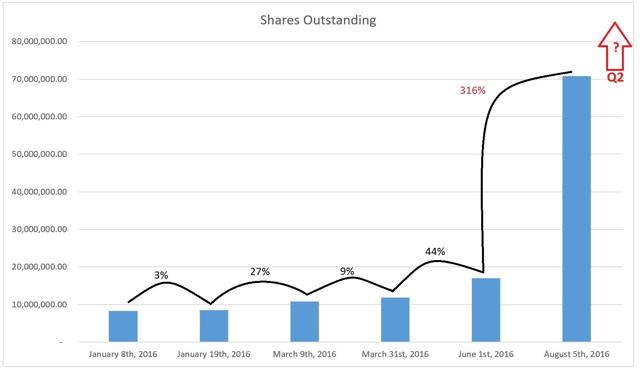 (Source: Company filings on EDGAR, Sentieo)
*Note that the percentages in the above chart represent the increase in shares outstanding since the prior date.
This becomes extremely apparent when one examines the company's Series E and F Convertible Preferred Stock offerings. The Series E Convertible Preferred stockholders have converted 60% of their shares into common stock in just about 4 months since issuance. The Series F Convertible Preferred stockholders have converted ~20% of their shares into common stock within about 50 days of issuance. Considering the historical performance of the company's common stock, I highly doubt that these institutions are holding the common stock for very long after converting.
As of August 4th, as stated in the company's most recent proxy statement, 189.6M shares are still issuable to Ascent Solar's preferred stockholders and secured noteholders (note that this is the company's own estimate and actual amounts may vary). This represents a potential 260%+ increase in shares outstanding once all are converted. At its core, I believe these deals are the very definition of toxic financing.
What is especially punitive to shareholders about this convertible preferred stock financing strategy is that certain series of the company's preferred shares can in certain circumstances convert to common stock at as low as 70% of the market price. This type of structure incentivizes the preferred stockholders to convert to common shares and immediately sell them in order to capture the large premium.
Another punitive attribute of the preferred stock I noticed was from the Series E Preferred Stock tranche. This tranche has a $1,000 par and was first issued November 4th, 2015. This tranch allows for the following: "At any time after March 31st, 2016, the Private Investor will have the option to redeem for cash all or any portion of the outstanding shares of the Series E Preferred Stock at a price per share equal to $1,250...". This essentially gives the preferred stockholder a large premium if they hold the stock for just ~5 months. I believe that the terms of these preferred stock offerings seem to be extremely generous to the preferred stockholders and that Ascent Solar should be able to get a better deal for its common shareholders.
Ascent Solar's extremely dilutive and highly toxic preferred stock financing strategy is extremely detrimental to shareholders, and shareholders should decline to expand the number of authorized shares until this issue is directly addressed by management.
Conclusion
Ascent Solar can be expected to report a 500%+ increase in split adjusted shares outstanding over Q1 2016 shares outstanding at its next quarterly report. I believe that this massive dilution will continue. Shareholders should vote against expanding the float to prevent further dilution to whatever extent they can. Shareholders should demand that the company alter its financing strategy as well, as the company's current convertible preferred stock strategy is very punitive to shareholders.
I believe that the extent to which shareholders have been diluted has severely damaged the stocks upside potential, even in the unlikely event that the firm is ultimately successful in implementing its growth strategy. The stock has declined 98% since my first report on the company and I don't think that trend will change anytime soon.
I highly recommend avoiding this stock and rate it a strong sell.
Disclaimer: This article is purely my opinion and should not be taken as investment advice of any kind. Investors are always reminded that before making any investment, you should do your own proper due diligence on any name directly or indirectly mentioned in this article. Investors should also consider seeking advice from a broker or financial adviser before making any investment decisions. Any material in this article should be considered general information, and not relied on as a formal investment recommendation. I am the founder of Endless Sun Solar LLC, a company that sells portable solar chargers.
If you enjoyed this article and want to read more like it, please scroll to the top of the page and click the follow button next to my author profile. This will provide you with updates when actionable articles such as this are posted.
Disclosure: I/we have no positions in any stocks mentioned, and no plans to initiate any positions within the next 72 hours.
I wrote this article myself, and it expresses my own opinions. I am not receiving compensation for it (other than from Seeking Alpha). I have no business relationship with any company whose stock is mentioned in this article.
Additional disclosure: I have no position in Ascent Solar and have no plans to ever initiate a position.
Editor's Note: This article covers one or more stocks trading at less than $1 per share and/or with less than a $100 million market cap. Please be aware of the risks associated with these stocks.