In order to keep your wealth from being an illusion, you must possess the ability to adjust your portfolio as the economic and investment climates change. Buy-and- hold strategies can work with some assets, but should not be the way forward for all your holdings. Applying the common sense of the book Illusions of Wealth can grant you control of your future and your wealth.
First, it is important to have a foundational understanding of our monetary, economic, banking, and Federal Reserve systems. That is the basis on which you build your portfolio, and this book is designed to make it easy to comprehend, as technical as it may seem. You're driving blind in the investment world without this knowledge.
From there it's a matter of choosing the right advisor by asking the right questions-which you will find in this book. Or, you can acquire the confidence to manage your investments yourself, using the insights provided here. Many will skip over the foundational sections and go straight to the Investment section. I understand this desire to "tell me what to do" and you'll find this section thorough in helping you maintain your wealth and profit moving forward.
What are the economic conditions on the horizon that can affect your wealth? Why do you invest the way you do? Is it because someone told you to invest that way? Who do you trust for investment advice, and why? Are they any good? How much do they make from their recommendations to you? Did they protect your portfolio during the last financial crisis? Is another financial crisis around the corner? How have you structured your portfolio differently to protect your wealth if we were to experience another economic downturn?
Inadequate education failed to teach us how to invest, so we relinquish control to advisors who may or may not have our best interests at heart. This book is written to bring you the awareness, confidence and insight necessary to conquer the future panics, crashes, and crises that will inevitably arise, and teach you how to profit whether the market is rising or falling. But most importantly, it is written to stand the test of time for generations to come, fulfilling the void left by our educational system.
You can view the Table of Contents of my new book Illusions of Wealth here. I think you'll find it pretty thorough as I utilize my 30+ years in the investment business as the basis for my writing, which includes philosophies on trading ETFs that help investors learn how to profit in up or down markets.
What are Exchange Traded Funds (ETFs)
ETFs have become one of the most popular ways to invest because they are similar to index funds as they have low fees. But not all ETFs are built the same, and not all have the liquidity you would want in an investment. Many ETFs actually deteriorate over time, so be careful in choosing ETFs for long-term holds. They do, however, work great for day trading and swing trading, especially the leveraged ETFs that can give you 2 to 3 times the normal return.
ETF: Security that tracks an underlying asset, like commodities, indices (including country-specific indices) or bonds.
Typically when you buy an ETF, you get to invest in either the bullish side of the underlying asset or the bearish side, similar to the inverse funds we just discussed. For either investment, you want the value of the ETF to move higher. Unlike shorting a stock and hoping the value falls, when investing in an inverse ETF, you will see it move higher as the underlying assets go lower in price.
All in all, ETFs provide a good way to diversify and manage your own portfolio at a low cost. Also, buying an inverse ETF when the market is tanking is a simple, inexpensive and potentially profitable way to hedge your long portfolio.
But buying an ETF is not the same as buying the physical asset. For example, when you purchase the iShares Silver Trust ETF (NYSEARCA:SLV), you are not buying actual silver that you can take delivery of. You are buying a paper proxy, or shares that say you have ownership of the silver. The custodian of SLV is the only one who can redeem shares to authorized dealers, and the silver you think you own is not even insured. Also, anything run by banks as custodians-in SLV's case, JPMorgan Chase-I suggest a little caution when buying. Banks are known to take advantage of their moral hazard privileges and take shortcuts to profit knowing they have either FDIC or government backing should they get in trouble. Just Google the words "JPMorgan Chase" and "Lawsuit" to see what I mean.
Rules for Trading ETFs
The first rule for buying ETFs is to make sure there is plenty of liquidity. Typically you want the average volume to be 1 million shares or greater. It's ok to trade smaller volume ETFs but just know that if you were to keep a position overnight while swing trading it, which is typically a few day trade, and some news comes out the pre and post market may not have the volume you want to exit the trade at a competitive price.
It's easy to get caught in these ETFs and see that they are hitting 52 week lows and speculate the bottom is in because the price is so low, only to have the ETF do a reverse split. Most stocks split when they have been doing well and the price is going higher and higher. The split causes the stock to lower the price and make it more affordable to investors. The reverse split is the opposite. Since these ETFs can't go to zero, they simply exchange 1 share at say $2 and make it $20 by doing a 1:10 reverse split. Your investment amount in the ETF hasn't changed, just the amount of shares you own. If you had 1000 shares before at $2 a share or $2,000 with a 1:10 reverse split you would have 100 shares of a $20 ETF worth $2,000, The reverse split is typically a sign of weakness which means the opposite of that ETF is probably doing quite well (the trend) and what you should be trading long.
For leveraged ETFs there is time decay and sometimes contagion to worry about and you need to keep the trades for shorter time frames. Leveraged ETFs also have extreme volatility and are not for new or even for some seasoned traders. It does make sense to paper trade these and get used to them before doing any actually investing with your own money. Also for leveraged ETFs you don't want to double down on your losses. Most of the time this is investment suicide and you will lose most of your money if you do.
Leveraged ETFs
Because of the way these trading vehicles are created, they do not represent the complete opposite of each other in all cases. In fact, over time, both ETFs can possibly lose you money, like the Direxion Daily Junior Gold Miners Index Bull 3x Shares ETF (NYSEARCA:JNUG) and the Direxion Daily Junior Gold Miners Index Bear 3x Shares ETF (NYSEARCA:JDST) seen in the graphic below which shows results for the latter part of 2015. The tool to do this type of comparison can be found on the NASDAQ website.
shows a loss of 79.73% and the opposite ETF you would think should be up by that percentage, but JDST was actually down 79.07% for the same timeframe. This is why for leveraged ETFs and because of the deterioration over time I only recommend you day or swing trade these for a short period of time moving stops up locking in profit.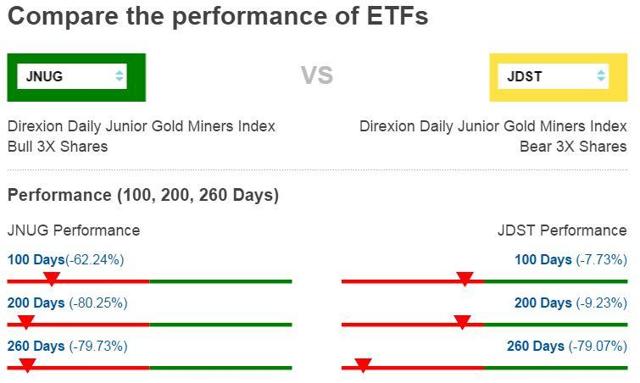 Sometimes these ETFs can turn into real winners, like JNUG has for 2016. For the last 260 days, JNUG today is trading at $310.53 and is up 664%, one of the best performers. But in November of 2014 it was trading at today's equivalent of $2,400 price, a far cry from where it is today.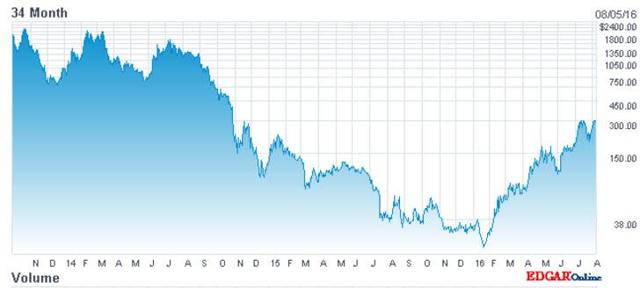 Keeping Stops, the Number One Rule for Trading ETFs
This leads us to the fact the market is never wrong, only the trader and if you are on the wrong side of a leveraged ETF it can cause you some real pain.
I can't stress enough the importance of keeping stops and this is most important with leveraged ETFs. You may think you are right but any good trader realizes that price action trumps your opinion and before you make one trade in leveraged ETFs you have to already have in place a mental or physical stop at a price that protects your principal.
I can't tell you how many times I've had investors tell me they bought a certain ETF and are down a very large percentage and instead of selling and buying an investment moving higher with the trend, they hold or hope with a few prayers that their ETF will turnaround and move higher. If you want to look at the worst of these types of "someday it will go higher" but never does, look no further than the ProShares Ultra VIX Short-Term Futures ETF (NYSEARCA:UVXY). It has to have one of the worst charts on planet earth.

But for certain time-frames, the UVXY can get you a 10% or more very quickly. We might be close to one of those time-frames presently with UVXY trading at 21.21 and a possible move higher in the near future.

As lousy of a trade the UVXY is, I have put it on the one to watch list for a potential trade setup. It has not triggered as a long yet on the weekly but aggressive traders can enter under 20 with a stop at 19. You risk one point for a potential 10% to 30% or more return should volatility pick up which I believe it will.
What you are fighting though is the major trend we have had for quite some time as you can see with all of the U.S. Index ETFs we track in the following chart showing a monthly green signal. However, I expect the weekly signal to turn from green to red soon and it would signal a time to get out of these ETFs. We track these daily with our ETF Leveraged Trading Service.

There is plenty of money to be made in the markets and trading ETFs can be a lucrative way to do so. It starts with the basics and from there it takes adherence to a few good trading rules with the most important being keeping a stop when wrong. The rest is picking the right entry and simply taking profit, moving your stops higher as the price moves higher.
Disclosure: I/we have no positions in any stocks mentioned, but may initiate a long position in UVXY over the next 72 hours.
I wrote this article myself, and it expresses my own opinions. I am not receiving compensation for it (other than from Seeking Alpha). I have no business relationship with any company whose stock is mentioned in this article.
Additional disclosure: Catching an early trend on UVXY is not the easiest trade to profit from. The ETF itself declines in value over time and is not meant as a long term investment. It is for scaping or short swing trading purposes only.