"See when it starts to fall apart, man, it really falls apart" -- Tragically Hip, "Boots or Hearts"
Note: All dollar figures are in Canadian currency.
I suspect a lot of oil service firms were singing this tune in the last few years. From a North American high of around 1600 rigs in mid 2014 to about 500 today, the plunge in activity has been deadly.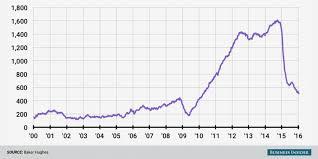 Dividends have evaporated, bankruptcies have ballooned, layoff notices by the thousands have been sent out as drillers struggle to survive. The familiar adage "buy when there's blood in the streets" comes to mind. The only caveat, of course, is whether the hemorrhaging is fatal.
Ensign Energy's (OTCPK:ESVIF) share price has dropped over 40% from it's high in 2015. Revenue from 2014 year-end compared to 2015 has dropped over $900 mil., also 40%. Day rates are way down as drillers compete for the scraps. Rigs sit idle. Over 40,000 jobs in Canada's oil service sector have been torched. Cash flow for the industry has collapsed by about 75% from 2014 levels. Capital investment is down over 60% in the oil patch in the last two years. It's a real mess, folks. So why would anyone want to invest in a stock that's been seriously kicked around?
Ensign Bio
Incorporated in Alberta in 1987, the company started with six rigs. They listed on the Toronto exchange in 1993. Through acquisitions and in-house investment, the firm now has over 400 rigs in the stable, ranking as the second largest driller in Canada behind Precision Drilling (NYSE:PDS). It operates primarily in Canada and the U.S. but also in Australia, New Zealand, South America and Africa. The chairman is a fellow named Murray Edwards. A lawyer who came to Calgary in the 80's, he started Ensign and another little company called Canadian Natural Resources (NYSE:CNQ). He's also chairman of Magellan Aerospace, a $1 bil airplane parts shop, and part owner of the Calgary Flames. He also founded Penn West Petroleum (PWE) but cut his ties in 2005. Talk about good timing!
By all accounts Mr. Edwards is a pretty smart guy, and pretty wealthy. He ranked 30th in 2015 in terms of Canada's richest folks. Having this person as chairman at Ensign should give any investor a comfy feeling.
Show Me the Money (There's Some Left, Right?)
In its latest quarterly report ended March 31, 2016, Ensign displayed the damage done by sub-$40 oil. Revenue was down 42% from Q1 2015, adjusted EBITDA dropped 47% and funds from operation plunged 50%. The share price has declined 38% over the last year although, at its low on March 1 of this year, it sank 58% from July 2015. A faint glimmer of hope has emerged as the price of oil rebounded from a February low of around $27 to the mid-$40's today. Some risk-tolerant investors have made a 50% gain in four months, a perfect "blood in the streets" move. While the Armageddon crowd was selling, what did the buyers see that prompted them to open their wallets? The table below contains some of the evidence that the funeral march was a bit premature:
Financial Snapshot
| | | | |
| --- | --- | --- | --- |
| Item | Mar 31, 16 | TTM* | |
| Revenue | $258 mil | $1.2 bil | 29% GM**, $7.87/share |
| Cash from ops | $65 mil | $320 mil | $2.10/share (NYSE:TTM) |
| Working capital | $3.6 mil | | |
| Total Debt | $716.9 mil | | |
| Tangible equity | $1.96 bil | | $12.84/share |
| Debt/equity | 36.6% | | |
| Shares outstanding | 152.4 mil | | |
| Quarterly Dividend | .48 | Yield=6.66% | As at Aug 5, 16 |
| ********** | ***** | ********* | ************** |
| Long-term debt | | Maturity | |
| Global facility | $328.8 mil | N/A | $277.8 mil undrawn |
| Sr. Unsecured Notes A | $129.7 mil | Feb 22, 2017 | |
| B | $129.7 mil | Feb 22, 2019 | |
| C | $129.7 mil | Feb 22, 2022 | |
| ********** | ***** | ********** | ************** |
| Sales by region | Canada | U.S. | International |
| Qtr. ended 3/31/16 | $75.6 mil | $100 mil | $82.8 mil |
| | 29.3% | 38.7% | 32% |
*Trailing 12 months **Gross margin
Source: Ensign's Q1 2016 report
The data in the above table presents a picture of a well-managed company that has weathered the oil storm and, when the tide turns, promises to reward patient shareholders. Here are some points that make Ensign an appealing bottom-of-the-cycle bet:
Price to sales ratio less than 1 over the last 12 months
Price to cash flow of 3.42
Price to book value of .56
Manageable debt load
Yield of +6%
Diversified operations, mostly in stable regions
You know the old joke: "Cheer up. Things could be worse. I cheered up and, sure enough, things got worse." This is a possibility for drillers including Ensign. But the company has shown it can manage adversity. It's a survivor. Although working capital looks abysmal, it is the result of reclassification of the $129 mil Senior note due on Feb. 22, 2017, as a current liability. Re-financing this will not be a problem. Indeed, as Ensign states: "The company expects funds generated by operations, combined with current and future credit facilities, to fully support current operating and capital requirements."
Ensign will report its second quarter results on Tuesday, Aug. 9 before the markets open. If you own ESI go for a walk or read the newspaper. This is traditionally a weak quarter anyway and "weak" may be too polite. The generous dividend may shrink but not be eliminated. Guidance will probably be "we think we're at the bottom and anticipate an upturn at some point". In other words they're just as much in the dark as the rest of us.
Technicals, Insiders and Analysts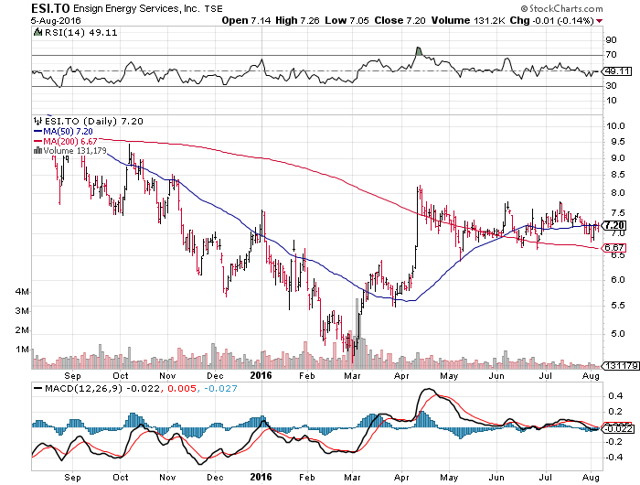 As you can see, anyone who bought the stock a year ago at $10 is only down about 30%. Those who thought in March that $4.72 was ridiculous are pretty happy. The stock has settled into a range between $6.50 and $7.75. An encouraging sign is that the 50 day moving average is above the 200 day. Support is around $6.50 and resistance around $7.25-7.50. Chaikin Money Flow is mildly positive at .064 (a strong reading would be .20 or higher). The overall rating from a technical standpoint is neutral.
So what do the folks in the C-suite think? Not much, apparently. The last insider buy of any note was April 20, with a purchase of 85,000 shares at, coincidentally, around today's mark ($7.43 to be exact). Maybe they have enough stock already or they just think that now is not the time to buy anything.
As for the herd (otherwise known as analysts) the consensus rating of 12 followers is hold. Earnings revisions are moving in the right direction if you consider losing less money an improvement. The estimate for the current quarter ended June 30 is a loss of $.19, $.05 better than 30 days ago. For the year the loss is predicted to be $.67, a $.23 improvement from 30 days prior. Looking further out the crystal ball crowd sees $.52 in the red for 2017. They never miss by more than 100%! (estimates and ratings from Yahoo Finance).
It's a Wrap
Rig utilization and day rates are expected to rise over the balance of the year according to Citigroup. With oil prices in the $40-$50 range a few more holes will be drilled but it won't be "party on." Look for a slow turnaround into 2017 and, possibly, a more dramatic pickup in drilling if oil tops $60. Ensign is one driller that has shown its staying power during the worst downturn in years for oil service firms. Buy the stock for income and the capital gain will come. Even if the dividend is cut in half the yield will still be over 3%, which is a decent return in today's zero interest rate scene.
Disclosure: I am/we are long ESVIF.
I wrote this article myself, and it expresses my own opinions. I am not receiving compensation for it (other than from Seeking Alpha). I have no business relationship with any company whose stock is mentioned in this article.
Editor's Note: This article discusses one or more securities that do not trade on a major U.S. exchange. Please be aware of the risks associated with these stocks.