The restaurant industry has been an incredibly tricky part of the market over the last 12 months. During this time, the restaurant ETF (NASDAQ:BITE) has risen just 2% - after spending the majority of the time deep in negative territory - compared to the 5.66% gain of the S&P 500 (NYSEARCA:SPY). With the normally reliable Chipotle (NYSE:CMG) and Buffalo Wild Wings (BWLD) having a difficult time, stock picking has been the key, in our opinion.
One stock in the restaurant industry that hasn't let us down is Jack In The Box (NASDAQ:JACK), which we invested in back on March 18. Since then, it has rocketed higher by over 49%, whereas the restaurant industry as a whole has been largely flat, as shown below. Thankfully, this has more than offset the 10% decline in Chipotle share price since we invested in that struggler. We're still confident in a turnaround at Chipotle, but that's a topic for another day. What's next for Jack In The Box's share price?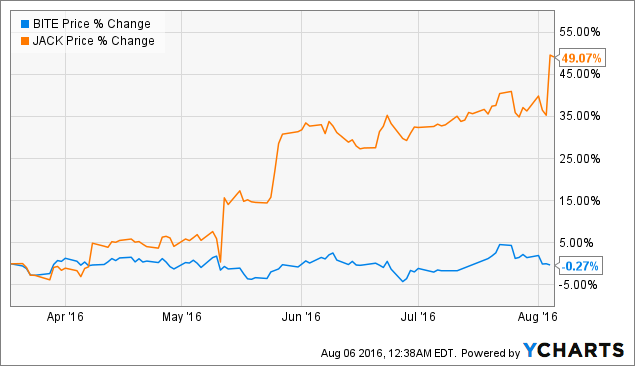 We were pleased with the company's performance in the fiscal third quarter. Not only did it smash earnings per share estimates by 20 cents, it raised full-year guidance from $3.50-3.63 to $3.6-3.75 per share. This is a big increase on the $3.00 per share it delivered in fiscal 2015. These figures exclude restructuring and refranchising charges.
For us, one of the big draws to Jack In The Box was its plans to take the breakfast fight to McDonald's (NYSE:MCD). When McDonald's launched its All-Day Breakfast, it was so well received by customers that companies like Jack In The Box lost a lot of ground. The good news: Since launching its own value-orientated promotions, things have improved vastly, and Jack In The Box doesn't see any weakness related to McDonald's All-Day Breakfast in any time slot except for 10:30 a.m. to noon.
In our opinion, this is a tricky time slot McDonald's really has captured, dominates, and won't give up easily. But Jack In The Box isn't going to let that stop it from regaining its share. Management plans to tackle this time slot in FY 2017, and we have a feeling they're going to succeed in winning back share. We have a lot of confidence in management's ability to create winning value promotions, as proven by the turnaround in the second and third fiscal quarters, and expect them to deliver on this next year.
This will no doubt be a slight boost to earnings in itself, but we think there will be further boosts elsewhere. First, on the earnings call, management revealed a strong rise in customer satisfaction. When customers are happy, it generally translates into stronger levels of customer loyalty, recommendations, and, of course, repeat visits.
Over at its Qdoba restaurants, there are store remodels underway. This is a very necessary move, in our opinion. There's an awful lot of competition out there with pleasant and inviting restaurants. Management's plan to turn Qdoba restaurants into "places to be" should resonate well with consumers. In addition to this, plans for a new app and a redesign of the company's affinity program should help build on its recent strong performance.
Like all restaurant brands, the company will be hit by rises in minimum wages over the next few years. A lot has been made of this, but we aren't overly concerned, to be quite honest. Everybody is in the same boat, and will either take a hit to margins or pass these costs on to customers. Management advised on the call that in California, where price increases are likely to be higher, the business has so far been booming regardless of increases. This is a great sign, in our opinion, and gives us the belief that things will be very much the same across the whole of the United States.
Overall, we are very happy with the direction the company is taking, and believe it has a bright future ahead of it. But the share price could be a different story, unfortunately. We think Jack In The Box is in a strong position to hit the top of its guidance and deliver earnings per share of $3.75. But as we have said many times before, we feel comfortable valuing the company at 25 times earnings - just a touch ahead of its peers, as shown below.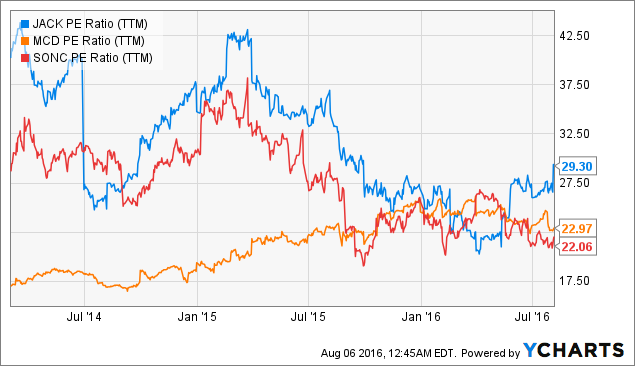 But the recent rally in its share price has taken it beyond what we would deem to be fair value right now, and as such we would classify the shares as a Hold. Our price target, based on full-year earnings per share of $3.75 and a price-to-earnings ratio of 25, is $93.75. With the share price currently at $96.69, we see little reason to recommend buying in at the current price.
But we're not selling, either. We expect the company to deliver solid earnings growth next year at or around the 15% mark. This will be the result of organic growth, price increases, and winning a greater share of the 10:30 to noon time slot. In light of this, our forecast for FY 2017 is for earnings per share of around $4.31. Once again, based on 25 times earnings, we have a price target of $107.75, which equates to a return in the region of 11.4%.
In our opinion, this makes it worthwhile to hold on to the shares. Buying in at the current price after such a strong rally may not be the best thing to do. Instead, we recommend waiting for a profit-taking pullback.
Disclosure: I am/we are long JACK, CMG, BWLD.
I wrote this article myself, and it expresses my own opinions. I am not receiving compensation for it (other than from Seeking Alpha). I have no business relationship with any company whose stock is mentioned in this article.