BlackBerry's (NASDAQ:BBRY) hardware strategy is all over the place. After the failed attempt to compete in the high-end smartphone market with the $699 Priv, the Canadian mobile company is taking a stark U-turn with the newly announced DTEK50, a $299 all-touch Android handset for "price-conscious consumers and businesses." I find this to be a surprising development since CEO John Chen has repeatedly stated his intention to compete based on value in higher-margin segments, not on price. My expectations were therefore for a more expensive device positioned higher in the mid-tier ($399). I suspect that Apple's (NASDAQ:AAPL) successful $399 iPhone SE eventually played a role in the company's decision to go further downmarket. But that just highlights BlackBerry's ongoing hardware problems - the company is not in the driving seat when it comes to its own hardware strategy and instead passively reacts as it is continuously squeezed off the market by competitors that deliver more customer value.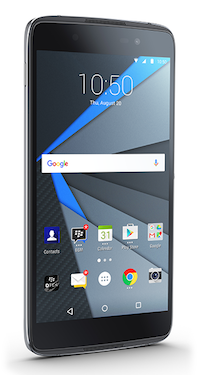 BlackBerry's marketing of the DTEK50 suggests that the company has given up on its efforts to sell a smartphone with an appeal extending to the consumer market. With its highly technical name and market positioning as "the world's most secure Android smartphone," DTEK50 clearly targets decision makers in IT departments in government and regulated industries. While all of this sounds good on paper (BlackBerry aligns its core competence in security with its traditional enterprise audience), there are several considerable problems with such a strategy and the product's marketing mix.
Enterprise smartphone. First, I don't think that such a thing as the enterprise handset is still relevant. As the smartphone has become the most important device in our lives, it needs to be able to help us with all of our daily tasks, no matter if they are personal or work-related. Or personal data deserve the same amount of protection as enterprise data, and at the same time, we want innovative and easy-to-use features that would help us accomplish our work tasks. Companies such as Apple and Samsung (OTC:SSNLF) understand this and therefore dominate both the consumer and enterprise sector (28 in 30 smartphones sold in enterprise in 2015 were made up by Apple and Samsung devices). On the other hand, BlackBerry continues to be driven off the market at it continues to focus on just the security part of the equation. Enterprise mobility trends are then further against BlackBerry, with employees being the ones who increasingly shape the technology demand in enterprise. A report from Nimble Storage in collaboration with Oxford Economics shows that millennials, now the largest generation in America, might rather just change their employer if they are not satisfied with the company's technology.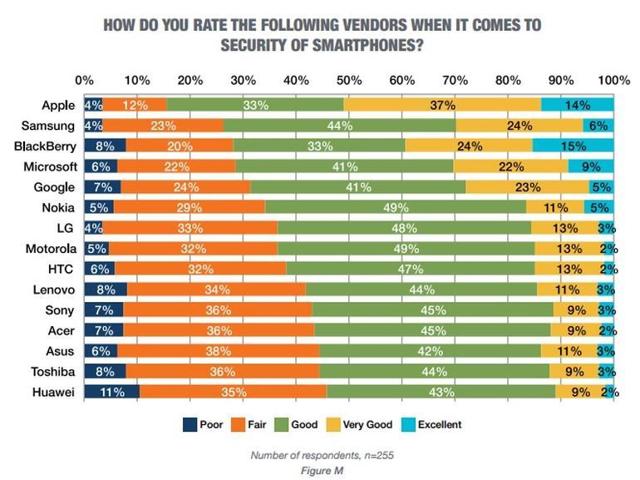 Apple and Samsung smartphones are innovative, easy to use, and also viewed as the most secure. No wonder that they dominate both the consumer and enterprise markets. (Source: Tech Pro Research, June 2016)
Compromised specifications and features. Unfortunately for BlackBerry, the DTEK50 has problems even in the area of BlackBerry's core competency - security and productivity. As to security, BlackBerry claims to have improved the device's cryptography but does not actually document its implementation so it could be verified. As cryptographic randomness has been a solved problem for years, BlackBerry's solution cannot improve security while it introduces an element of uncertainty and distrust. Has BlackBerry effectively installed a back door? We don't know, but the company's rather flexible stance on privacy together with a worrying report about the Canadian police having access to a BlackBerry master encryption key leave much room for speculation. For further reading on this topic, I recommend this deep-dive article from a fellow SA contributor KIA. Regarding productivity, the DTEK50's weak battery life (it is not a coincidence that BlackBerry bundles an external battery) then significantly undermines BlackBerry's productivity narrative. You might still remember John Chen calling Apple users "wall huggers" as the battery life of iPhone models at the time could not last a full day. The fact that BlackBerry is willing to compromise its unique selling points is troubling.
Weak distribution. Distribution is a long-running problem for BlackBerry which gets progressively worse with each new product. The company says that in the US, DTEK50 will initially be available only at select retailers such as Best Buy, B&H and Amazon. With no US carrier distribution and no support for CDMA networks, the smartphone is essentially DOA.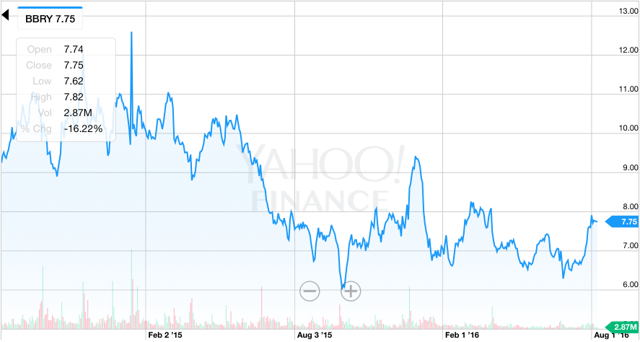 Investor takeaway
BBRY stock has reacted rather positively to the DTEK50, gaining more than 10% since its announcement. However, I don't think that the new smartphone can meet these elevated expectations and reverse BlackBerry's fortunes in hardware. The DTEK50 is nothing but a compromise, a product from a company which has long lost touch with the customer, mobility trends, and its ability to deliver value in the smartphone market. The company's hardware strategy remains all over the place with frequent U-turns and a range of products which document how the company has been continuously driven off the market, losing differentiation, pricing power and distribution along the way. I continue to be negative on BlackBerry's hardware prospects and expect a new low in unit shipments in the current quarter.
Author's Note: If you have enjoyed reading my article and found its content valuable, please take five seconds to follow me by clicking the Follow button next to my name at the top of the page.
Disclosure: I/we have no positions in any stocks mentioned, and no plans to initiate any positions within the next 72 hours.
I wrote this article myself, and it expresses my own opinions. I am not receiving compensation for it (other than from Seeking Alpha). I have no business relationship with any company whose stock is mentioned in this article.
Additional disclosure: This is no recommendation to buy or sell securities as that carries with it very high risks. The information contained in this article is for informational purposes only and subject to change at any time. Do your own due diligence and consult with a licensed professional before making any investment decision.
Editor's Note: This article discusses one or more securities that do not trade on a major U.S. exchange. Please be aware of the risks associated with these stocks.