Franco-Nevada (NYSE:FNV) Q2 Results: My Thoughts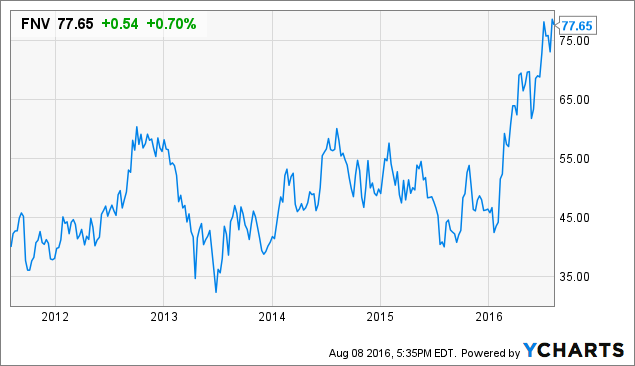 FNV data by YCharts
Franco-Nevada Corp. has reported its second-quarter results, and it was most likely the strongest quarter in the company's history when you look at its production of 112,787 gold equivalent ounces (a record), its $150.9 million in revenue (also a record), and strong adjusted EBITDA of $118.9 million and net income of $42.3 million, or $.24 per share. Net cash from operations was $181.4 million, well above the $129.5 million reported in last year's Q2.
In addition, Franco-Nevada ended the quarter with $225.8 million in cash and zero debt, and with its undrawn revolving credit facility, now has about $1.3 billion in available capital. This gives it the strongest balance sheet among its streaming peers.
But I'm not exactly satisfied (or buying shares) following the quarterly report for one main reason: I'd like to see the company get more aggressive on deals given the rise in gold prices, and especially following Silver Wheaton's (SLW) recent $800 million gold streaming transaction with Vale (NYSE:VALE), which was quite a favorable deal for Silver Wheaton.
Q2 Earnings Summary
Make no mistake about it: this was a strong quarter by Franco-Nevada. The market seems to agree, as shares are up more than 3% in after-hours trading.
In particular, the company more than tripled its silver production mainly due to new production from its 22.5% silver stream on Teck's (NYSE:TCK) Antamina mine. Production also was strong at the Antapaccay gold and silver stream.
Other notable achievements: Franco-Nevada received 2,500 gold equivalent ounces from its Karma gold stream, acquired last year from True Gold (OTCQX:RVREF), which was later bought out by Endeavor Mining (OTCQX:EDVMF) and Klondex Mines (NYSEMKT:KLDX), which is Franco-Nevada's partner at Fire Creek and Midas mines in Nevada, has announced that it is acquiring the Hollister Mine in Nevada, which benefits Franco-Nevada as the company owns up to a 5% net smelter royalty.
Why I'm Not a Buyer Here
However, getting back to my main point, I think it's time for Franco-Nevada to get off the sidelines. The company's latest deal was nearly seven months ago when it closed its $500 million stream on the Antapaccay mine with Teck.
Meanwhile, Franco-Nevada received $883.5 million in proceeds from stock issuances in the first six months of this year. While $460 million of this was used to repay the balance on its revolving credit facility during this time frame, I think it's time to put some cash to work. If the company wants to maintain its title of "king of the streamers," I need to see more accretive deals in 2016.
Finally, I was expecting another dividend increase and was a bit disappointed that the company is not raising its $.22 per share quarterly dividend. Shares yield around 1.1%. This was surprising given the rise in gold prices and Franco-Nevada's strong cash flow in Q2, as well as its solid net cash position.
Bottom Line
Yes, it was a good quarter from Franco-Nevada as expected, and I was pleased to hear that some of its weaker counterparties have been acquired. In addition, the Antamina and Antapaccay streams are starting to pay off. But I want to see the company complete new deals, and I think it needs to raise its dividend soon given its strong results.
Readers also should know that I own Franco-Nevada's stock at an average cost basis of around $50 per share, so with shares touching $80 in after-hours trading, I may be tempted to lock in some profits when the market opens on Tuesday. I'd be interested in adding to my Franco-Nevada position on any future pullbacks, or following the announcement of a new gold/silver stream that I feel is a really good deal.
Disclosure: I am/we are long FNV, EDVMF.
I wrote this article myself, and it expresses my own opinions. I am not receiving compensation for it (other than from Seeking Alpha). I have no business relationship with any company whose stock is mentioned in this article.
Editor's Note: This article discusses one or more securities that do not trade on a major U.S. exchange. Please be aware of the risks associated with these stocks.