I have long wondered why BDO would continue signing off on BofI Holding's (BofI) financials given all the serious allegations to date. Gretchen Morgenson at The New York Times also recently profiled BDO's errors in its auditing of Diamond Resorts (NYSE:DRII) dating back to 2014. I hope Wayne Berson, CEO of BDO USA and chairman of the board of BDO International, personally reads this report, and I intend on making him aware of its existence, as I think it speaks to the great reputational risks BDO has taken in signing off on BofI's financials for the past few years.
I recently discovered a pending criminal embezzlement complaint against BofI's former chief marketing officer in a San Diego court. I then noticed BofI had dismissed its prior auditor, Crowe Horwath, and hired BDO as auditor shortly after these allegations arose. I subsequently realized BofI's former chief accounting officer resigned in May 2013, also shortly after these allegations surfaced. Coincidences seem to keep piling up when it comes to BDO's relationship with BofI.
Context
In FY 2013 (ended June), BofI earned $39.5M of net income, according to FactSet. The amount in controversy, which was allegedly misappropriated by a former bank executive vice president - outlined in this case, is allegedly almost $500,000, according to a declaration from Peace Officer Steven Shakowski of the San Diego District Attorney's office. Hence the amount in question, as alleged by Shakowski, is around 1.3% of FY 2013 earnings. If the amount in question was material enough to bring criminal charges, then the amount seems material to me. And if the People of California bring felony charges - which they have - then this matters. It is not as if a couple of Subway sandwiches were misappropriated - these are real dollars relative to the size of BofI's bottom line at the time.
The case facts, as alleged by the People of the State of California
Steven Shakowski, peace officer from the San Diego County District Attorney's Economic Crimes Unit, alleges that BofI's former chief marketing officer used a corporate American Express account to embezzle almost $500,000 of BofI's money in the period from 2011 to 2013. I don't have a view on these accusations, and this case is currently pending in criminal court, so I don't think anyone should rush to judgment here. Again, these claims in the San Diego Court remain solely allegations made by the district attorney, based on an investigation that BofI has presumably assisted in. This is a pending case; I want to be very clear about that.
However, I was outraged to find that Jan Durrans, BofI's long-time chief of staff, stated in the criminal case she was aware of the alleged embezzlement scheme dating back to February 2013.
Why did BofI fail to disclose these allegations to the market in its 2013 10-K? The individual who allegedly embezzled funds held the title of executive vice president, which is the most senior ranking title at the bank. Again, the amount in controversy was more than 1% of 2013 earnings. Based on my reading of the PCAOB rules, this type of information requires disclosure, as it speaks to internal control issues.
I pulled the case below (now public record) that provides a declaration from officer Shakowski: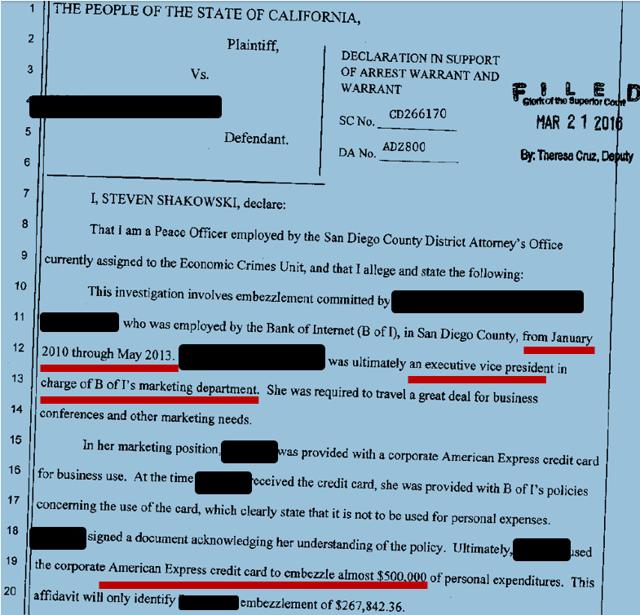 Source: Superior Court of California, County of San Diego, CD266170.
Second, in the same case, I found the following statement that shows BofI discovered the alleged misappropriation of funds in February 2013:

Shortly after discovering the alleged offense, BofI changes auditors
BofI claims in the criminal case it discovered the alleged misappropriation in February 2013. Without disclosing the alleged misappropriation, it announced the next month (March 2013) it was terminating its external auditor, Crowe Horwath, and replacing it with BDO: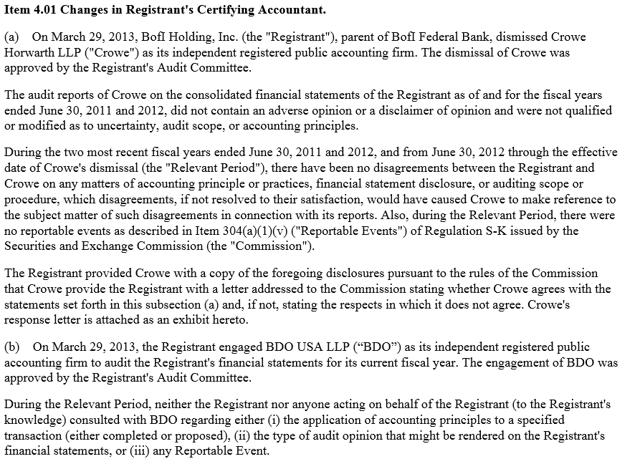 Source: 8-K Filing.
BDO then (unsurprisingly) gave BofI a clear audit opinion in 2013, despite the alleged embezzlement scheme never having been disclosed.
Here is BDO's sign-off on BofI's 2013 10-K, which makes no mention of any internal control problems:

Source: BofI 2013 10-K.
Management also provided its sign-off on its own internal controls without mentioning the issue of the alleged misappropriation:

Source: BofI 2013 10-K
I am not an accounting expert, but I looked into PCAOB guidance regarding auditor obligations relating to embezzlement/theft by a senior ranking employee, and found the following information on the PCAOB website:
PCAOB Guidance on Embezzlement:

Source: PCAOBus.
It seems to me that, with a significant amount in controversy, and a senior ranking EVP-level employee involved (with current criminal proceedings pending), investors would have likely deemed the alleged misappropriation of company funds as a material indicator of the strength of BofI's internal controls.
It is worth noting that the executive vice president title is held by only a few top employees, including BofI's CEO, CFO, chief lending officer, and chief credit officer.
The case discussed here is criminal in nature, and this is America, where assume people are innocent until proven guilty, and have the right to free speech. That said, based on filings in the criminal case, it is pretty clear BofI is a star witness for the People of California in their pending case against BofI's former chief marketing officer. BofI claims the former employee was involved in wrongdoing of which the company became aware in February 2013. Finally, the San Diego District Attorney's office thought the claims were serious enough to warrant filing criminal charges, even three years after the employee left the bank. So why are investors just now finding out about an alleged embezzlement scandal that reportedly happened years ago?
Timeline summary:
February 2013 - BofI discovers alleged embezzlement scheme
March 2013 -

BofI replaces Crowe Horwath with BDO as auditor

May 2013 -

BofI chief accounting officer resigns

May 2013 - BofI terminated the executive currently being charged by The People of the State of California (according to officer Shakowski's affidavit)
June 2013 (event date) -

BofI, now audited by BDO, fails to disclose the alleged embezzlement scheme
Questions for BofI and BDO
If BofI knew about the alleged wrongdoing in February 2013, as described by the State of California, why did it fail to disclose the alleged wrongdoing in the 2013 10-K, given the seniority of the employee and the amount of money involved?
Why did BofI dismiss Crowe Horwath just one month after BofI discovered the alleged misappropriation?
Did BDO know about the alleged misappropriation when it signed on to audit BofI? If so, why did BDO give BofI a clean internal control audit opinion in 2013?
Assuming BDO did not know about this issue in 2013, it surely does now. How can BDO continue to sign off on its historical audits in light of this important internal control issue going unmentioned in BofI 10-K disclosures?
Should investors expect a delayed filing and/or a restatement?
Perhaps even more importantly: Are there more skeletons in the closet? Does BDO know about them? And what does the future hold for BDO?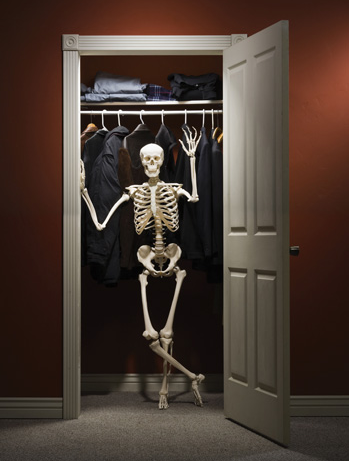 Image source: Wisbar.
Disclosure: I am/we are short BOFI.
I wrote this article myself, and it expresses my own opinions. I am not receiving compensation for it (other than from Seeking Alpha). I have no business relationship with any company whose stock is mentioned in this article.
Additional disclosure: I am/we are short BOFI. All information for this article was derived from publicly available information. Investors are encouraged to conduct their own due diligence into these factors. Additional disclosure: This article represents the opinion of the author as of the date of this article. The information set forth in this article does not constitute a recommendation to buy or sell any security. This article represents the opinion of the author as of the date of this article. This article contains certain "forward-looking statements," which may be identified by the use of such words as "believe," "expect," "anticipate," "should," "planned," "estimated," "potential," "outlook," "forecast," "plan" and other similar terms. All are subject to various factors, any or all of which could cause actual events to differ materially from projected events. This article is based upon information reasonably available to the author and obtained from sources the author believes to be reliable; however, such information and sources cannot be guaranteed as to their accuracy or completeness. The author makes no representation as to the accuracy or completeness of the information set forth in this article and undertakes no duty to update its contents. The author may also cover his/her short position at any point in time without providing notice. The author encourages all readers to do their own due diligence.