Just over a year ago I wrote an article on New Senior Investment Group (NYSE:SNR) in which I suggested that there was "powerful potential unfolding" and I considered the pure-play senior housing REIT to be a great way to "invest alongside Fortress."
Of course I was not referring to a castle called Fortress but the global investment manager called Fortress (NYSE:FIG) with $70.2 billion of assets under management.
Since 2012, New Senior has assembled one of the largest senior housing portfolios in the U.S., driven in large part by the affiliation with FIG. As you can see below, FIG has a long track record of arranging alternative and traditional investment strategies.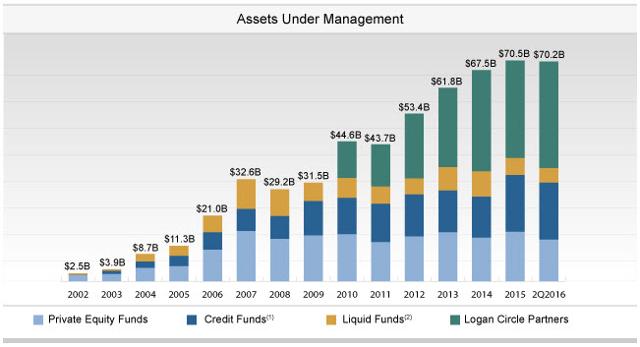 As many of you know, I'm not a big fan of external management and it took me a while to get comfortable with New Senior's external platform. I spent some time with Susan Givens, SNR's CEO, and read through a number of public filings. Eventually, I warmed up to the structure and decided to become a shareholder.
To be honest, part of my attraction with New Senior was the dividend yield. While I knew that there were obvious risks (more on that below) - including external management - I felt as though the shares were mispriced and that there was an adequate margin of safety.
My biggest concern with New Senior was the substantial hedge fund interest. Don't get me wrong, I don't hate hedge funds but I just don't like the volatility they create. I much prefer to be swimming around with a pool of guppies than a pool of sharks.
Anyway, after careful due diligence, we decided to stick our toe in the water earlier this year (yes, even with the sharks swimming) and currently we have around 1% invested in the Durable Income Portfolio (Forbes Real Estate Investor).
We would have added more but as referenced in an article yesterday, we are already overweight healthcare REITs (30%) and we could not justify adding more capital to this small cap name. In addition, we purposely elected to rotate all of our shares out of HCP, Inc. (NYSE:HCP) +5.40% YTD into Ventas Inc. (NYSE:VTR) +31.83% YTD, perhaps one of our best trades this year.
Ultimately, we are now at a crossroads trying to figure out what to do with New Senior. It appears that Mr. Market is finally coming around, possibly due to macro-economic conditions and also due to fundamentals. To keep on the shark analogy,
Do we fish or cut bait?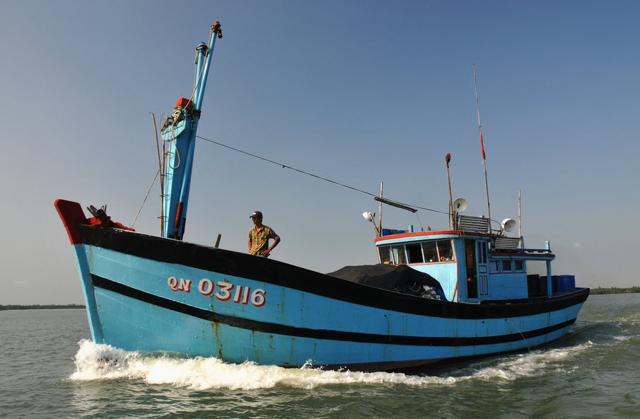 The Pure Play
New Senior is the only pure-play senior housing REIT with around 91% private pay independent living assets. Approximately 70% of SNR's portfolio is comprised of stable independent living assets. Accordingly, SNR is the largest owner of senior housing with a portfolio value of around $3.1 billion that has grown to 154 properties since inception in 2012 (~19,000 beds across 37 states). 51% of NOI is from managed operators and 49% is triple net leased.

The majority of SNR's portfolio is private pay and around 69% of the portfolio (105 properties) is stable independent living. There is less new independent living supply coming into the market as compared to assisted living/memory care, so that means less new competition.
The results clearly demonstrate the benefits of owning private pay independent living assets. While the rest of the industry has experienced occupancy declines this quarter, SNR responded favorably with significant growth.
Although SNR is less vulnerable to government pay risks, the company does have outsized risks related to its concentration with Holiday. As you can see below, SNR derives around 75% of its revenue from Holiday and around 12% of revenue from Blue Harbor (Disclosure: my direct relative is employed at Blue Harbor.).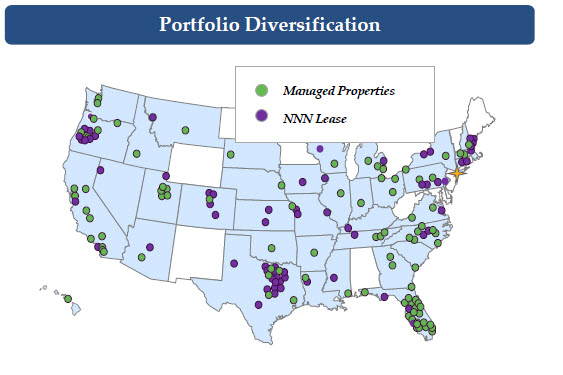 Holiday was formed in 1971 by William Colson and sold to Fortress in 2007. SNR owns both net leased and managed buildings leased to Holiday and the outsized concentration risks have been a well-known overhang for SNR investors (Holiday operates around 308 properties and SNR is landlord to 118 Holiday properties).

The Managed Portfolio
SNR's managed portfolio consists of 96 properties (11,453 beds across 33 states) that include 53 Independent Living buildings and 43 Assisted Living and Memory Care buildings.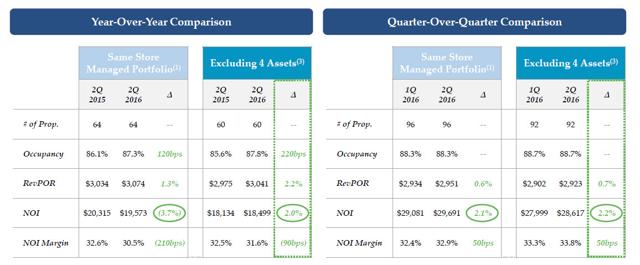 In Q2-16, the average occupancy across the entire managed portfolio increased 210 bps from 86.2% in Q2-15 to 88.3%. On a same-store basis, occupancy was up 120 bps from 86.1% to 87.3% and NOI was down 3.7% year-over-year. On a sequential quarter basis, same-store occupancy was flat and NOI was up 2.1%.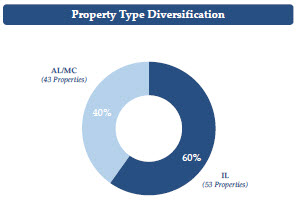 SNR's same-store portfolio continues to represent a relatively small portion of the overall portfolio and is currently heavily weighted towards AL Memory Care. Specifically, the same-store managed portfolio includes 64 assets, which represents 66% of the total managed portfolio and 34% of the total company portfolio.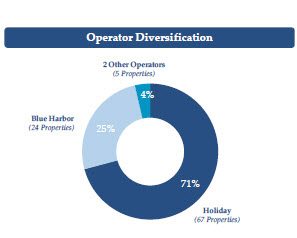 The Net Leased Portfolio
SNR's Net Lease portfolio includes 58 properties (7,539 beds) across 24 states. The vast majority of triple-net assets are independent living, and nearly 80% of NOI comes from these stable, high-quality assets.

New Senior's Net Lease portfolio performance is solid with coverage for the total portfolio of 1.24x, down a little from Q1-16, and average occupancy of 88.8% for the trailing 12-month period ended March 31 (up 60 bps over the same period last year). On a same-store basis, coverage was at 1.22x and occupancy was 88.8% (also up 60 basis points year-over-year).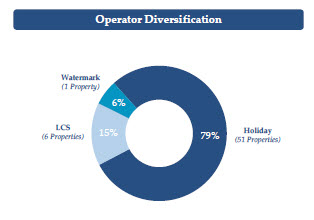 Anchored By Stable Independent Living
In terms of new investments, New Senior has actively sought to improve the overall quality, stability and growth profile of the portfolio. Results are now beginning to reflect the benefits of these efforts. New Senior's portfolio is differentiated in that 100% of NOI is private pay which means the portfolio is incredibly stable and less vulnerable to economic or regulatory changes.
Also, approximately 70% of NOI comes from independent living assets and as noted above, margins are better in the IL space.

Taking a look at the chart (above) on the lower right hand side of the page, you can see that NOI from IL assets in SNR's same-store portfolio grew 1.6% year-over-year. In addition to those IL assets, SNR has 28 IL assets in the managed portfolio that were acquired last August. These assets should produce NOI growth of around 2.6% year-over-year.
Fundamentals Are Strong
As you can see below, there are strong demand fundamentals both near-term and long-term in the senior housing industry - SNR's target demographic (75+) is the fastest growing cohort in the US and is expected to double over the next 20 years.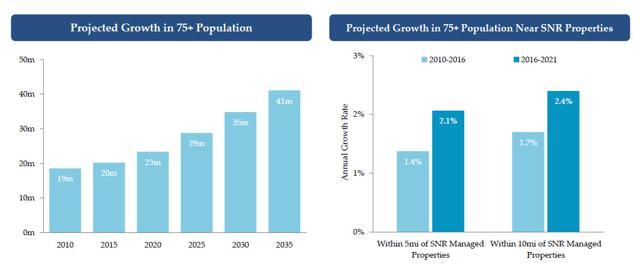 Over the next 10 years, the annual growth rate in the 75+ population is also expected to double from an annual growth rate of 1.8% today to 4.3% by 2025.
The Balance Sheet
One primary concern we have with New Senior is the balance sheet. As of Q2-16, the company has $3.3 billion in assets and $2.1 billion of debt. The company's Total Debt to Total Capitalization is ~71%. Also, the company's debt is 100% secured. As of Q2-16, the company had $84 million in cash on hand.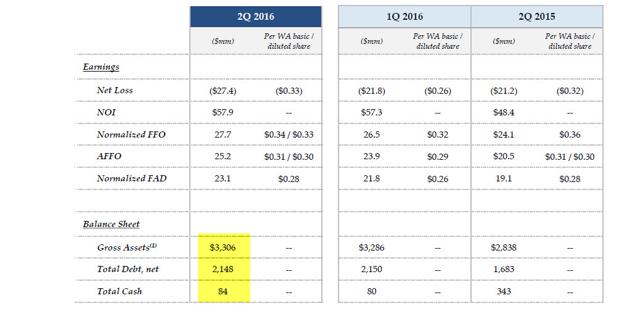 Last year, as cap rates began to compress for senior housing assets, New Senior decided to shift its focus away from acquisitions and into buying back stock. These repurchases were completed earlier this year at a nearly 25% discount to the current stock price. In hindsight, this was a good step validating New Senior understands how to manage risk. Also, New Senior has said it planned a few dispositions later this year.
Around 41% of New Senior's debt is variable and 59% is fixed. The total weighted maturities is 5.9 years and the weighted average interest rate is 4.2%. Here's a snapshot of debt maturities.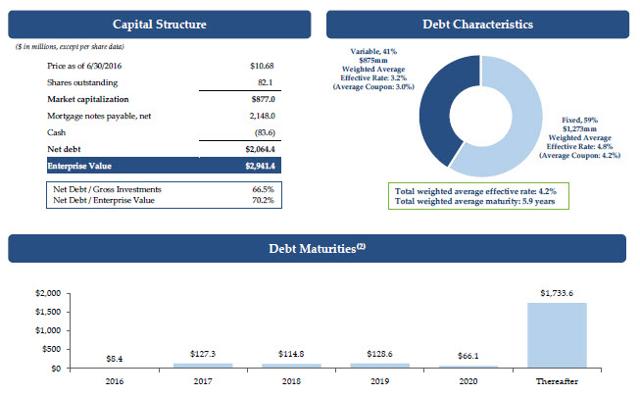 The Latest Results
In Q2-16, New Senior's Total NOI for the quarter was approximately $58 million and Normalized FFO was approximately $28 million or $0.34 per basic share. AFFO was approximately $25 million or $0.31 per basic share.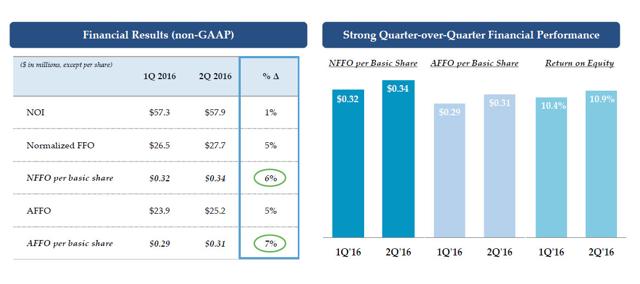 As you can see (above) NFFO per share was up 6% on a sequential quarter basis and AFFO per share was up 7% over the same period. At the same time, the return on invested equity stands at around 11%, which is a strong indicator that New Senior is generating sound returns for investors. Here's a snapshot of AFFO per Share:

Source: S&P Global Market Intelligence
The above chart references "AFFO" but SNR defines this as its "normalized FAD," which adjusts AFFO for roughly $2 million of routine CapEx. Thus the FAD was $23.1 million or $0.28 per diluted share in the latest quarter. Also, for the quarter New Senior declared a $0.26 dividend which represents an 87% payout ratio on AFFO and 93% payout ratio on Normalized FAD.
I have provided a forecast for AFFO growth for 2016 and 2017:

Source: S&P Global Market Intelligence
As you can see, we expect New Senior to generate double-digit growth in 2017 (again the company has high leverage). Here's our dividend forecast for 2017:

Source: S&P Global Market Intelligence
As you can see (above) we are forecasting a modest dividend increase, as we believe the company will be positioned for a nudge of the dividend in 2017. Of course, we would like to also see New Senior begin to de-leverage its balance sheet and also keep the (FAD) payout ratio below 90%. That's a lot to ask but let's put in our wish list.

Source: S&P Global Market Intelligence
Fish or Cut Bait?
So far this year, we have been pleased with New Senior (+26.01% YTD):

Source: S&P Global Market Intelligence
It's important to recognize that there are risks that will continue to weigh down the vessel, including high leverage, external management and high concentration with one operator. Given these risks, let's take a look at the dividend yield today.

Source: S&P Global Market Intelligence
Now take a look at the dividend yield history compared with Ventas, HCP Inc. and Welltower (HCN):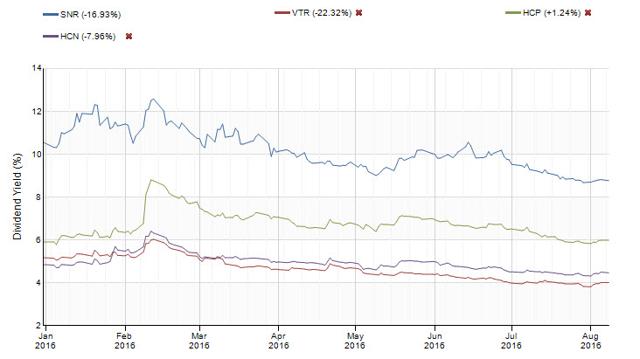 Source: S&P Global Market Intelligence
Now let's examine the FFO/share metrics below:

Source: S&P Global Market Intelligence
What can New Senior's management team do to move the needle?
As I said, I'm not a fan of external management, but SNR is an exception.
As I said above, SNR is externally managed by a Fortress affiliate and because of the relationship, the company has the ability to tap into the vast resources of Fortress ($70 billion in AUM), capitalizing on the experience within the senior housing sector (i.e., Brookdale and Holiday). This provides SNR with a competitive advantage with sourcing new deals and potential sale/leaseback opportunities.
Also, the external fee structure appears to be aligned with investors, as the base management fee is 1.5% of invested equity and the incentive fees must be earned (25% above 10% return on "invested" (cumulative test) equity. In other words, Fortress is not paid on just AUM (growth), nor can it acquire expensive properties because of the built-in performance thresholds.
It's important to note that this is a cumulative test from the date SNR spun (i.e., it doesn't reset every quarter), so the company must continually generate strong returns for this fee to be earned. If earned, it would be a positive for shareholders as it would mean management is generating strong returns for them.
Furthermore, SNR is a dedicated REIT, and so Fortress is not competing with it (to source assets). SNR also benefits from the economies of scale in which Fortress can exploit its purchasing power to lower costs (i.e., food, utilities, maintenance, etc.).
But ultimately, it boils down to whether or not New Senior can manage these risks noted: (1) tenant concentration and (2) high leverage and most importantly when will the company internalize management. It seems fitting that New Senior should soon look to cut the cord, size is no longer an issue ($3.11 billion Total Cap).

Source: S&P Global Market Intelligence
In our view, the biggest catalyst that will drive shareholder value for New Senior is to internalize management. By doing so, the company can begin to build out a dedicated management team without conflicts of interest. In addition, New Senior can pursue risk control strategies that will enable the company to attract dedicated analysts that in turn will enhance retail and institutional demand for the shares.
Most importantly, there will be less volatility that would encourage me (and I'm sure many others) to increase their exposure over time. In conclusion, we are maintaining our BUY Rating hoping to see management continuing to prove it can manage risk and generate steady and reliable returns.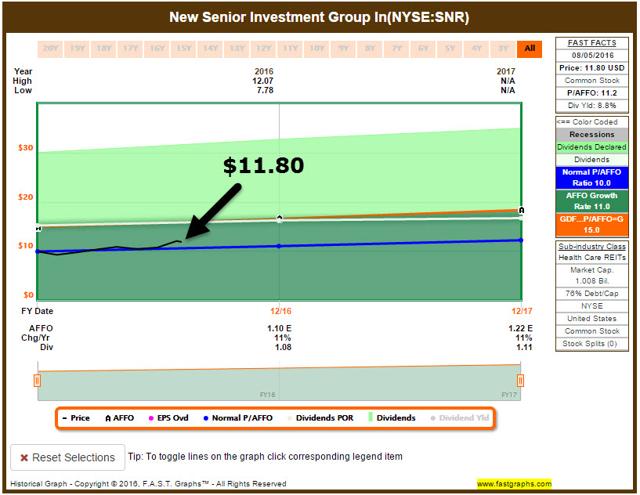 Author's Note: Brad Thomas is a Wall Street writer and that means that he is not always right with his predictions or recommendations. That also applies to his grammar. Please excuse any typos, and I assure you that he will do his best to correct any errors if they are overlooked.
Finally, this article is free, and the sole purpose for writing it is to assist with research (Thomas is the editor of a newsletter, Forbes Real Estate Investor), while also providing a forum for second-level thinking. If you have not followed him, please take 5 seconds and click his name above (top of the page).
Sources: S&P Global Market Intelligence, FAST Graphs and SNR Q2-16 Supplemental.
Other REITs mentioned: LTC, HTA, CTRE, HR, NHI, UHT, SBRA, DOC, OHI, MPW, SNH, CHCT, and CCP.
Disclaimer: This article is intended to provide information to interested parties. As I have no knowledge of individual investor circumstances, goals and/or portfolio concentration or diversification, readers are expected to complete their own due diligence before purchasing any stocks mentioned or recommended.
Disclosure: I am/we are long O, DLR, VTR, HTA , STAG, GPT, ROIC, HCN, OHI, LXP, KIM, WPC, DOC, EXR, MYCC, TCO, SKT, UBA, STWD, CONE, BRX, CLDT, HST, APTS, FPI, CORR, NHI, CCP, CTRE, WPG, KRG, SNR, LADR, PEB, BXMT, IRM, CIO.
I wrote this article myself, and it expresses my own opinions. I am not receiving compensation for it (other than from Seeking Alpha). I have no business relationship with any company whose stock is mentioned in this article.