Valero Energy Corp. (NYSE:VLO) has seen its share price fall over the past year, due to oil prices tumbling on account of increased production from all thirteen OPEC countries.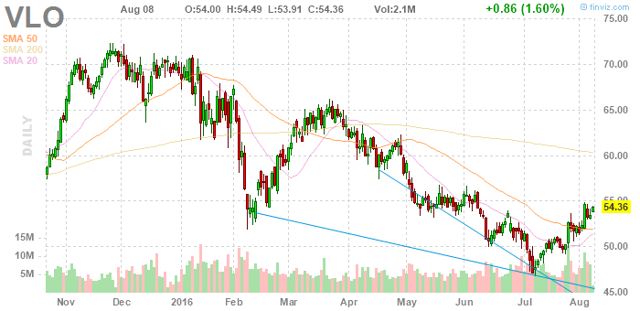 Although prices rallied for US crude oil by +2.5% on August 8, in light of news that a production freeze may be on the cards with OPEC, analysts are skeptical that the rally will be anything other than short-lived, pointing to the glut of crude and refined products on the market and the likelihood that the talks for a production freeze will break down as they did in April when Iran refused to commit to the freeze.
In light of this situation, it's worth looking at whether Valero is worth investing in now, or whether it might be worth holding back.
Company Overview
Valero Energy Corp. is a petroleum refining and marketing company. In addition to conventional gasoline, it produces asphalt, distillates, jet fuel, lubricant, petrochemicals and an array of other refined products and premium products.
The company divides its operations into two segments: refining and ethanol. The refining segment includes refining and marketing operations in Aruba, Canada, Ireland, the United Kingdom and the United States. The ethanol segment includes ethanol and marketing operations in the US.
Valero has a market capitalization of $24.73 billion, is based in San Antonio, Texas, and has a workforce of 10,065 employees.
Competitive Advantage
Valero is the United States' leading independent refiner. It has a throughput capacity of three million barrels a day, controls the Gulf Coast's largest refining capacity (giving it proximity to export markets), and has 7.500 marketing sites to distribute its products.
Furthermore, due to the environmental regulations surrounding petrochemical refining, barriers to entry are high, ensuring that Valero has less to fear from prospective competitors encroaching upon its market share.
In 2013, the company divested all of its retail businesses, ensuring that its focus is on refining and ethanol. This leaner business model and enhanced focus will ensure that Valero continues to provide shareholders with value for money going forward.
Valuation
Currently, Valero is trading in the mid-$50 range at a price-to-earnings ratio of 8.65, a forward price-to-earnings ratio of 10.12, and offers a dividend yield of 4.49% with a payout ratio of 33.80%. The five-year-average dividend yield is 1.91%, so the current yield is higher than average.
Sales and revenues have gone down year on year for Valero, but net income has also increased year on year.
| Sales/Revenue 2011-2016 | Net Income 2011-2016 |
| --- | --- |
| 2011: $125.99 billion | 2011: $2.1 billion |
| 2012: $139.25 billion | 2012: $2.08 billion |
| 2013: $138.07 billion | 2013: $2.72 billion |
| 2014: $130.84 billion | 2014: $3.69 billion |
| 2015: $87.8 billion | 2015: $3.99 billion |
The company has been able to pay consecutively rising dividends since 2011, giving it a five-year streak, and the dividend growth rate over that period was 53.42%. Prior to 2010, Valero had been issuing consecutively rising dividends to shareholders since at least 2000.
Net income figures, combined with total assets valued as of 2015 at $44.227 billion and debt of only $7.335 billion suggests that the company will be able to sustain the dividend going forward.
Final Thoughts
Valero is worth buying now, and it is also worth buying later on if the OPEC performance freeze does not come to pass. Currently, Valero offers a low P/E ratio with a high and sustainable dividend yield. Investors would be wise to take the opportunity to invest in this leading oil & gas refiner, if they can at this time.
Disclaimer: I am not a financial professional and accept no responsibility for any investment decisions a reader makes. This article is presented for information purposes only. Furthermore, the figures cited are the product of the author's own research and may differ from those of other analysts. Always do your own due diligence when researching potential investments.
Disclosure: I/we have no positions in any stocks mentioned, and no plans to initiate any positions within the next 72 hours.
I wrote this article myself, and it expresses my own opinions. I am not receiving compensation for it (other than from Seeking Alpha). I have no business relationship with any company whose stock is mentioned in this article.