JPMorgan Chase (NYSE:JPM) may be perceived as a contradictory bank by a banks investor.
It is a contradiction that a bank legitimately nicknamed a "fortress balance sheet" has its most recognized franchise in the complex and sometimes murky world of derivatives.
It is a contradiction that the mix between the old blue-blooded House of Morgan with an urban, Main Street lender such as Chase has created a highly equilibrated franchise, poised for a sustained increase in returns during the next 5 years in the US and overseas.
Finally, it is a contradiction that such a high potential lender, managed by an outstanding leader such as Jamie Dimon, is traded at such a low price.
But when contradictions - and mispricing - do exist, so does opportunity.
A 120 years journey from John Piepoint Morgan to Jamie Dimon
JP Morgan & Co, or The House of Morgan as it used to be known, was arguably the most influential US business banking during the XIXth Century.
Under the legendary leadership of John Piepoint Morgan "Jupiter", JP Morgan played a key role in the industrialization of the United States and did lead the syndicate of banks that ended the severe financial panic of 1907 - the Knickerbocker crisis.
During the 1930s and after the Glass-Steagall Act was passed JP Morgan spun off its investment banking operations and decided to operate as a commercial bank for the big US blue chip industrial groups.
After a series of mergers over the next decades, in the 1980s senior management decided to refocus the bank from pure commercial lending to a more mixed business model, with a leading commercial bank and a smaller investment banking subsidiary.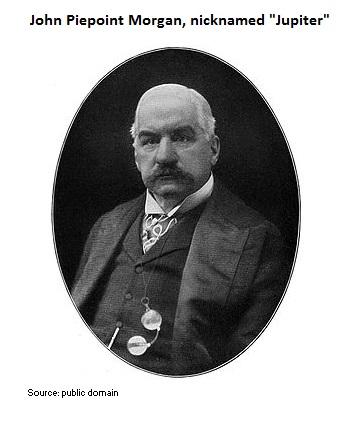 These efforts were increased in the 1990s with the notable development of the derivatives franchise under the leadership of Bill Hancock, Bill Winters, Tim Frost and Blythe Masters in London and New York.
Despite efforts to regenerate the business model, JPMorgan, the biggest bank of North America, became out of place after deep changes impacted the banking industry in the US.
After the Glass - Steagall Act was repealed by President Bill Clinton, the blue blood bank remained faithful to its tradition, staying to the conservative, prudent, traditional business of lending money and providing investment banking services to US blue chips.
The bank had been traditionally weak in equities and did not enter into the internet boom and particularly the lucrative - and high risk - business of dot.com IPOs, sales and trading.
These new businesses gave a huge amount of revenue to Morgan's competitors Goldman Sachs, Morgan Stanley and Credit Suisse, making them stronger and thus weakening their more traditional peer: in 1999 Citigroup was circa three times bigger than JP Morgan.
The returns of the bank lagged behind its competitors as well: in 1999 ROE of JPMorgan was a sizable 17% but could not compare with extreme returns from its competitors: Merrill Lynch, Chase Manhattan and Goldman posted returns of over 20% that year, of course with a strong component from the dot.com boom. Share price also underperformed competitors over the period 1997 - 1999.
The merger with Chase Manhattan, after a courtship with almost everybody else, created a powerful and well balanced organization between a blue chip base JPMorgan with extensive and carefully managed experience in derivatives and Chase Manhattan, a profitable Main Street bank with interesting market niches in certain derivatives areas and a thriving high tech finance practice. The deal, presented as a merger, was in fact an absorption of JPMorgan by Chase.
Even if JPMorgan Chase got burnt by the dotcom bubble bust - with close links to companies immersed in scandals like Enron, Global Crossings and WorldCom - the bank did not enter as aggressively as others in this and in the next boom to come: the credit derivatives explosion of the 2000s.
Derivatives boom and the 2008 bust
The push on derivatives by Deutsche Bank after plans were outlined to convert the commercial bank into a global force, combined with the aggressive push of Royal Bank of Scotland, Lehman Brothers, Bear Stearns, UBS and Citi in developing new, sophisticated - and risky - derivatives businesses did put a lot of pressure on JP Morgan's derivatives operations.
In 2004 JPMorgan acquired Chicago's Bank One, the sixth largest commercial bank in the country with a leading distribution platform in the MidWest and a top VISA cards issuer organization, for $58bn. This would help JPMorgan to expand its organization across the whole of the US and leave its size close to Citi.
Most importantly, the deal brought Jamie Dimon on board, an extraordinarily talented banker, very keen on risk management and a "prudent growth" strategy. Since 2006, Dimon and senior management forced an increase in derivatives hedges while at almost all other banks the policy was to increase exposure to the sector to the maximum.
Before the 2008 crisis, the combined bank had a strong, reasonably profitable and prudent derivatives practice but was still weak in equities, commodities and new business such as securitizations.
Its core expertise was blue chip investment and business banking services and lower rate companies lending through the Chase organization. All this, combined with a strong derivatives practice astutely kept alive by Dimon.
JPMorgan was more prepared for the crisis than the rest. In 2009, with Lehman Brothers and Bear Stearns bankrupt, and Bank of America, Citi Goldman and other major banks being forced to take sizable public capital injections, their share price collapsed. JPMorgan became the biggest bank in the world by market capitalization; that was the moment Jamie Dimon had been waiting for.
He skilfully used its "fortress balance sheet" and its stock price to expand the bank at the cost of less astute practitioners caught on the wrong foot by the change of the cycle (acquisition of Bear Stearns and Washington Mutual in 2008).
Furthermore, the reputation and market share of the bank in many investment banking niches shot up while competitors were merging and being bailed out.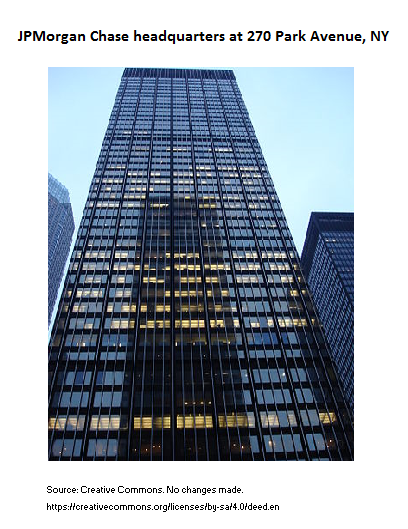 JPMorgan Chase in 2016
As a culmination of this evolution, at the start of 2016, JPMorgan is very well positioned to ride the upside US retail banking cycle and the global investment banking cycle over the next five years.
JPMorgan Chase business structure is based on a 60% 40% mix retail banking (US market mainly) and investment banking / asset management (US based but global in scope).
This business mix generates two very good attributes from the viewpoint of an investor: 1) it makes JPMorgan's balance sheet and P&L far more stable as global investment banking revenues will tend to smooth losses from a US based commercial banking crisis and vice versa and 2) it puts JPMorgan Chase in an excellent position to reap the profits of the gigantic US retail banking unification and the cycle gearing of investment banking industry over the next five years.
On the second count, the retail banking unification of the US market has been widely explained in the analysis of Bank of America (NYSE:BAC)(see "Band of America: the best long in a generation" and "Wells Fargo vs. the Regulator and how to profit from it"). In a gigantic and always consolidating banking retail market the scope for an increase profits for the best producers is notable: this is the case for JPMorgan.
On top of this JPMorgan possesses one of the five bulge bracket investment banks in the world: adding 20% to the whole bank's revenues and with a rate of return of 20%, holding key expertise in derivatives, being carefully managed and supervised by strict risk controls, JPMorgan investment bank has a wide scope for expansion and an increase in profits globally, mainly at the expense of retreating European competitors and regional investment banks in Europe and Asia.
Overall, these dynamics are translated into increasingly tangible book values per share: since the lowest point of the crisis tangible book value increase has been 11% annualized over the period 2005 - 2015; and this against the background of the worst financial crisis since the Great Depression. This is certainly a notable achievement.
Since 2012 -i.e. during the lowest part of the cycle - price tangible book value per share has increased 10% YoY. This suggests the potential for further increases should be sizable and increase in a permanent basis as the key markets shares of the businesses in which the lender operates keep expanding.
What is priced, what is not priced and the future
JPMorgan Chase's stock price has shot up from a minimum of $22.5 at the depths of the crisis in February 2009 to $65.93 as of today, a profitable almost threefold increase.
In terms of Price Earnings, with 11.7 PE expected 2016 the stock seems well priced, maybe with a small discount when compared with historic risk perception of around 14 times but this does not take into account the abnormal potential for earnings growth of JPMorgan. It compares well with peers, with Bank of America at 11.8 times expected PE 2016 and Citi at 9.8.
Furthermore, in terms of book value per share, JPMorgan's value at 1.05 times stock price is historically low, not discounting increasing profits JPMorgan should make across the banking cycle.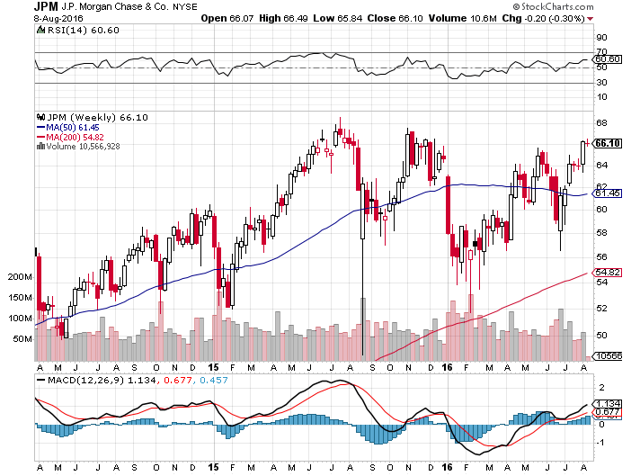 Thus the stock is still cheap and does not price, in our view, the key strategic positioning the bank holds in the US retail market and global investment banking segment, the excellent management and the potential for revenue growth from the two former over the next 5 years cycle.
The US big banks index has increased 15% since minimums, but is still 10% down from its higher level in 2015; given the optimistic outlook of the country's economy, a rally in the US banks index should give steam to JPMorgan's stock price in the future.
Summarizing: JPMorgan is an excellent organization with a very important upside in US retail banking and global investment banking, led by exceptional managers and at a historically low price.
Therefore, a moderately leverage position with a 5 years horizon should be very lucrative for a banks investor.
Disclosure: I/we have no positions in any stocks mentioned, and no plans to initiate any positions within the next 72 hours.
I wrote this article myself, and it expresses my own opinions. I am not receiving compensation for it (other than from Seeking Alpha). I have no business relationship with any company whose stock is mentioned in this article.