Last week was an eventful one for Transocean Ltd (NYSE:RIG). The company reported second quarter earnings at the close of trading Wednesday, August 3rd. In our earnings preview earlier this week, we raised a few notable topics regarding RIG's expected backlog performance and secured financing prospects that we would like to address in some detail in the following few paragraphs.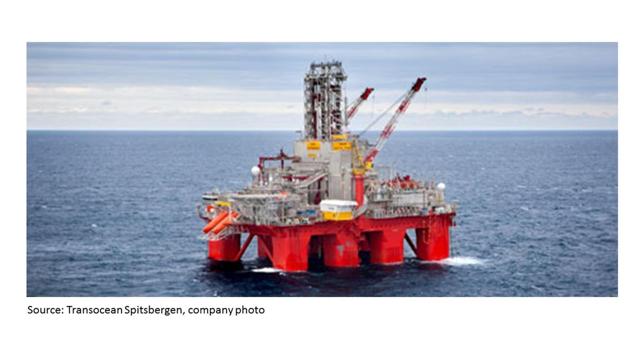 The additional significant development was that on Monday, August 1st, the company announced an agreement to acquire all of the outstanding common units of Transocean Partners LLP (NYSE:RIGP) in an all-equity deal. The impact of this acquisition on the company's liquidity prospects is a new variable that we will address shortly. After taking into account existing shareholder dilution following the acquisition announcement, the company's stock price pulled back, but it has recovered nicely on the back of better-than-expected results in the second half of the week.
2Q summary
First, let's recap the company's 2Q performance. The company certainly delivered on cost base improvement measures, as O&M declined by close to 25% to $0.5 billion on a sequential quarter basis. Second quarter's lower-than-expected O&M expenses were driven by reduced stacking costs and continued streamlining of shore-based operations. Management noted that these expenses will continue to have room to fall further, which effectively lowers full-year 2016 O&M guidance by 9% to approximately $2 billion. For the quarter, RIG reported adjusted EPS of $0.17 per share, handily beating consensus EPS of -$0.01 per share. Quarterly operating revenues came in at $943 million, which is roughly a 30% QoQ decline but in line with analyst estimates. Another positive was the company's revenue efficiency, which has improved to 96.5% from 95% in the prior quarter.
Contract backlog and possible additional rig stacking required
As seen on the below table, the deterioration in contract backlog was less pronounced during the quarter. The company reported new contracts during the quarter in India (Jack Bates on a two-year contract) and in the North Sea (Spitsbergen and Sedco 704 on short-term contracts). The Jack Bates contract with ONGC added $93 million to the backlog and the short-term North Sea contracts brought the total additions for the quarter to $117 million. As shared during the conference call, YTD the company has been aggressive in bidding for new work, with Transocean winning 39% of all available floater fixtures (13 out of 33 available).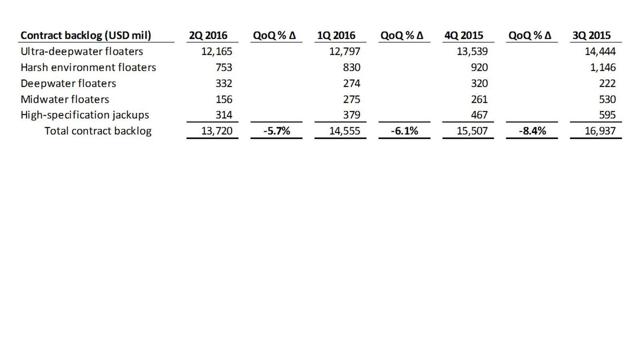 Further rebalancing of the fleet still needed
Looking through the company's latest fleet status report, Transocean currently has 26 working rigs, of which 17 will come off their current contracts before the end of 2017. Even as some of these rigs may find new projects, we believe there is still going to be a need for Transocean to take out rigs on the heels of an oversupplied market. Assuming a continued run rate of several new contracts per quarter, this could still lead to cold stacking of approximately 10 currently active rigs by the end of next year.
Another interesting point to be mindful of is the possible deterioration of contract quality as a result of a difficult operating environment and added performance incentives. Transocean shared that it still has built-in early termination protection in all of its current contracts. But as industry-wide competition for new contract work increases, contract quality slippage is possible in the future quarters. The management team makes it clear that they are bidding for new contracts at a minimum to be at cash breakeven, but they may look into sharing or foregoing the upside to increase their chances of securing contracts. There is also an interesting dynamic in which NOCs are at times required to pick the lowest bidder, whereas other type of customers (IOCs and independents) may look at intangibles such as reputation, long-term viability, etc. in their decision-making. Fortunately, this bodes well for Transocean as it has both a strong brand in the OSD industry, as well as smaller portfolio of business with NOCs, which currently represent only about 8% of current backlog.
Maintain prospects of secured debt issuance
Regarding the possibility of secured debt issuance on the newly build rigs under long-term contracts, the company's CFO Mark Mey continues to state that this funding source remains on the table. We believe that, as the macro environment remains challenging, secured financing is an option that the company might have to explore on its long-term contracts, as this would be a viable opportunity both from a cost-effectiveness and investor comfort perspectives.
An interesting variable in this equation is the pending acquisition of Transocean Partners which, if approved by RIGP unitholders, is expected to close in 4Q16. Original creation of the said MLP Transocean Partners in 2014 was supposed to help RIG lower its cost of capital and bolster its balance sheet while still maintaining control of the assets.
Given the continued challenging macro environment, none of these benefits can be realized for Transocean, so the management made the correct decision to reconsolidate the MLP. Just as a side note, we have a positive view of this acquisition as it is expected to result in meaningful savings via eliminated distribution payout (~$29 million p.a.) and lower administrative costs (~$10 million p.a.) associated with RIGP.
Interestingly, the RIGP acquisition also removes contractual uncertainty and frees Transocean to pursue the secured financing option on its newly built Shell and Chevron contracted rigs. At the time of the MLP creation, RIGP was granted a purchase option for 51% or greater interest in Transocean's UDW rigs under attractive stable contracts: Invictus (contracted with BHP Biliton), Thalassa, Proteus, Poseidon (all contracted with Shell) and Conqueror (contracted with Chevron). Potentially removing this purchase option will simplify possible secured financing negotiations for Transocean.
In summary
Transocean posted an unexpected gain this quarter, but long-term prospects remain challenging for the driller and its peers. Where the company can get some separation is through focus on preserving its medium- to long-term liquidity position, ongoing cost containment, and punching its weight in keeping its rigs working and building backlog. We believe that there is minimal upside to the company's current valuation and expect management to announce additional strategic decisions in the coming quarters related to procurement of new funding opportunities and cold stacking additional rigs.
Disclosure: I/we have no positions in any stocks mentioned, and no plans to initiate any positions within the next 72 hours.
Business relationship disclosure: Article written by contributing author, edited by Daniel Martins