The past two and a half years has not been good to stockholders of The Bancorp (NASDAQ:TBBK), a Philadelphia regional bank with a diversified loan portfolio, but also known for being one of largest issuers of reloadable prepaid debit and gift cards in the country.
The stock has fallen 75.2% from its high of $19.98 on March 14, 2014 to $4.95 on last Friday, August 5, 2016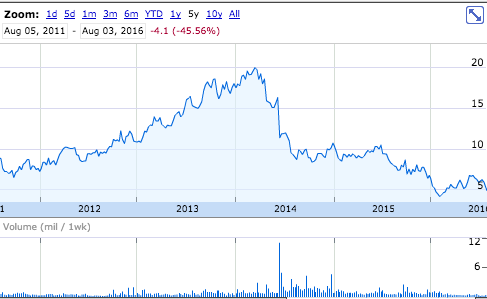 First, there was a April 2014 8-K surprise announcement of under-reserving for commercial loan losses due to adverse loans.
Second, there was a June 2014 8-K announcement that the FDIC found the bank's practices in violation of the Bank Secrecy Act - namely that reloadable prepaid cards issued by The Bancorp were being used for extensive money laundering. A year later, the bank had incurred a cumulative $50+ Million in "look-back" auditing expenses.
Third, on October 30, 2014 in the filing of its 3Q14 10-K, the bank announced that was discontinuing its $1.2 Billion commercial lending operations to focus on specialty lending, a less risky, but lower nominal return, business.
All of these events have caused an extraordinary stress on the bank's earnings and capital requirements needed to remain a "well capitalized bank" per Dodd-Frank.
The Dodd-Frank Act of 2009-2010 was a response to the subprime mortgage meltdown a decade ago. Among other things, it required that a FDIC-insured bank maintain a Tier 1 leverage ratio (capital / average assets) greater that 5%.
In its last filing 1Q16 10-Q, the Bancorp Inc's Tier 1 ratio stood at 6.98% with a quarter ending capital balance at $316 Million. This implied a cushion of about $90 Million, after which it would fall below the 5% Dodd-Frank "well capitalized bank" requirement.
Two weeks ago on July 28, 2016, The Bancorp announced a $31 Million loss for 2Q16. This surprised Wall Street and sent its stock down the next day from $5.97 to close at $5.14, or 14% loss.
Expected was an on-going "look-back" audit expense of $13.4 Million associated with the investigation of bank-issued reloadable debit cards used in money laundering. The bank said that the audit was finished and future expenses would be relatively small.
But, unexpected was a total of $32 Million in loan mark downs / note write-offs associated with its discontinued commercial loan operation. The Bancorp's balance sheet had been spared of any further hits since the bank first announced this move on October 30, 2014.
But, one analyst quipped during the Conference Call, ".. maybe you guys ripped the Band-Aid off this quarter.." and went on to say he was unsure whether this was a one-time event or the beginning of a more forthright examination of the valuations of these troubled loan portfolios.
On Monday August 8, 2016 The Bancorp announced a private placement of combined common and convertible preferred stock for a total gross consideration of $74 Million. Each of the two investors -- Pilgrims & Indians Capital LLC and Castle Creek Capital -- will also be give a Board seat provided they own at least 4% of the common stock
The company also announced that it entered into an agreement with certain directors and executives to purchase an additional 1,025,000 shares.
The Bancorp's new CEO Damian Kozlowski gave this as the reason for private placement
"This capital will ensure that we will have an adequate foundation to support our clients and maintain revenue growth, while we enhance the productivity and efficiency of our platform."
The stock market initially greeted this announcement with enthusiasm sending the stock up 12.8% at the open, but by the end of the day the stock has retreated to a 2.0% gain.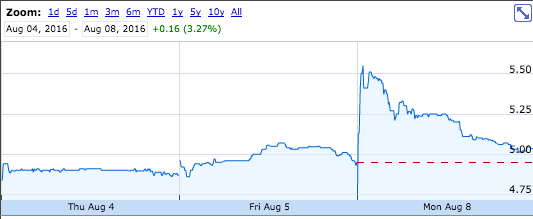 One possible reason for the waning enthusiasm is that The Bancorp set the purchase price for the common, the preferred, and the executive stock at $4.50 a share, a 8.7% discount from the closing price of $4.95 a share last Friday, August 5, 2016. We viewed this discount as a sign of desperation on the part of the bank to get this deal done.
Notwithstanding the dilution caused by this Private Placement, the company's largest investors -- Wellington Management, Second Curve Capital, Dimensional Fund Advisors, etc. -- cannot be happy with these concessions, given they invested at prices above $10 a share with no board seats offered.
To add insult to injury, one of the investors in the Private Placement -- Pilgrims and Indians Capital LLC -- was just formed 1 1/2 months ago and has just an amateurish one page stub for a website with no history of investments. Yet, they are given a board seat.
The two managing partners are Shiv Govindan, who used to work at a company founded by the father and brother of Bancorp's chairman Daniel G. Cohen, and Josiah Hornblower, an heir to the Vanderbilt / Whitney fortune with lineage traced back to the Pilgrims, and most famously, profiled in the HBO 2003 Documentary "Born Rich" along with teenager Ivanka Trump and S.I. Newhouse IV.
One now sees a possible reason for naming this partnership Pilgrims and Indians.
Another reason is that, far from using the fresh capital for loan expansion and revenue growth as the CEO claims, the bank needs more cash reserves to offset future mark downs / write offs associated with its troubled loan portfolios and to avoid falling below the Dodd-Frank "well capitalized bank" requirement.
Disclosure: I/we have no positions in any stocks mentioned, and no plans to initiate any positions within the next 72 hours.
I wrote this article myself, and it expresses my own opinions. I am not receiving compensation for it. I have no business relationship with any company whose stock is mentioned in this article.