As the buzz of conjecture continues around the expensive market and how this extended bull must be running out of road, an interesting situation has emerged in the form of expanding valuation spreads when comparing the cheapest stocks in the market to the market itself. The chart below, courtesy of Pzena Investment Management (full report here), shows the spread between the cheapest stocks in the market, ranked book-to-price, relative to an equally weighted market portfolio using book-to-price.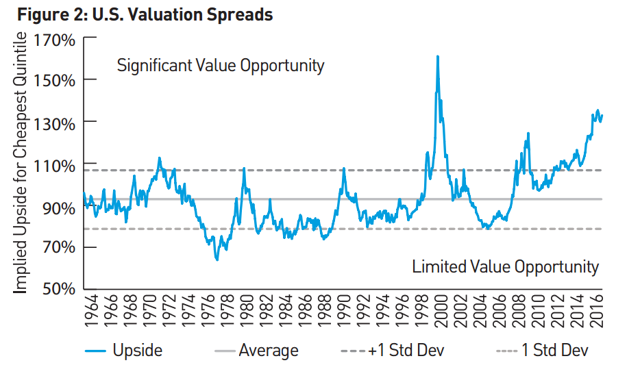 Source: Sanford C. Bernstein & Co.; Pzena analysis. Data as of June 30, 2016
The large spike in the late 90s and early 2000s represents the dot com bubble, where high valuation growth names dominated value stocks, but as you can see in the last few years, a significant valuation spread has emerged and the current spread is well over one standard deviation, which historically has represented an opportunity for value stocks and value oriented investors.
Cause and Opportunity
Investors have been favoring growth stocks, most notably the "FANG" shares (Facebook (NASDAQ:FB), Amazon (NASDAQ:AMZN), Netflix (NASDAQ:NFLX) and Google (NASDAQ:GOOG) (GOOG.L)) which, in 2015, gained $450 billion of market capitalization (a 61% increase) while their combined earnings rose by only 21%. At the same time, value-oriented stocks (especially in the energy and financial sectors) have weakened considerably. The Pznea report also points out the difference between the cheapest stocks and the most expensive stocks by looking at the spread between the Q1 and Q5 quintiles. As of the end of the second quarter the most expansive stocks (which include growth stocks and also the extended defensive areas of the market) are now over four standard deviations above the norm and only in the late 90s was the spread between the cheapest and most expensive stocks higher.
While cheap stocks tend to be cheap for a reason, there is some debate around whether the reasons are more grounded human psychology or in risk-related factors. Buying "cheap", unloved stocks makes intuitive sense because if a stock trades lower but the company's fundamentals remain unchanged, potential for upside improves. It also makes mathematical sense: The more undervalued a stock is, the more the price could adjust upward to reflect its fundamental, intrinsic value. It seems logical, then, that value-focused strategies become more appealing as valuation spreads widen.
The investment community is all too familiar with the historical performance trade-offs between growth and value stocks. Value strategies have nearly always outperformed growth, although the last 10 years have proved an exception to the rule. In fact, there have been only three times over the past 90 years when value has underperformed growth for a ten-year period in the U.S.: The Great Depression, the "Tech Stock Bubble" and today.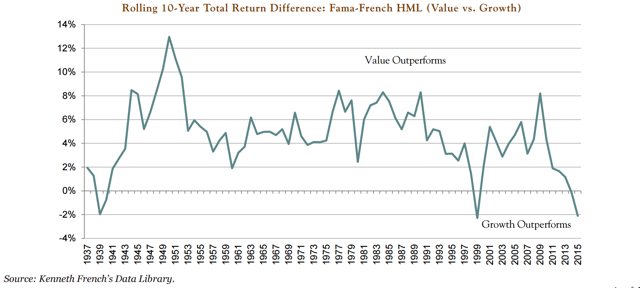 Given the fact that growth outperformance is reaching an extreme and, further, that valuation spreads have widened to unusually high levels, one has to wonder when a reversion might occur. While such a turning point is impossible to predict, current market conditions suggest that some value stock shopping might not be a bad idea.
The above chart from the Penza report shows Q1 (i.e. the cheapest stocks) performance after incidents of wide valuation spreads (standard deviations above 1). As you can see, returns of the least expensive stocks both on a three and five year annualized basis tend to be very strong after cross the one standard deviation mark. This reiterates the notion that periods of wide spreads represent opportunity for the patient investor.
Keep in mind, oftentimes deep value stocks have some type of dark cloud hanging over them, but oftentimes the bad news is fully reflected in the stock price and any improvement in the underlying business relative to the market's expectations can produce solid returns going forward. Using Validea's Guru Stock Screener, I've identified five stocks that are at relatively low valuations while still earning high marks for strong fundamentals.
MSG Networks Inc. (NYSE:MSGN), formerly The Madison Square Garden Company, is engaged in the sports, entertainment and media business, including MSG Sports and MSG Entertainment. Our Joseph Piotroski-based model is built on the philosophy that excess returns can be earned by holding a portfolio of high book-to-market stocks. MSGN has a book-to-market ratio of 1.51, which puts it in the top 20% of the market, therefore meeting this model's value requirement. The company's operating cash flow of $154.3 million (for the most recent year) also gets high marks under this investment strategy, as does its strong return-on-assets growth (from 3.2% in the prior year to 6.75%). Our Peter Lynch-based stock screen favors MSGN's exceptionally low price-earnings-to-growth ratio of 0.16 (anything below 0.50 is considered best case in this model).
Fujifilm Holdings Corp. (OTCPK:FUJIY) is engaged in the provision of a range of imaging, information and document solutions. Our Benjamin Graham-based investment strategy likes the company's size (sales of $24.19 billion) and liquidity (current ratio of 3.14). This model looks for long-term EPS growth as evidence of financial stability, and FUJIY meets this requirement with 104.3% growth over the last ten years. FUJIY passes our Piotroski-based stock screen given its book-to-market ratio of 1.18 coupled with a return-on-assets of 3.54% (providing evidence that the stock is not trading at a discount due to financial distress). This model also likes the company's operating cash flow which totaled $2.17 billion in the most recent year.
Navigator Holdings Ltd. (NYSE:NVGS) provides international and regional seaborne transportation services for liquefied petroleum gas, petrochemical gases and ammonia using a fleet of over 40 vessels. Our Piotroski-based model likes the company's book-to-market ratio of 1.79 and return-on-assets of 6.25% for the most recent year (up from 6.15% in the prior year). Operating cash flow of $149.55 million for the most recent year is favored under this strategy, particularly since it exceeds net income of $97.42 million (for the same period). Current ratio has increased from 1.05 in the previous year to 1.40 in the most recent year also gets high marks under this model. Our Lynch-based methodology finds the company's price-earnings-growth ratio of 0.13 very attractive.
Wacoal Holdings Corporation (NASDAQ:WACLY) is engaged in the manufacturing and wholesale distribution of women's foundation wear, lingerie, and nightwear as well as children's underwear, outerwear, sportswear and other textile goods and related products. Under our Kenneth Fisher-based stock screen, WACLY's price-to-sales ratio of 0.77 (based on trailing 12-month sales) is well within the required range (0.75 to 1.5), and long-term EPS growth of 16.54% adds appeal. Our Graham-based model likes the company's low level of debt in relation to assets and current ratio of 2.40.
Freightcar America, Inc. (NASDAQ:RAIL) is a manufacturer of railcars and railcar components. Under our Fisher-based investment strategy, the company's low price-to-sales ratio of 0.24 (based on trailing 12-month sales) gets high marks, and its debt-free balance sheet is very attractive. Inflation-adjusted EPS growth of 35.71% is favored under this model. Our Graham-based stock screen likes RAIL's low valuation and the fact that the firm has no long term debt and $184 million in current assets.
Disclosure: I am/we are long MSGN, NVGS AND RAIL.
I wrote this article myself, and it expresses my own opinions. I am not receiving compensation for it. I have no business relationship with any company whose stock is mentioned in this article.
Editor's Note: This article discusses one or more securities that do not trade on a major U.S. exchange. Please be aware of the risks associated with these stocks.