It has been a difficult year for Gilead (NASDAQ:GILD) shareholders, to say the least. The stock is now below $80, which is notable because one year ago, Gilead was a $110 stock.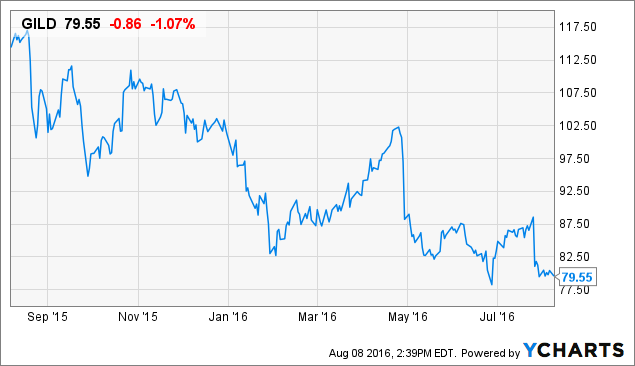 Along the way, investors have banked on Gilead's appealing valuation as a reason to buy the stock. Indeed, with a P/E of 7, Gilead is cheap. But it's been cheap the whole way down, and it has continued to get even cheaper with each passing earnings report. This is despite the fact that Gilead remains hugely profitable with a high-quality product portfolio and a strong balance sheet. Gilead generates a lot of cash, which so far has been used mostly to buy back stock over paying a high dividend.
But while Gilead's aggressive buybacks have enriched company employees, it has been a far less valuable for Gilead's shareholders. Gilead spends billions buying back stock, and yet its stock price continues to decline anyway.
As a result, I think the market is sending a clear signal to Gilead that it's time to try something different. That's why Gilead should re-prioritize its capital allocation program to emphasize dividends over buybacks, and to make a meaningful acquisition to generate future revenue growth. The good news is, Gilead is in a fortunate position, and could do this fairly easily.
Where's the Fire?
The way Gilead's stock price has performed over the past 12 months, one would think the company were caught in a serious deterioration, but that's largely not the case. While Gilead's revenue and earnings have indeed fallen over the course of the year, the declines are actually modest.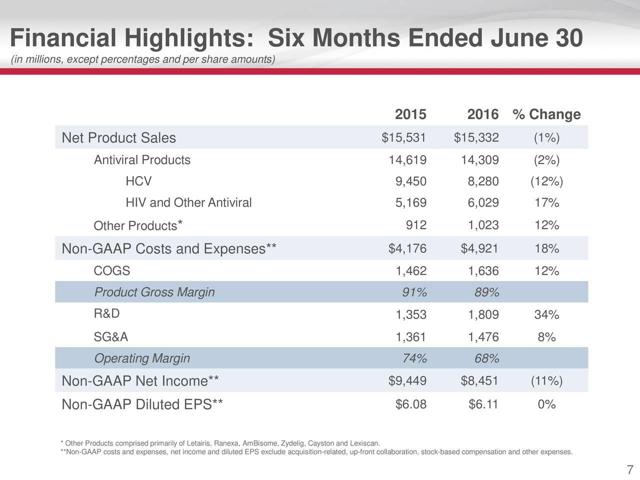 Gilead stock is trading as though the market is pricing in a complete collapse in the HCV business, but this simply doesn't seem realistic. Gilead stock has sold off consistently over the past year, especially on its earnings reports, even though the underlying results really weren't that bad. Gilead's overall sales are down just 1% over the first half of the year. It is true that the core Hepatitis drugs Harvoni and Sovaldi continue to see pricing pressure, which caused HCV revenue to fall 12% in the first half. But it is also true that Gilead's high growth in other areas is helping to offset this. Gilead's HIV/anti-viral and Other Products categories grew revenue by 17% and 12%, respectively, over the first half of the year, and collectively are now 49% of total antiviral sales.
As Gilead stated on the earnings conference call, full-year sales are expected to come in between $29.5-$30.5 billion. The market took this and ran with it, sending Gilead stock down nearly double-digits, all because the company cut its sales forecast. While this is technically true, context is important. The company reduced its sales outlook by just $500 million on the bottom and top end of the range. Assuming Gilead hits $30 billion in revenue, it would represent a 7% year over year decline. That is disappointing, but again-far from a disaster.
While the huge growth rate the company has enjoyed over the past five years has definitely slowed, there's no fire here. Clearly, Gilead needs to obtain renewed revenue growth either from organic investment or through acquisition. But it is fortunate enough to be able to do all of this, and also reward patient shareholders in a better way than it currently does.
Get Cash Off the Sidelines (But Not for Buybacks)
Gilead generates a ton of cash flow, which is piling up on the balance sheet. Gilead now has $24.6 billion of cash on the books. The problem is that companies aren't getting rewarded for huge cash balances. See Apple (NASDAQ:AAPL) as a prime example of that. Instead, stocks actually get punished for huge cash balances, because that money sitting on the sidelines is doing little to nothing for shareholders. As a result, Gilead needs to get that money off the sidelines and put it to work in a way that creates value-but not by doing more buybacks.
Even after Gilead's massive decline in stock price, the dividend yields just 2.3%, which is only slightly higher than the market average. Gilead could easily afford to pay out a much higher dividend. Its payout ratio is just 16% of its trailing 12 month earnings per share. Instead, Gilead has pursued an aggressive share repurchase program, but it has done so in a way that has not created value for shareholders. Gilead has spent billions buying back its stock over the past five years. It announced another $10 billion buyback in February. But this has not prevented Gilead's stock price from declining anyway, as the market is more concerned with Gilead's declining revenue and lack of a significant acquisition to reverse the trend.
Therefore, the best way to obtain a higher valuation might be to announce a significant dividend increase or one-time special dividend this year, and a significant acquisition. Gilead currently has approximately $19 per share in cash. It could use $10 per share to pay a special dividend, which would give shareholders an immediate 12% return, and would still have nearly $12 billion which it can use to pursue a significant takeover. Or, it could increase its regular dividend by 50%, which would take the current dividend yield up to 3.5%, and Gilead would still have a payout ratio of just 25%.
Plowing money into the buyback program has not worked. The valuation multiple keeps compressing. Therefore, in order to truly reward shareholders for their patience, it's time to trim the buyback policy, and announce a significant dividend increase.
Disclaimer: This article represents the opinion of the author, who is not a licensed financial advisor. This article is intended for informational and educational purposes only, and should not be construed as investment advice to any particular individual. Readers should perform their own due diligence before making any investment decisions.
Disclosure: I am/we are long GILD, AAPL. I wrote this article myself, and it expresses my own opinions. I am not receiving compensation for it (other than from Seeking Alpha). I have no business relationship with any company whose stock is mentioned in this article.