Amgen (NASDAQ:AMGN) reported earnings back on July 27th after the market closed, and it was a blowout quarter on the surface, with the company reporting earnings of $2.84 per share, which beat estimates by a dime. Revenue came in at $5.7 billion, which beat estimates by $120 million. I wrote an article on the stock about a month ago, stating that I was going to write a put in the name, and that trade has worked out well thus far. The problem is that I did not take the proceeds and buy a call with them, because the stock has moved from $160 to $173 since that time.
Amgen has performed very well over the past few years to be able to generate exceptional cash flows and a strong balance sheet. Biotech stocks take some time to appreciate in value, and the key to owning any biotech stock is that the investor must remain patient. Biotech stocks tend to move with any announcement about pipeline products, healthcare reform, and other macroeconomic concerns. Speaking of Amgen, it pays a decent dividend at 2.3% and has a strong pipeline, which makes it a great investment. The picture below from the company's website shows that it has a pretty strong pipeline, which is equally distributed among all the different phases.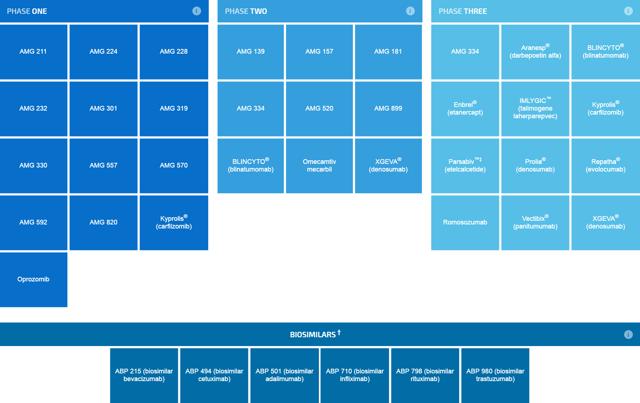 Amgen is the biggest name in the biotech industry now after the collapse of Gilead (NASDAQ:GILD) over the past two quarters. I am currently long the stock in my IRA, and in that account I wrote the August $160 call, which I more than likely will get called away on; in my regular trading account, though, I wrote the August $150 put. I did well with the latter move, but not so much on the former, only because I'm going to get called away on this move if it does not come back down. At least I wrote it out of the money to realize some of the capital appreciation, but I ended up capping myself too low. I obviously did not see this much of a move happening in the name over the summer. But because the name has been like a rocket ship of late, I ended up writing the October $165 put for some additional income, and it is now trading at around half of what I wrote it for.
From the graph below, it is clear that Amgen stock has been performing very well with respect to the rest of the market of late, as can be seen from the RSI portion in the upper panel. The tricky thing is that it is in overbought territory with a value of 75.28, and if you couple this with the moving average convergence-divergence chart in the lower panel, you can see that the MACD is getting quite tired. You can see the blue bars which represent the difference have started to decrease, and now if the black line crosses below the red line, we may see a drop in the stock price. But it is a price decline I am more than willing to catch with the $165 put in October I wrote. The stock is hovering near its all-time highs, and one can expect that it should take a breather after jumping from $145 to $173 in little over a month.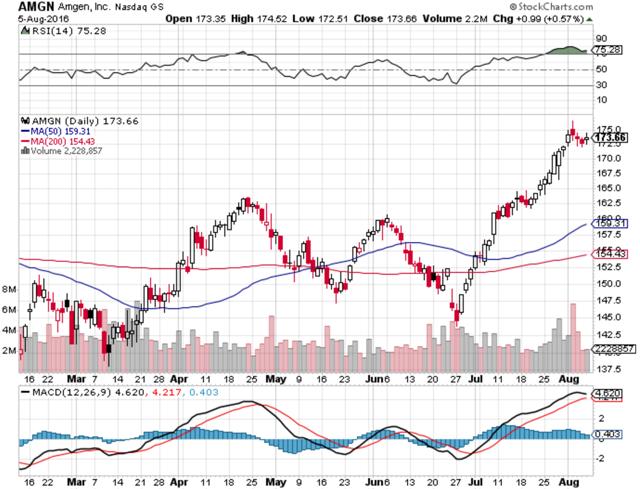 Amgen is one of the more reasonably priced stocks in the biotech sector by count of all valuation metrics I look in for an investment, as seen from the table below. With the stock trading around 14x next year's earnings estimates, it is almost half its peers' average multiple. The company does not grow revenues much on a year-over-year basis (just 6.1% from last quarter this year), but at least it is growing, unlike others in the space (clearing my throat, Gilead).
No.

Ticker

P/E

Fwd P/E

PEG

P/S

P/B

P/C

P/FCF

Amgen

AMGN

18.38

14.01

2.16

5.89

4.32

-

-

Gilead

GILD

7.08

6.84

88.53

3.38

6.66

-

-

Celgene

55.89

16.43

2.56

9.25

16.16

13.99

30.28

Biogen

18.45

15.19

2.05

6.16

6.07

18.23

21.53

Regeneron

67.17

28.62

3.52

9.69

11.72

50.61

43.17

Alexion

190.96

22.08

10.49

11.52

3.75

26.39

-

Vertex

-

33.51

-

16.14

21.43

-

-

Illumina

57.25

40.95

3.59

10.6

11.42

17.21

-

Incyte

430.52

66.45

11.12

19.82

74.46

20.97

105.81

BioMarin

-

-

-

17.17

6.98

34.72

-

Medivation

44.23

28.8

1.26

10.42

11.54

-

34.56

Min.

7.1

6.8

1.3

3.4

3.8

14.0

21.5

Max.

430.5

66.5

88.5

19.8

74.5

50.6

105.8

Avg.

98.9

27.3

13.9

10.9

15.9

26.0

47.1

Median

55.9

25.4

3.5

10.4

11.4

21.0

34.6
I felt selling the October put was the best way of getting some quick income, and now I can buy back that put for almost half of what I sold it for. If the stock does happen to come back down between now and October, I will get to own it at $165, which makes it a far more attractive offer than 14x next year's earnings valuation - making it a level I want to own the stock at, sans anything changing fundamentally in the company.
I believe Amgen is a relatively defensive name with a lot of offense within an aggressive cohort. What I mean by this statement is that the healthcare industry is typically a volatile industry, but in the end, acts defensive in nature, behaving in a way that provides investors some sort of shield from a market bust. In particular, I believe Amgen provides a lot of fire power or offense due to flawless execution of its business strategy. I like the stock and will continue to be long the name in my IRA. Thank you for reading, and I look forward to your comments.
Disclaimer: This article is in no way a recommendation to buy or sell any stock mentioned. This article is meant to serve as a journal for myself as to the rationale of why I bought/sold this stock when I look back on it in the future. These are only my personal opinions and you should do your own homework. Only you are responsible for what you trade and happy investing!
Disclosure: I am/we are long AMGN, GILD.
I wrote this article myself, and it expresses my own opinions. I am not receiving compensation for it (other than from Seeking Alpha). I have no business relationship with any company whose stock is mentioned in this article.