We think that the weaker inventory report last week out of natural gas (NYSEARCA:UNG) may not have been a one-time event. We see gas rig count coming down much faster than oil rigs. We also think demand has been good for gas, which is not the same for oil (NYSEARCA:USO)(NYSEARCA:UWTI)(NYSEARCA:OIL). Supply could easily get pulled if the weather is seasonally cool in the winter versus a warm winter last year.
Natural gas storage saw a tick down last week.
Here's the chart.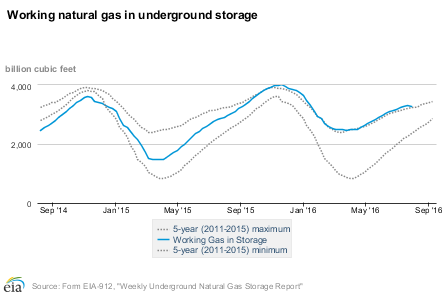 Seasonally, gas inventories typically build this time of year. The blue line above shows there was an ever-so-slight drop in inventories which surprised markets.
The EIA said it was the first time there was a nationwide draw-down in July in 10 years. We think that is meaningful.
The reason for the draw was strong demand (left chart below). Demand was above average. The right chart (below) shows the weekly change in July inventories. Versus the 5-year average (in tan) you can see the draw-down was very uncharacteristic. That is a bullish story.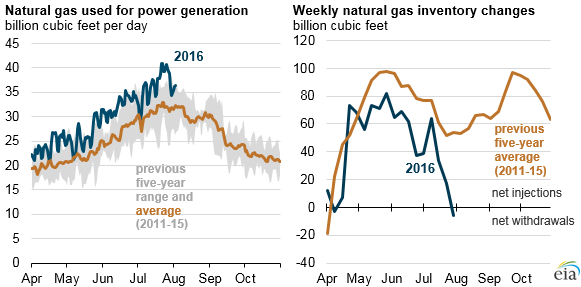 Gas inventories can drop more rapidly than oil.
We think that oversupply was brought on by high production and a recent warm winter.
But rig count has been coming down fast.
Here's rig count. It is way down. It is currently at record lows.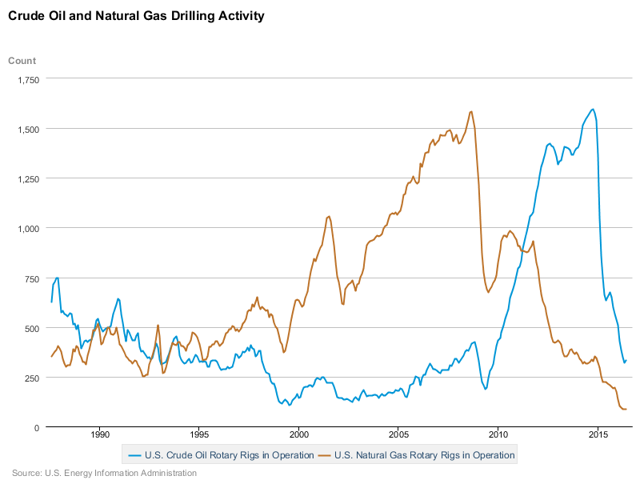 The blue line shows oil rigs while the tan line shows natural gas rigs. Look at where natural gas rigs are historically. They are at all-time lows not seen any time in the last 15 years.
Oil rig counts are not as far down.
While oil and gas prices may have been trading together we expect natural gas to decouple and outperform.
Here's natural gas versus oil.
Natural gas and oil have moved in lockstep.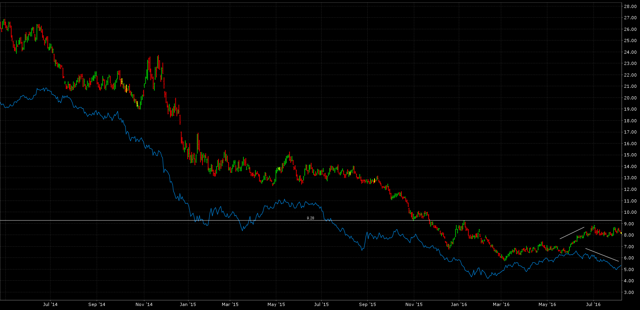 Above you see natural gas in red and green versus oil in blue. While they had been moving together, we think the recent divergence could be fundamentally based.
We've been bearish on oil for a little while and remain bearish despite the recent price uptick. Demand is weaker and production is up. Gas fundamentals look much better on a relative basis yet they've traded very similar.
Weather
Natural gas has better relative fundamentals also based on potential demand picking up if the winter behaves.
While the summer is soon behind us we'll be looking out to winter. Winter has an easy year-over-year setup for us.
Last winter was warmer than normal. We think that helped inventories trend higher than average this year.
If next winter can be normal we'd expect inventories to track back within its averages, which can lift natural gas prices.
Conclusion
While oil has decreasing global demand and increasing global inventories, gas prices, with better fundamentals can decouple and move up.
We think there is a good chance that last week's low inventory number was due to fundamental factors of strong demand and decreasing production. That is a good fundamental story unlike oil.
We also think that the winter season is setting up to have easy comps and can lift natural gas prices higher again.
We're bullish on natural gas and bearish on oil.
Letting The Market Dictate
To enter a trade we have to let the market dictate. Whatever we think in the above report we need a game plan to enter when the market is in our favor. To line up timing on a shorter term basis with risk management spelled out try Your Trading Team an Elazar Advisors, LLC service on Seeking Alpha.
If you want Elazar's analysis on Seeking Alpha, scroll to the top of the article and hit "Follow." Elazar also writes real-time pieces as news is reported. If you want to be among the first updated, check the box for "Real-time alerts on this author" under "Follow."
Disclaimer: All investments have many risks and can lose principal in the short and long term. This article is for information purposes only. By reading this you agree, understand and accept that you take upon yourself all responsibility for all of your investment decisions and to do your own work and hold Chaim Siegel, Elazar Advisors, LLC, bestideas, their related parties, and its authors harmless.
Disclosure: I/we have no positions in any stocks mentioned, and no plans to initiate any positions within the next 72 hours.
I wrote this article myself, and it expresses my own opinions. I am not receiving compensation for it (other than from Seeking Alpha). I have no business relationship with any company whose stock is mentioned in this article.