The restaurant industry is one of the biggest winners since 2014 as restaurant stocks in general have performed much better than the overall market. Companies like Starbucks (NASDAQ:SBUX), Mcdonalds (NYSE:MCD) and Jack in the Box Inc. (NASDAQ:JACK) each gained 57%, 28% and 61% respectively since the summer of 2014. During the same time the SPY is only up 10% as of August 8, 2016; 5% of those gains only coming in during the last month. An exception to this group is underperformer, Chipotle Mexican Grill (NYSE:CMG), which has lost 40% of its stock value since 2014. Is now the time to invest in Chipotle? The recovering labor market and low oil prices are a catalyst for more discretionary income, and consumers are specifically using their spending power to eat out more often. With a new focus on food safety, Chipotle has been rebuilding its reputation and is positioned for huge gains.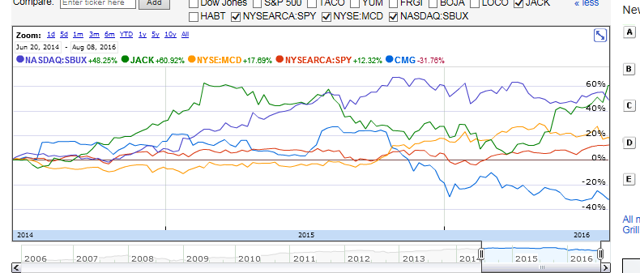 Source: Google Finance
Economic Conditions
Restaurant stocks really started to take off late in 2014 when oil began its initial decent before bottoming out in 2016 below $30.00 a barrel. In September 2014 oil was trading at about $95.00 per barrel and within 6 months oil was below $50.00 per barrel. The fast decline was noticed at the gas stations when prices per gallon of gas fell below $2.50, the cheapest in over a decade. Even though oil has recovered a little, it is still trading below $50.00 per barrel, resulting in the continuance of cheap prices at the pump. The reduction in gas prices has had a real positive economic effect on consumers as the average person that drives has more discretionary income. The Economic Report of The President reveals that individuals are using their additional spending power to reduce debt, make investments and eat out more often as opposed to shopping at retailers. This is evident by the positive financial results at individual restaurants during oil's decent. At the same time, the labor market is on the rise with the unemployment rate at its lowest since 2008. Restaurants are one of the biggest benefactors when discretionary income rises; and the current economic condition provides two catalysts for increased discretionary income.
Some may believe that low oil prices are just part of a long term market cycle and before long $100 per barrel with be a reality once again. However, there are some important reasons why we believe oil is not going above $50.00 anytime soon; therefore, keeping gas prices low and discretionary income at the current high levels. Extracting oil is not considered an efficient process. In fact, on average it costs about $40-$45 per barrel. When oil crashed down to below $30.00, many small and some large oil companies could not withstand their cashflow problems and bankruptcies in the industry increased by over 400% to 80 cases as of May 2016. The oil companies that could survive on reduced production did in order to sell their reserves at a higher price in the future. As oil recovers, these companies start up production which increases the supply. At $50.00 per barrel, almost everyone is making money, so the oil companies ramp up production until they flood the supply and cause the commodities market to reduce oil back below $45.00. this has already happened once in 2016 and will continue to happen as the industry has created their own price ceiling. For this reason, consumers will continue to have current levels of spending power to support the long term growth of the restaurant industry.
Food Safety and Chipotle's Recovery
Chipotle was trading at highs before it found itself in the middle of a pubic health scandal where several consumers ended up with health problems including Norovirus, Salmonella and claims of E. Coli after eating at the restaurant. The media did a lot of harm by convincing the public that there was a systematic problem at Chipotle when it comes to public health. As speculation rose, foot traffic in the stores drastically reduced to almost nothing. Before this health scandal lunch lines at Chipotle were nothing less than intimidating. Lines were out the door every day with over 50 people in line at any given time between the hours of 12:00 and 2:00 PM. However, experienced Chipotle goers knows how efficient the lunch crew is and within in 10 minutes the workers will go through all 50 plus people and have you out the door.
Weeks and months went by before people started coming back to Chipotle; however, even after the crisis was over the lines never fully recovered. Chipotle has gone above and beyond safety requirements in each restaurant but still the events of 2015 left a bad taste in the pallet of many consumers. Below is a summary of Chipotle's in house policies when it comes to food safety: (More information is available at chipotle.com/foodsafety)
Marinate Chicken only at Night to avoid contact with other fresh ingredients
Produce Blanching - A quick boil for 5 minutes eliminates germs but maintains flavor
Heightened Restaurant Sanitation - High frequency cleaning of high contact areas during service and restaurant - wide cleaning at the end of each day
Audits & Inspections - rigorous inspection program
Employee Wellness and Incentive Program -Paid sick leave program
Something changed though in the summer of 2016. Chipotle rolled out a new rewards program, Chiptopia, which for each of the summer months one can earn a free meal for every four purchased. As the consumer continues to buy more, the rewards become even better. For more information see Chiptopia. Amazingly, since this program started in July, people are flocking to Chipotle stores like never before. Going to Chipotle now for lunch is just like early 2015 where the line was out the door; except these lines are even more crowded than the days before the food safety crisis. This is evidence that Chipotle is still highly demanded by consumers, and sometimes consumers just need a catalyst to get them back in the stores to rebuild the loyal relationship.
Time to Buy Chipotle
One thing the selloff in Chipotle did was keep bring the stock back to attractive levels and reduce its multiples. Chipotle still is not a cheap stock, however, as a growth stock it is trading at reasonable multiples. The food safety crisis resulted in a lot of lost sales, about 16%, for Chipotle . However, if consumers are coming back in large numbers as we are witnessing, sales could soon be higher than ever and earnings will overshadow its dark days of 2015. Chipotle's 3Q16 results will give very important clues as to the life of the company and future growth expectations. If sales return to the levels of pre 2015, at current levels, the stock will only be trading at 25 to 30 times earnings which will force the price of the stock much higher. With sales at those levels, we believe the stock will trading over $500.00 by the end of the year with opportunities for it to reach new all time highs within three years. Technical analysis also indicates that Chipotle is trading at long term support levels of $400.00 with no true resistance levels until $550.00. Chipotle's economic condition along with its technical analysis could be a catalyst for the stock to get to $500.00 to $550.00 even earlier than the end of the year.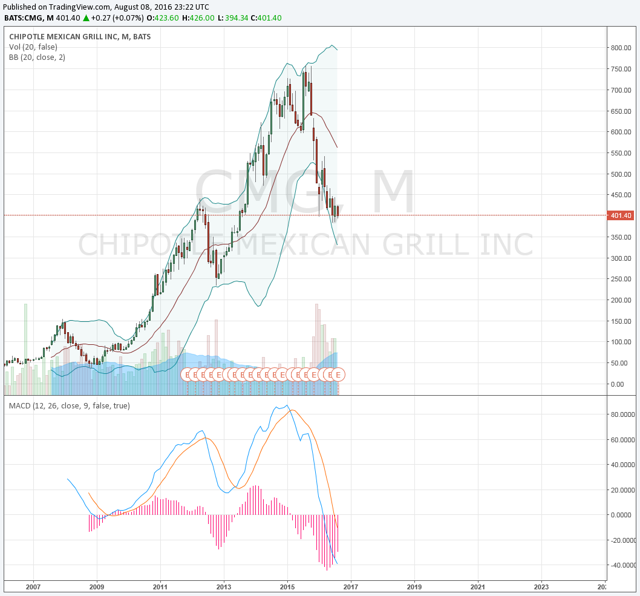 Source: TradingView
Disclosure: I/we have no positions in any stocks mentioned, and no plans to initiate any positions within the next 72 hours.
I wrote this article myself, and it expresses my own opinions. I am not receiving compensation for it (other than from Seeking Alpha). I have no business relationship with any company whose stock is mentioned in this article.