More than 85% of companies in the S&P 500 Index have now reported their latest quarterly results this earnings season. The results coming out of the past week provided us with the latest example of the fundamental contradiction that is the U.S. stock market in 2016. For while corporate earnings forecasts were once again revised meaningfully lower in the past week, stocks used the occasion to celebrate by surging to new all-time highs. Who doesn't like to pay even more for earnings that are increasingly shrinking, right?
Increasingly Shrinking Earnings Forecasts
How far earnings expectations have fallen since the start of the quarter. The following were projections for annual as reported earnings per share on the S&P 500 Index (NYSEARCA:SPY) as of June 30, 2016.
2016 Q2: $89.79
2016 Q3: $94.60
2016 Q4: $105.31
It wouldn't be a quarterly reporting season without downward revisions to earnings forecasts, so the fact that these numbers have drifted lower is not surprising. But knowing the importance of the fundamental backdrop improving in order to support higher stock prices, the hope heading into the quarter was that corporate earnings would at least be able to clear some seemingly reasonable bars.
My three key targets coming out of Q2 earnings season are listed below:
2016 Q2: > $86.44
2016 Q3: > $90.66
2016 Q4: >= $100.00
Achieving these three readings coming out of the quarter would provide the following. First, the Q2 number coming in above $86.44 would mark the end of six consecutive sequential quarters of as reported earnings declines dating back to 2014 Q3. Also, the Q3 number coming in above $90.66 would keep open hope that the S&P 500 Index could avoid a seventh consecutive quarter of annualized earnings declines in the months ahead. Lastly, the Q4 number holding at or over $100 would also keep alive the notion that earnings might actually see some sort of rebound before the year is out.
Heading into the most recent period ended July 28, we had already seen these quarterly earnings projections revised lower to the following:
2016 Q2: $87.73
2016 Q3: $92.03
2016 Q4: $102.39
Put simply, the earnings outlook for the S&P 500 Index had fallen off by between -2% and -3% in just four weeks since the end of the quarter, which is a big move.
So what then did the latest period ended August 3 bring us? Hopefully, some better news? In reality, even more bad news on the earnings front.
The following are the latest annual as reported earnings per share readings on the S&P 500 for the period ended August 3:
2016 Q2: $87.23
2016 Q3: $91.18
2016 Q4: $101.84
In short, corporate earnings forecasts fell sharply yet again last week. This included a -0.57% decline in the 2016 Q2 reading, a more notable -0.92% hit to 2016 Q3 projections, and another -0.54% shaved off of the 2016 Q4 reading. As a result, the Q2 reading is now down -2.85% since the start of the quarter, while forecasts for Q3 and Q4 are lower by -3.62% and -3.30%, respectively, over this same time period.
And while the forecast for 2017 Q1 earnings is still largely rubbish at this point, it is worth noting that the earnings forecast for this quarter was also cut down by another -0.83% and is also lower by -3.65% since the start of the quarter.
What about the quarterly number? The damage here is even worse. The quarter started just five short weeks ago with projections for a quarterly as reported earnings per share on the S&P 500 Index at $26.15. In the five weeks since, this number has been slashed lower by nearly -10% to $23.59 and still falling including another -2.09% drop last week. As a result, we have gone from initial forecasts just five weeks ago of a year-over-year increase in quarterly earnings of nearly +15% to one that is just over +3%. And if the current trend continues, quarterly earnings growth may struggle to stay positive on a year-over-year basis for Q2 before it is all said and done.
So putting this all together, in just five quick weeks, what was projected to be a potentially solid quarter of corporate earnings results has all but evaporated. Q2 as reported earnings are now precariously close to falling below the Q1 reading of $86.44. The Q3 earnings forecast is likely to turn negative on a year-over-year basis as early as next week. And Q4 earnings are likely to follow not long after in heading below $100 per share with eyes starting to turn toward whether it can stay above the $86.53 level in the next seven months to remain positive on a year-over-year basis.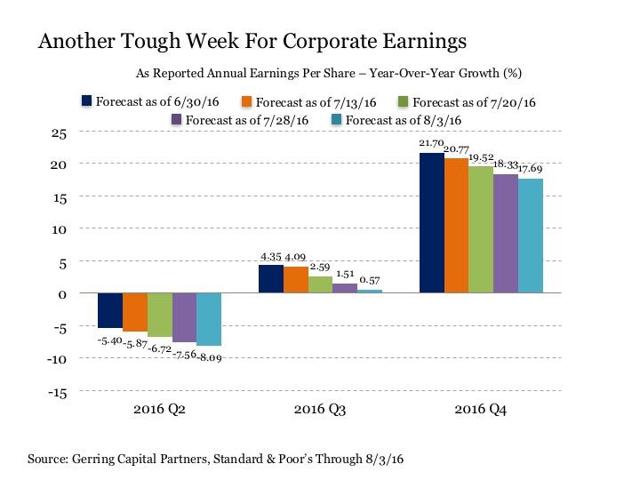 Can we take solace in the fact that roughly 17 out of 20 companies in the S&P 500 Index have now reported; thus, the rate of decline in the forecast data will start to slow? Not really, for while the Q2 number will start to stabilize somewhat, companies may continue to bring their Q3, Q4 and 2017 Q1 numbers consistently lower through the remaining two months of the current quarter.
A Silver Lining Worth Noting
Despite all of this discouraging news on the earnings front, one silver lining is worth noting. Quarterly sales per share for 2016 Q2 were initially projected to come in at $284.64 per share at the start of the quarter. And after five weeks, this revenue per share reading has actually increased marginally to $285.77 per share. As someone who places a meaningful weight on sales per share data because of the fact that the top line number is much less subject to adjustment and accounting creativity, I view this as a promising sign of strength on the margins that should not be overlooked.
Bottom Line
Corporate earnings continue to deteriorate at a rapid clip with each passing week in the second quarter earnings season. And some of the key levels that were hoped could be held through to the end of the quarter may be surrendered as soon as next week. While the U.S. stock market continues to look past these fading earnings forecasts and may continue to do so as they surge to new all-time highs, it is an increasingly widening fundamental disconnect that promises to become measurably worse in the weeks ahead.
For those that don't like to pay a steadily rising "P" for a steadily shrinking "E" in their P/E ratio, this is a growing risk that has the potential to present quite a few problems for stock investors at some point down the road.
Disclosure: This article is for information purposes only. There are risks involved with investing including loss of principal. Gerring Capital Partners makes no explicit or implicit guarantee with respect to performance or the outcome of any investment or projections made. There is no guarantee that the goals of the strategies discussed by Gerring Capital Partners will be met.
Disclosure: I/we have no positions in any stocks mentioned, and no plans to initiate any positions within the next 72 hours.
I wrote this article myself, and it expresses my own opinions. I am not receiving compensation for it (other than from Seeking Alpha). I have no business relationship with any company whose stock is mentioned in this article.