MannKind (NASDAQ:MNKD) investors now have about a month's worth of sales data to assess in the MannKind 2.0 re-launch of Afrezza. Thus far, the re-launch has not been seamless. Product shortages, lack of sample packs, and lack of new titration doses have all been points discussed. Meanwhile, after a month of pounding the pavement, the Afrezza sales force is striding right in the range I projected they would.
After the first month, aggregate sales of Afrezza stand at 1,005 scripts. My most bearish model had an aggregate of 995. My middle model had an aggregate of 1,027, and my most bullish model (which is still way below what is really needed) had 1,048. Essentially, sales through the first month are tracking between my bearish and middle models.
This past week, Afrezza sales saw a dip to about 270 scripts. New scripts increased by one, while refills dipped by about 20. This would indicate that last week's rise was more likely about an interruption in the supply channel two weeks ago that delivered a bump last week, and we are back to normalcy this week.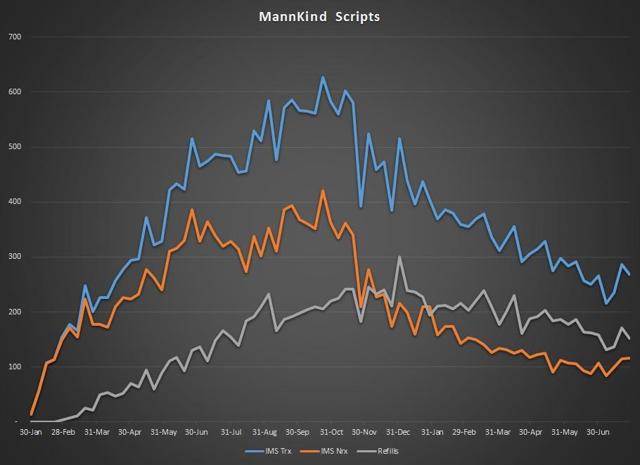 Chart Source - Spencer Osborne
As I have stated many times, modeling is important. It is also important to understand the limits placed on MannKind because of the cash situation the company is in. MannKind talked up its re-launch and said all things one would expect the company to say. It is now about execution. At the 1-month mark, MannKind is doing pretty much what I expected, but well below the levels that would be needed to generate a positive attitude toward the equity or give the company a slight amount of leverage. Sales of Afrezza are tracking along what I have modeled. They have been both below and above my model, but in aggregate, sales are just below the midpoint of my estimates.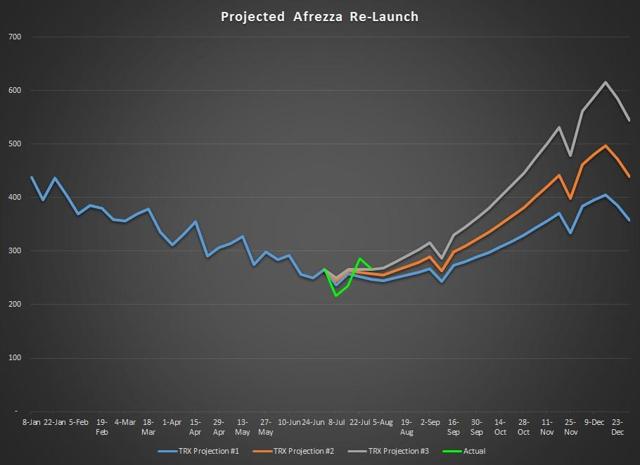 Chart Source - Spencer Osborne
What many people have a keen interest in is how the MannKind 2.0 launch compares to what Sanofi (NYSE:SNY) was able to accomplish. The chart below adds the original Sanofi launch. The reason this comparison is important is that if MannKind can carry a better trajectory than Sanofi did, it can use that data as leverage in any potential negotiations for partnerships or capital raises. If MannKind cannot do better than the Sanofi launch, then it will be difficult to argue that Afrezza will trend well.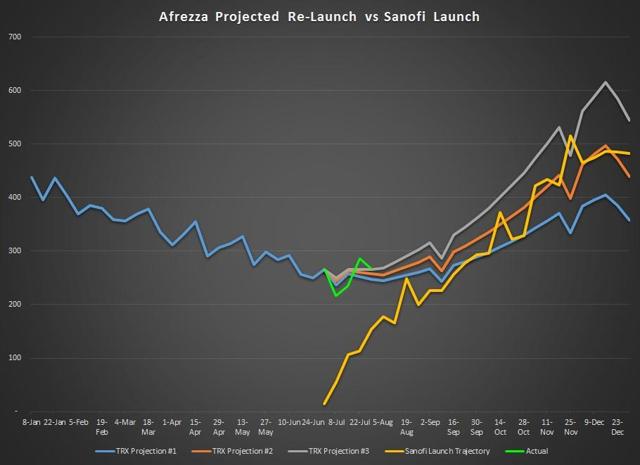 Chart Source - Spencer Osborne
Some readers have very aggressive models and expectations. I have seen a few put out expectations that scripts will get to 3,000 per week. While I think these readers are leaning more toward what they want to see rather than what is realistic, the exercise has its learning value. Below is a model that would get to 3,000 by the end of the year. As you can see, getting to 3,000 scripts a week by the end of the year would require a pretty substantial build-up over the next few weeks. Personally, I do not think these expectations are realistic.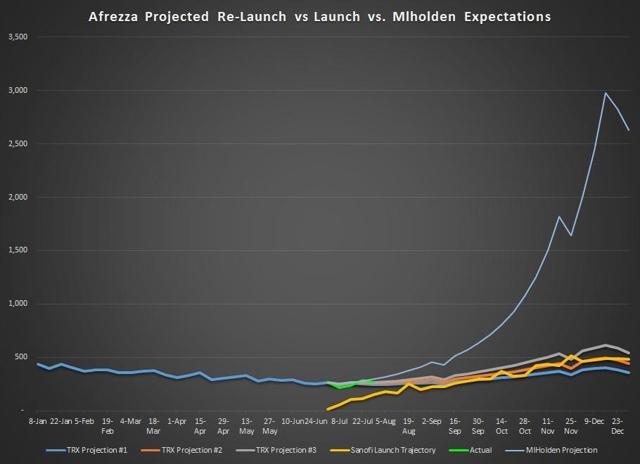 Chart Source - Spencer Osborne
On a quarter-over-quarter basis, Afrezza sales are tracking 21% lower than what was seen in the previous quarter. This is not a positive development, but not unrealistic either. In my models, I anticipated a flatness in the first month as a new sales force hit the streets.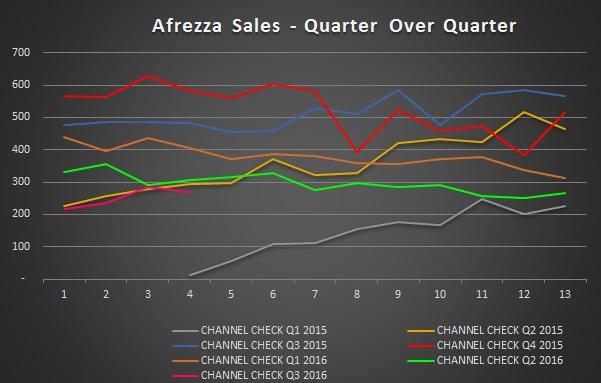 Chart Source - Spencer Osborne
On a year-over-year basis, sales are tracking about 48% lower than what was seen last year. This essentially means MannKind has some catching up to do. The company will get a bit of a reprieve in quarterly calls, because last year a partner was involved and this year there is no partner. This means there isn't really an "apples-to-apples" comparison.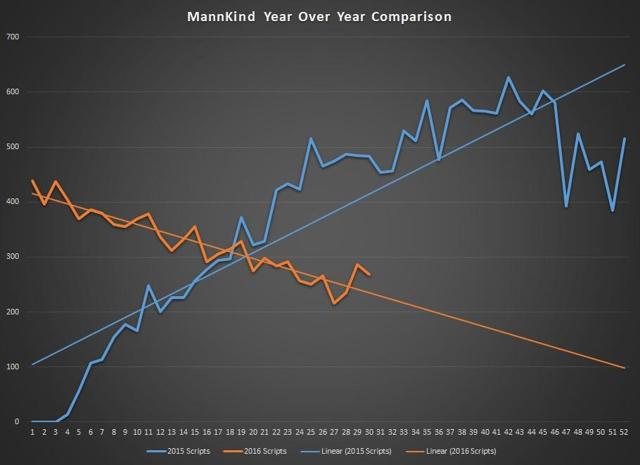 Chart Source - Spencer Osborne
The critical element in tracking sales is the ability to assess where the cash situation is and whether the company is gaining or losing possible leverage in longer-term strategic matters. With last week's numbers, I have the cash balance of the company at about $34.8 million. I anticipate MannKind will need to source capital at some point well prior to the end of the year. It could really use a big pop in scripts to improve leverage in any such negotiations.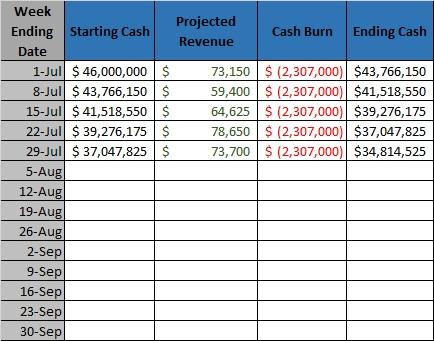 Chart Source - Spencer Osborne
The MannKind story at the moment is not about Afrezza as a medical product, but rather the potential of Afrezza as a business model. We do not need to like the data we see, we simply need to understand it. We can talk about what is possible, but as investors or potential investors, we need to grasp what is probable. Stay tuned!
Disclosure: I/we have no positions in any stocks mentioned, and no plans to initiate any positions within the next 72 hours.
I wrote this article myself, and it expresses my own opinions. I am not receiving compensation for it (other than from Seeking Alpha). I have no business relationship with any company whose stock is mentioned in this article.