Best Buy (BBY) Announces Store Closure
Just yesterday, it was reported that a Best Buy store will not be continuing its lease and will be closing down its store in Willmar, MN. This is not the only Best Buy store to be closing however.
Looking back through news and announcements we see that this may be a trend as more consumers shop online for electronics through retailers like Amazon.com (NASDAQ:AMZN) and superstores like Costco Wholesale (NASDAQ:COST) and Wal-Mart (NYSE:WMT).
Why Close a Store?
Following the announcement to close the location in Willmar, MN, Best Buy spokesperson Bianca Jones cited multiple reasons for a store closure decision:
change in consumer shopping patterns at the retail center
rising building operation costs at a retail center
declining sales in the retail center
overall strength in the retail center
As revenues declined for Best Buy, many locations were closed in 2015 including locations in Colorado, Wisconsin, and Massachusetts.
The Other Closure Consideration: Expiring Lease?
One of the major commonalities is that many stores closed in 2015 had expiring leases. The Minnesota location whose closure was just announced also has an expiring leases. The Iowa location that just closed in June had an expiring lease.
Best Buy CFO, Sharon McCollam said a few interesting things in the Q4 BBY investor call. In response to Michael Baker of Deutsche Bank Securities' question, "...what do the leases look like in terms of expiration?" McCollam responded:
"Yes, every year here on out is a big year for expirations. We have well over 100 expirations coming into fiscal 2016...The diligence around the renewals is substantial, if we are renewing."
Best Buy Locations

According to data provided by Statista, Best Buy had 1037 locations throughout the United States for 2016. Therefore one store closing is under one tenth of a percent of their locations.
However, just to assume the scenario where Best Buy chose not to renew any of its expiring leases in a push towards leaner lease costs, that would be "well over 100 expirations." That would amount to almost 10% of Best Buys stores closing, which is a major chunk.
As a side note - Before Circuit City liquidated, it was a NYSE-listed company with nearly 600 locations.
Other Retailers Closing Stores Too
Retailers with too many locations and not enough net income to show for them are all choosing to shut down under-performing locations.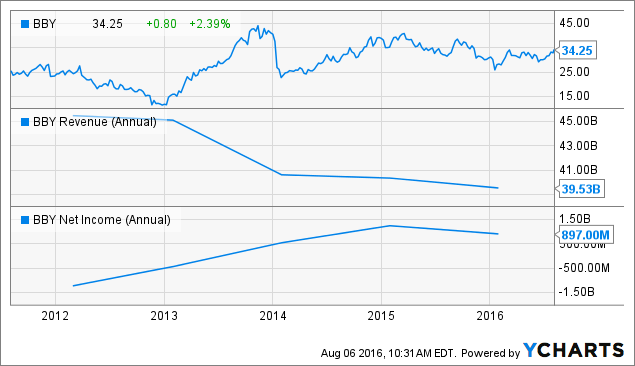 Best Buy is just one of many retailers that have been closing down storefronts as of late. Others include:
J C Penney Company Inc. (NYSE:JCP)
Sears Holdings Corp. (NASDAQ:SHLD)
Macy's Inc. (NYSE:M)
American Eagle Outfitters, Inc. (NYSE:AEO)
Office Depot, Inc. (NYSE:ODP)
The Children's Place, Inc. (NASDAQ:PLCE)
Wal-Mart Stores Inc.
Barnes & Noble, Inc. (NYSE:BKS)
Finish Line Inc. (NASDAQ:FINL)
and many more...
Not Necessarily a Bad Thing
Closing stores is not necessarily a bad thing though. Kerry Close in an article for Time.com's Money section said it best:
"Some physical store closings are not a sign of troubled times, but rather the sacrifices necessary to achieve greater profitability."
Takeaways
Just based on the one store closing in Willman, MN, it is difficult to make a judgment on BBY as a whole. However, this is a trend that is important to watch for both BBY investors as well as retail sector (NYSEARCA:XRT) investors.
As Best Buy and many other retailers grew their total locations to massive proportions, online retailers and discount clubs bolstered their electronics departments while beating or matching prices.
As one would expect - customers changed habits. To many electronics shoppers, Best Buy stores have become a place to look at a product before ordering it on Amazon.com or similar.
Best Buy investors should look to the upcoming BBY earnings announcement on August 23rd for more color in terms of lease renewals, as this seems to be the most correlated indicator to store closures.
Trends of annual revenue declines coupled with the opportunity to close many stores this year at lease end means BBY will be extremely thorough when determining which locations are performing as expected.
A closure here, a closure there... will barely make a dent in Best Buy's over 1000 U.S. locations. But, with so many leases set to expire through the end of 2016 we can expect Best Buy to close more than a handful of locations as they work to become a leaner company.
Upcoming Best Buy Closures
Further Reading:
"Best Buy Needs to Close 200 Stores"
Disclosure: I/we have no positions in any stocks mentioned, and no plans to initiate any positions within the next 72 hours.
I wrote this article myself, and it expresses my own opinions. I am not receiving compensation for it (other than from Seeking Alpha). I have no business relationship with any company whose stock is mentioned in this article.