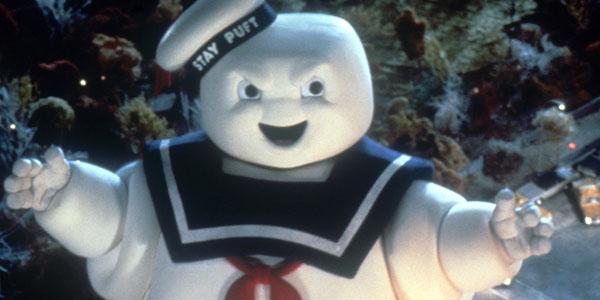 One of my all time favorite ghosts
It's not quite Halloween season, but regardless of the time of year I sometimes feel haunted by companies with ghastly Goodwill accounts, not unlike how Mr. Stay-Puft, Slimer, or that crazy witch-lady in the white dress torment New York City in Ghostbusters, one of my favorite 80's movies (disclosure: I have not yet seen the modern day remake). At times I am unsettled by the invisible wickedness that is Goodwill. It follows me like a dark shadow. It gnaws at me relentlessly wherever I invest. Mountains of money, right in front of me, yet I can never reach it. It is truly an accounting ghost; with its rippled cloak of translucent dollars, it is a phantom who taps on my shoulder when I least expect it, waving veiled currency before my eyes, only to disappear into thin air right just as I reach to grasp it. And so I search far-and-wide for places to hide; just when I think my investments are in the clear, I end up getting mystifying visits by ghosts of Goodwill past, present, and future - chimeras that always keep me on edge, and help me realize the true meaning of, well, busting ghosts.
Benjamin Graham in his 1937 book The Interpretation of Financial Statements penned a definition for Goodwill that has stood the test of time. It is just as relevant today as it was nearly 80 years ago:
Intangible Asset purporting to reflect the capitalization of excess future profits expected to accrue as a result of some special intangible advantage held, such as good name, reputation, strategic location, or special connections. In practice, the amount at which good-will is carried on the balance sheet is rarely an accurate measure of its true value
In other words, you can't see it, you can't touch it, you don't know what it is, and you don't know what it's worth…but it's there. For businesses like Coca-Cola (NYSE:KO) ($11 billion in Goodwill) or Johnson & Johnson (NYSE:JNJ) ($22 billion in Goodwill), there's certainly some value to the brand name and reputation. Microsoft (NASDAQ:MSFT), with almost $18 billion in Goodwill, deserves some respect for its founding footsteps in the tech industry. There's also an M&A component to Goodwill. It can represent the value above shareholder equity that an acquiring company would pay for the target. Executives spend thousands of dollars (if not more) on corporate M&A teams that work to value businesses for the strict purpose of take-over; it is only then, when there is money on the table for a deal, that Goodwill has true tangible value.
But what happens when the Goodwill account changes? There are three potential outcomes. First, the company could incur a Goodwill impairment. Instantly the total value of the company dissipates, along with the value of your shares. This event is much like what happened to Transocean (NYSE:RIG) ($0 in Goodwill) when oil prices collapsed starting in 2014. Second, Goodwill could stay relatively flat, not unlike the current process in Under Armour (NYSE:UA) ($580mm in Goodwill), as the company continues to compete with the likes of Nike (NYSE:NKE) ($131mm in Goodwill) and Adidas ($1531mm in Goodwill, €1,379 multiplied by an exchange rate of $1.11 dollars per euro). While we are on the topic, why is it that Nike with all of its sports branding power has one fifth the Goodwill of Under Armour? Are we all betting on the sheer wit of CEO Kevin Plank? The third outcome is that Goodwill can increase. Such is the case with FireEye (NASDAQ:FEYE) ($978mm in Goodwill). In first half of 2016, FireEye has increased their Goodwill valuation by over $227mm, while at the same time reporting losses in excess of $295mm. How is it that a company can become more valuable while simultaneously losing more money? These confounding Goodwill measurements are spooky enough to send a chill down any investor's spine. That said, using Goodwill data for 30 randomly selected Russell 3000 (NYSEARCA:IVW) companies, I set out to demonstrate that the average value of Goodwill is approximately 18% of Total Assets, and that Goodwill should be used not as a reason for buying into future profits, but a proxy for avoiding investment.
Below is a table of 30 randomly chosen companies represented in the Russell 3000, which covers approximately 98% of the U.S. market cap. The table includes Goodwill, Total Assets (both figures in millions of U.S. dollars), and Goodwill as a percentage of Total Assets. For each company, the most recent quarterly or annual balance sheet was referenced. It is important to note, however, that if the company does not report a specific "Goodwill" line item, it was excluded. For example, Global Net Lease, Inc. (NYSE:GNL) reports a "Goodwill and intangible assets" line item. GNL was excluded from the study, because intangible assets are not necessarily Goodwill. Other items, such as patents, can be valued as intangible assets. Each Goodwill statistic links to its corresponding Balance Sheet. Also included are descriptive statistics used to estimate the population mean of all 3000 companies.
| | | | | |
| --- | --- | --- | --- | --- |
| Company | Ticker | Goodwill | Total Assets | Goodwill/Total Assets |
| ALKERMES PLC | ALKS | | $1,785.3 | 5.2% |
| CAVIUM INC | CAVM | | $440.0 | 16.2% |
| ://CDK GLOBAL INC | CDK | | $2,672.8 | 45.0% |
| FEDEX CORP | FDX | | $46,064.0 | 14.6% |
| TRIPLE-S MANAGEMENT CORP | GTS | | $2,315.3 | 1.1% |
| ROBERT HALF INTL INC | RHI | | $1,783.0 | 11.8% |
| ://NATUS MEDICAL INC | BABY | | $486.1 | 22.8% |
| WELLTOWER INC | HCN | | $28,964.5 | 0.2% |
| ://ALERE INC | ALR* | | 5957.171 | 7.5% |
| ASCENT CAPITAL GROUP INC | ASCMA | | $2,185.1 | 25.8% |
| ://CHUBB LIMITED | CB | | $160,203.0 | 9.7% |
| ASBURY AUTOMOTIVE GROUP | ABG | | $2,372.1 | 5.5% |
| STARWOOD PPTY TRUST INC | STWD | | $89,386.4 | 0.2% |
| ACCENTURE PLC IRELAND | ACN | | $19,191.0 | 18.4% |
| GENERAC HOLDINGS INC | GNRC | | $1,919.5 | 37.3% |
| WATSCO INC | WSO | | $1,876.9 | 20.3% |
| CAESARS ENTMT CORP | CZR | | $12,117.0 | 14.0% |
| CERNER CORP | CERN | | $5,779.6 | 14.7% |
| CITIZENS INC | CIA | | $1,500.7 | 1.1% |
| US BANCORP | USB | | $438,463.0 | 2.1% |
| APPLIED MATLS INC | AMAT | | $13,075.0 | 25.3% |
| ://KRATON PERF POLYMERS | KRA | | $2,983.7 | 24.7% |
| DEVRY EDUCATION GROUP | DV | | $2,115.9 | 26.7% |
| MASONITE INTL CORP | DOOR | | $1,506.5 | 8.4% |
| ://FAIR ISAAC CORP | FICO | | $1,226.7 | 65.4% |
| ILLINOIS TOOL WORKS INC | ITW | | $15,222.0 | 29.3% |
| ROFIN SINAR TECHNOLOGIES | RSTI | | $710.7 | 13.2% |
| KAR AUCTION SERVICES INC | KAR | | $6,568.4 | 30.5% |
| CSS INDUSTRIES INC | CSS | | $302.9 | 6.6% |
| SHUTTERFLY INC | SFLY | | $998.8 | 40.9% |
(Source: SEC Edgar Database. Dollar figures in millions. *Alere, Inc. has just reported its 2015 10-k, therefore the balance sheet is dated back to December 2015. You can find more information about Alere here)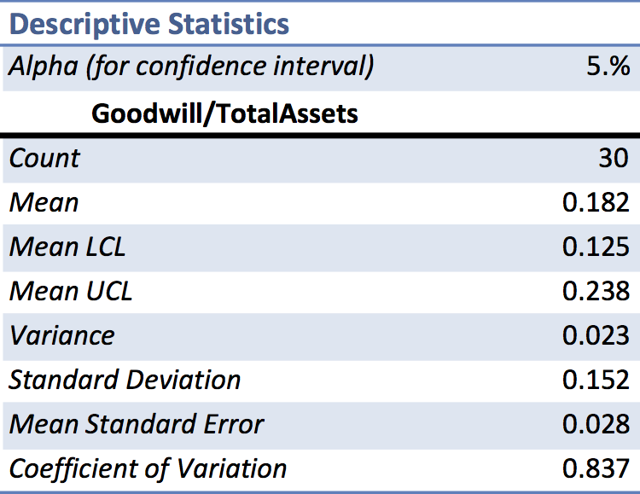 If you would like to view the full spreadsheet, click here, and it is available for download. Please feel free to analyze it, add to it, or scrutinize it.
The sample mean for the 30 companies is 0.182, or 18.2%. That is, on average, we can expect a company to have a ratio of Goodwill to Total Assets of approximately 18.2%. The descriptive statistics obtained above includes a lower confidence level and upper confidence level of 12.5% and 23.8%, respectively, and are calculated via a t-distribution with n-1 degrees of freedom at a 95% confidence level. To put it simply, we can be 95% sure that the actual average Goodwill/Total Assets for the Russell 3000 is between 12.5% and 23.8%. That is a fairly wide range of values. Are Goodwill valuations really that bewildering to corporate management? Is Goodwill in the eye of the beholder? A 2013 article on ValueWalk paints an ominous picture of Goodwill for the S&P 500 (NYSEARCA:SPY), in which year after year Goodwill becomes an increasingly larger percentage of assets, with an 8% Goodwill/Assets ratio in 2012. Is it reasonable to assume that the rest of the companies outside of the S&P 500 - the other components of the Russell 3000 - have significantly higher Goodwill assessments at a baseline average case of 12.5%? On a similar note, Mercer Capital in 2015 reported substantially more frequent occurrences of Goodwill impairments for smaller cap companies, leading us to believe that Goodwill-to-Asset ratios are undoubtedly higher outside the S&P 500 subsequently creating Goodwill bubbles that can burst in the face of market downturns. As an investor who buys into the potential success of a business, Goodwill can definitely be a disconcerting intangible asset.
Possible Biases in the Study
Before moving on, a word should be mentioned here about possible disparity between the obtain sample mean of 18.2% and the actual population mean of Goodwill/Assets for the entire Russell 3000. Not all companies report a specific Goodwill line item. As stated above, if the company did not report a Goodwill line item, it was excluded. It is possible, then, that there are companies who previously reported Goodwill, then impaired it down to $0, and no longer write it on the balance sheet. Similarly, some companies report Intangible assets, net as a line item, which might include Goodwill with it. Therefore, to stay within the focus of this study, it is perhaps more appropriate to state that if a company in the Russell 3000 reports Goodwill, it will report an average Goodwill/Assets ratio of 18.2%.
Ghosts of Goodwill Past, Present, and Future
Transocean, mentioned previously, represents one example of the consequences that surround total Goodwill impairment. The collapse in oil prices throughout 2015 crushed just about every energy-focused stock, and it is no coincidence that management subsequently wrote down to zero every dollar of Goodwill that was on their balance sheet. Below is a chart of RIG along with WTI crude since January 1st, 2014. When Transocean reported in August of 2014, there was no Goodwill impairment. The Goodwill line item was valued at $3 billion, and their Goodwill/Assets ratio stood at 9%. By November 2014 when they reported their next quarter, the company incurred a $2 billion charge. Three months later in February 2015, Transocean released its annual report, bringing along with it a loss of $5.29 per share for 2014. The remaining $1 billion of Goodwill vanished like a ghost: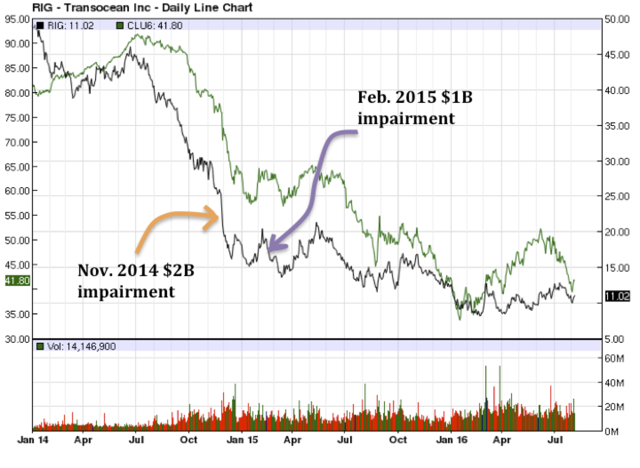 (Source: Barchart)
In effect, Transocean lost $3 billion that never existed anyway. When viewed as an M&A implication, it makes sense that all of the company's Goodwill was lost - who would want to buyout RIG with an oil price crisis staring them in the face? When viewed through the lens of Benjamin Graham's definition, where was the special intangible advantage? I would argue that none existed. Now that the impairment has been brought to light, Transocean might be a viable investment for the future. I have also asserted in the past that Transocean corporate bonds can be a worthy venture for the defensive investor.
The downward cycle for oil is clear, and it is history. What about the present? Community Health Systems (NYSE:CYH) in early 2014 completed a $4.3 billion acquisition of Health Management Associates, making it one of the largest hospital systems in the United States, managing 206 hospitals in 29 different states. But since 2015, it looks like CYH has run into its own share of sicknesses. The HMA acquisition has become a significant hurdle for management, compounding the problem of less frequent patient hospital visits and, with the coming election, an uncertainty surrounding the Affordable Care Act. Most recently the company has spun off 38 hospitals into Quorum Health Corporation (NYSE:QHC), earning $1.2 billion in the process. Management continues to look for more opportunities to divest assets. QHC is the line charted to the right: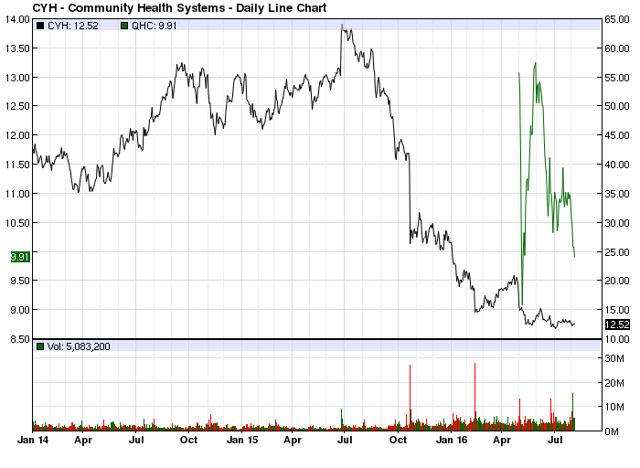 Curiously, while CYH was reporting meager performance throughout the second half of 2015, their Goodwill account remained at $9 billion through 2015 and into March 2016 (33% of assets)! It was only in their most recent quarter that the company wrote down $1.6 billion in Goodwill impairments - approximately $700mm went to Quorum and the rest was a result of bad performance. There's still about $7.4 billion worth of Goodwill left on CYH's balance sheet. While I wonder about just how real that Goodwill is, I also quiver at the thought of investing in a value company that is, well, not that valuable. Still, the Quoroum spin-off might present opportunities for both companies to profit from.
The future, while unpredictable and somewhat chaotic, is what Graham saw as the driver of Goodwill. There should be "excess future profits" that warrant an investment in say, FireEye, Inc., a company in the competitive, yet futuristic space that is Cybersecurity. While not yet a profitable business, management has aspirations of positive earnings by 2017. Currently, FEYE's Goodwill account stands at $978mm - 40.4% of the assets. Comparatively, Palo Alto Networks (NYSE:PANW), also in the Cybersecurity sector, has $164mm in Goodwill (about 6.5% of assets). Even though there are substantial opportunities for revenue growth in the sector, FireEye has had a few bumps along the way. Since January 2015, FEYE has lost over 50% of its value, while PANW has gained 8%. PANW's performance is not very adequate, FEYE's is downright frightening: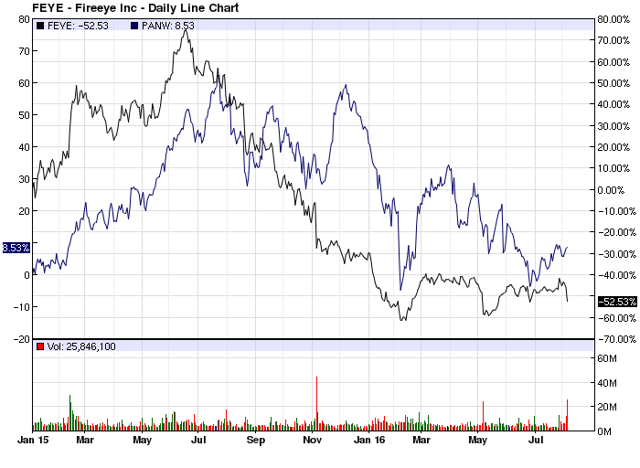 Both companies carry sizable amounts of share-based compensation, presumably due to the large sales force required to expand the subscription base of each company. However, FireEye's management has commented that the cyber attack-landscape has changed, from large scale China-based threats to corporations like Target and Home Depot to small ransom-demand attacks, which require less scope and scale from a Cybersecurity perspective. Given that the landscape is changing, are there excess future profits here? What has happened with the Goodwill account? Well, since FEYE peaked in June 2015 up until their most recent quarter (a 72% decline in the stock price), the Goodwill account has increased by $228 million, against a $12mm decline in assets. Will there be any future Goodwill impairments for FireEye? In my mind, the impairment has happened. Any ensuing valuation should effectively remove the Goodwill account before pricing the shares.
Amazingly, Graham saw this necessity decades earlier. His definition of Book Value excludes intangible assets:
The value of the assets available for that [stock or bond], as stated on the books, after deducting all prior liabilities…The accepted practice excludes intangibles in computing book value, which is thus the same as "tangible asset value".
How then, should an investor handle Goodwill accounts? Rather than grounds for buying into the future profits of a business, Goodwill analysis should be rationale for avoiding an investment. In my own internal analyses, by eliminating Goodwill from the balance sheet, I have side-stepped potential landmine investments (FEYE and RIG included). In the case of Transocean, once the Goodwill was effectively written down by management, I was presented with multiple opportune times to invest. In this way Goodwill impairments can act as a natural timing mechanism. Similarly, while Goodwill accounts differ across industries - of which Cybersecurity, Healthcare, and Offshore Drilling have been discussed here - the same cannot be said across companies within specific industries. By viewing Goodwill as an unnerving necessity, one can guard against unforeseen market downturns, and guard against ghastly losses via company impairments and evaporating stock values.
Any interested readers are encouraged to comment on Goodwill accounts, potential caveats, or possible impairments that can present opportunities.
Supporting Documents
Disclosure: I am/we are long ALR, RIG, CYH.
I wrote this article myself, and it expresses my own opinions. I am not receiving compensation for it (other than from Seeking Alpha). I have no business relationship with any company whose stock is mentioned in this article.