Shares of Mattress Firm Holdings (NASDAQ:MFRM) soared as much as 114.4% on August 8th after news broke a day earlier that the company would be acquired by Steinhoff International Holdings N.V. (OTC:SNHFF) (OTCPK:SNHFY). In this piece, I decided that it would be interesting to look over the deal and see what kind of sense, if any, this makes for the parties involved.
A look at the deal
According to the press release on the matter, Steinhoff will be acquiring Mattress Firm for $64 per share, valuing the equity in the business at around $2.4 billion. This represents an increase of 115% over the company's closing share price of $29.74 seen on August 5th, making it one of the largest premiums for a buyout that I've ever seen and certainly the largest I've seen in at least a year if my memory is correct. Including net debt into the equation, the total purchase price for Mattress Firm increases to $3.8 billion.
Due to the data that has been released, I don't quite know how everything will go down in terms of interest rates but I do know that Steinhoff stated that the transaction will be done with a $1.80 billion bridge facility (presumably replacing the nearly $1.47 billion that Mattress Firm has borrowed today. It will also involve a $1 billion 2-year term loan, as well as two $500 million term loans (one 3-year and one 5-year). This is actually a bit perplexing for me because Steinhoff, at the end of 2015, had cash and cash equivalents (using today's exchange rates from Euros to Dollars, of $3.40 billion on hand, so I'm intrigued about their reasons for not using some or most of their cash.
It's a great deal for Mattress Firm's investors
I think it would be a real challenge to find a Mattress Firm investor who doesn't like the deal as-is. With some exceptions through 2014 and 2015, the buyout price accepted by management is the highest that shares of the company have traded for over at least the past 10 years (so likely the highest ever other than the times I already mentioned). Although investors may prefer an all-time high for a buyout, however, when you consider that the company is being purchased for 12.2 times last year's operating cash flow and 37.2 times earnings, I'd say that the deal certainly makes sense financially for current shareholders of Mattress Firm.
But is it good for investors in Steinhoff?
This question is infinitely more difficult to answer than the all-cash deal received by owners in Mattress Firm today. This is due to the fact that there are many things to consider involving the transaction. If, for instance, you look solely at cash flow and earnings, the picture becomes foggy. In the event that what matters to Steinhoff is Mattress Firm's earnings then, using 2015's financial results, the company could afford to incur annual interest expense of up to nearly 4.5% on its debt, assuming that the portion of the bridge facility being used to pay down Mattress Firm's existing indebtedness is at the same rate as said indebtedness, before the firm would see a loss each year on the deal. If, rather, operating cash flow is important, then that interest expense could be up around 10.1% per year, an unlikely number.
All of this makes the assumption, however, that results for Mattress Firm do not change moving forward. As you can see in the image below, this is unlikely to be the case at least near-term. Last year, sales in the U.S. for mattresses came out to $8 billion, the highest on the graph. This year that number should grow to $8.3 billion, followed by an increase up to $8.9 billion next year. With 25.2% of the market share in this space, it's highly likely that Mattress Firm will, if this forecast turns out to be accurate, capture a sizable portion of these gains.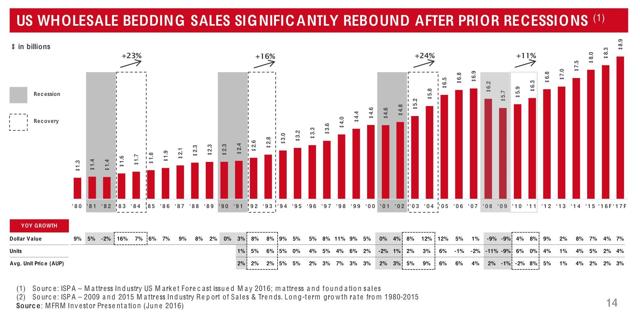 Of course, there's also the opportunity for Steinhoff to continue growing the brand. According to them, the average Mattress Firm store costs about $186 thousand to launch on a net basis and has a cash return to the company of 117% in its first year, followed by a return of 123% in year two. I always take these kinds of numbers with a grain of salt because they often overlook other corporate expenses associated with the company in question and they assume that price competition or product cannibalization does not impact the company's bottom line. However, even if growth (if it's still possible on any meaningful scale in the market) results in marginal returns, net of taxes, interest, etc..., come in at 20% or 30% then the deal isn't bad.

The last reason why I believe Steinhoff is acquiring Mattress Firm is almost certainly the most important. At this moment, Steinhoff receives all of its sales from places like Europe, Africa, and Australasia (I have never heard that term before looking over Steinhoff's presentation). Despite having over 40 brands that it sells across 30 countries, Steinhoff has zero presence in the United States, which is a large and (generally) high-margin environment. With over 3,500 stores and 75 distribution centers, Mattress Firm already has a strong foothold in the U.S., granting Steinhoff a unique chance to not only buy its way into the country for mattresses in a major way, but to also use this infrastructure to market and sell its foreign products. This could bring the company and its shareholders benefits that could make the financial results of Mattress Firm itself (within reason) immaterial to Steinhoff down the road.
Takeaway
Based on the data provided, I'd say Mr. Market likes what's happening and I understand why. Generally speaking, I am skeptical about mergers and acquisitions, especially regarding high premiums over share prices, but in this case I'm not too concerned. While I do wonder how attractive the fundamentals of the deal will end up being on an income and cash flow basis (management is forecasting U.S. pro forma EBITDA of $308 million per year and operating profit of $219 million), the ability for Steinhoff to bring its products to the U.S. fairly easily compared to growing organically here would bring a great deal of comfort to me if I were a Steinhoff shareholder.
Disclosure: I/we have no positions in any stocks mentioned, and no plans to initiate any positions within the next 72 hours.
I wrote this article myself, and it expresses my own opinions. I am not receiving compensation for it (other than from Seeking Alpha). I have no business relationship with any company whose stock is mentioned in this article.
Editor's Note: This article discusses one or more securities that do not trade on a major U.S. exchange. Please be aware of the risks associated with these stocks.