Technology is a high-stakes and rapidly shifting industry. Since the "dot-com" bust of the early 21st century investors and consumers alike have witnessed the fall of many once powerful tech companies. As the wheat was separated from the chaff over the years the stronger companies survived but never quite regained their previous luster. There are several companies who survived the melee and are now simmering on the back burner of the tech industry that deserve our consideration despite now being boring and anti-sexy companies. In part one I covered Cisco Systems, next lets learn a little about some boring glass company.
Corning Incorporated
Yes, Corning Incorporated (NYSE:GLW) is a technology company. I was surprised to learn that as well, but as I learned more about the business it began to make sense. Corning has a long history going all the way back to Thomas Edison's light bulb in 1879. They've had their hands in some of the greatest technological advances since they made the glass enclosure for that first light bulb. The screen you are staring at as you read this on your phone could very well be made by Corning. Spend a little time on their website and you may be surprised just how "techy" this boring glass company really is.
Being a tech company put Corning right in the middle of the boom and bust of the late 20th/early 21st Century. In 1999 Corning hit a (split adjusted) high of $43.02 and the next year ascended to $113. By 2002 shares hit $1.10 and have quietly been recovering since with a slight interruption during the last recession.
As it turns out, making glass can be pretty good business and the past ten years have been great for their revenue.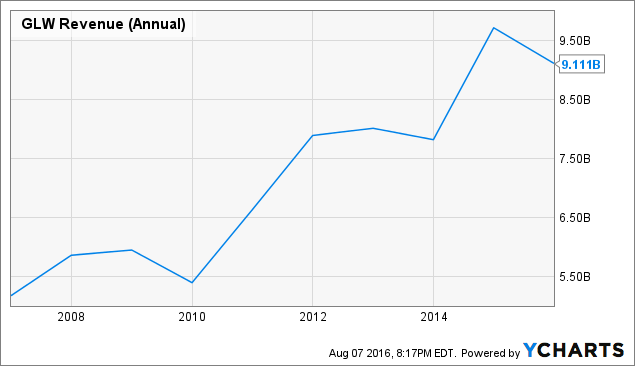 GLW Revenue (Annual) data by YCharts
This growth in revenue has created a pretty stout balance sheet as well. Their last quarter they reported $7.1 billion in cash and just $3.9 billion in long-term debt. Thanks to their recent divestiture of the Dow-Corning JV the cash balance was increased by $4.8 billion giving the company incredible flexibility just as some of their end-markets get really exciting. Long-term debt has been increasing YoY as well but who can blame with debt so cheap.
Besides a strong balance sheet and a war-chest stuffed with fresh cash the company's operating metrics are strong as well. This last quarter's earnings and revenue beats impressed investors who then bid the share price up to 52 week highs. Seeing as how I am viewing this company as mostly a slow-growth/dividend play I like to look at the free cash flow.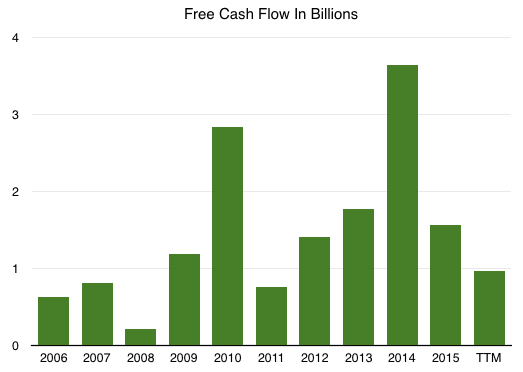 (Source: Author generated chart with data from Morningstar)
Free cash flow has been positive but a little lumpy. With positive free cash flow and fairly stable end-markets the company has pledged to steadily grow their dividend and buy back shares by dedicating $10 billion to that alone and another $10 billion to R&D and capital spending through 2019. Making good on their commitment the company raised the dividend by 12.5% back in February. Now paying $.135 a quarter the yield sits at 2.39%. The payout ratio using FCF is just below 70% leaving plenty of room for future increases.
Share buybacks through the years have reduced the outstanding shares considerably. In 2011 basic shares outstanding was at 1.562 billion and that number now sits at 1.038 billion (as of July 15th*) for a ~33% reduction in the float.
*The company appears to be actively buying shares still, having bought 21 million between June 30th and July 15th according to the 10-Q. They reported 1.059 billion basic shares on June 30th.
With the company hitting 52 week highs the valuation looks pretty rich. Right now at TTM EPS of $1.33 shares are going for 17.14 times. The mean estimate from six analysts for 2017 is $1.58 so on a forward basis shares are at just 14.4 times earnings. Of course F.A.S.T. Graphs helps visualize things for us.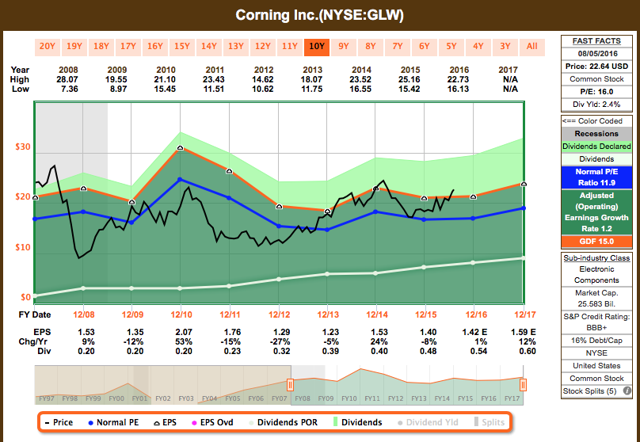 (Source: FAST Graphs)
Conclusion
I've written on Corning a few times in the past, those articles can be found here and here. Fellow SA Contributor Willow Street Investments has written 26 articles on this company and is a great resource for some additional background.
The company is placing more emphasis on their dividend which is well covered by real cash flows making this an interesting choice. The company is pretty boring, which I like, and as tech starts to transition to the Internet of Things they could impress with growth as well. The yield may seem unimpressive now but their last raise was 12.5%, and the next raise will likely be the same, and there aren't many companies providing 12.5% annual raises these days.
I hope you all got something out of this article. I do appreciate the time you took reading it. If you are one of those who follows me here, I appreciate it; if you'd like to include yourself amongst those individuals, please hit the "Follow" button next to my name as well as following other contributors whose work you enjoy. As always, please leave any feedback and questions you may have in the comments below. Best of luck to you all.
Disclosure: I am/we are long GLW.
I wrote this article myself, and it expresses my own opinions. I am not receiving compensation for it (other than from Seeking Alpha). I have no business relationship with any company whose stock is mentioned in this article.