13 years. That's how long it took Nike (NYSE:NKE) to add $20 billion in revenues to go from a $10 billion business to a $30 billion one. Confident off of this growth, it released an ambitious statement back in 2015 saying that it would tack on another $20 billion in just five short years. In order to reach this target, Nike will have to grow at an approximate 10.3% compounded annual rate. As aggressive as this may seem, Nike is firmly on track to reach its revenue goals for 2017 that were set back in 2013. Aiming for $36 billion, the athletic apparel giant needs a lower compounded annual growth rate of 8.5% to fulfill its goal.
To see if Nike's 2020 goal is achievable, we must evaluate how Nike plans to grow. It pegs its future growth to several key areas; e-commerce, women, and its Jordan brand. Let's take a closer look at each growth category.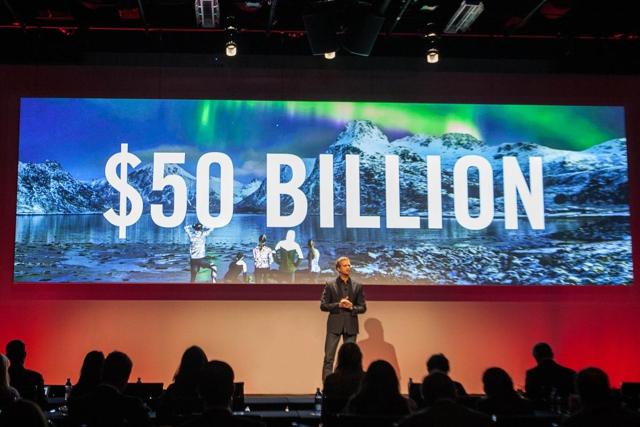 E-Commerce
E-commerce is a large part of Nike's growth strategy. It sees revenues in this area swelling to $7 billion, up an astonishing amount from the $1.2 billion it generated in 2015. Nike is actually ahead of course on this one. The target requires compounded annual growth of 42%. In Nike's fiscal Q3, it tracked a 56% increase in e-commerce sales YoY. While this figure beats the required growth by 14 percentage points, the true beauty of this growth stat is this; it's accelerating. The two quarters prior to Q3 saw YoY growth of 46%, then 50%.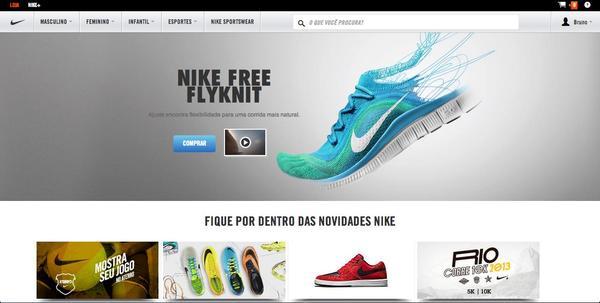 Now e-commerce sales have been posting impressive growth largely because Nike is simply offering its e-commerce capabilities in new regions. Since the 2015 announcement, they have added e-commerce offerings in Canada, Switzerland, Norway, Chile, Turkey, and Mexico. So while the growth is above estimates, it will be important for Nike to continue its growth trajectory past openings in new regions.
Seeing that the 56% growth achieved in Q3 is well above the required 42% and should help cushion and decelerations, I see a strong chance that Nike is able to reach its $7 billion e-commerce goal.
Check out this great article by fellow Seeking Alpha Author, Sarah Ji, for more on Nike's e-commerce strategy.
Women's
Nike sees its women's business nearly doubling from $5.7 billion in 2015, to $11 billion in 2020. As of now, Nike's "Women's" category constitutes about 29% of Men and Women's sales. Although an under-represented portion of the business, Nike and other athletic apparel companies are quickly learning how to appeal to women. Before, athletic apparel companies would take men's clothes and offer them in more colorful, smaller sizes. This strategy of "Shrink it and Pink it" was highly ineffective.
Nike now creates apparel specifically for women, and even operates a few "women's only" Nike stores. The company just released a 3 minute video focusing on Indian female athletes that draws a sharp contrast from the "Shrink it and Pink it" tone. In addition, women are especially drawn to fitness apps. Nike Training Club boasts 21 million downloads, and should steadily add users. By connecting women to the brand digitally, this serves to increase their purchases and loyalty to Nike. Women are also embracing the athleisure trend, which I believe will continue to flourish.
Nike's women's business is outpacing its men's business and has grown in double-digit territory for 9 consecutive quarters. However, Nike will face stiff competition from Under Armour (NYSE:UA) and Lululemon (NASDAQ:LULU) in this category. The incredibly low overall penetration of this segment will allow all companies to grow, albeit at a slower pace than expected.
While it will certainly come close to reaching its target, I am not as confident in Nike's ability to reach $11 billion in Women's sales due to the increased competition.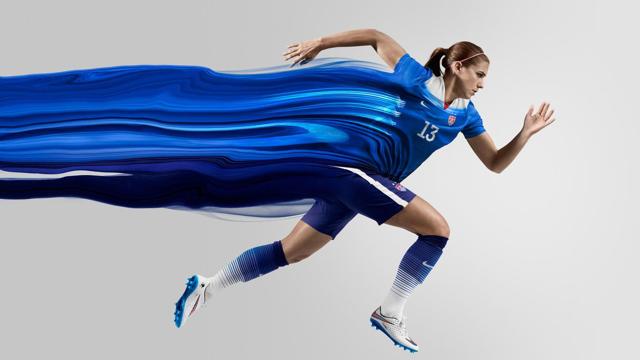 Jordan
Much like Women's, the Jordan brand is expected to double by 2020, thus bringing in $4.5 billion in revenue. The brand has powered on even after Michael Jordan's career has come to an end. This is partially because Michael works to promote the brand. Per his agreement, he receives a portion of all Jordan revenues. This is a huge benefit for the staying power of Jordan's. Even beyond Michael's efforts, society has created a culture around the Jordan brand, and I believe that is what is propelling growth.
Nike's share in the athletic shoe market is a commanding 95.5%. Jordan's by themselves control 58% of the market. Because Jordan's share of the market is so high, I doubt Nike will be able to post significant growth in this category by merely selling more shoes. Nike could certainly sell more Jordan's in international markets to achieve growth, but the brand simply isn't as developed overseas as it is domestically.
The alternative is to raise prices on its shoe releases. I don't see this as a possibility. Resale value of Jordan's, a good measure of demand for the brand, has been steadily falling in the past couple of years. Read more about that here. Jordan's dominance is being challenged by the current superstar and Under Armour endorsed Steph Curry. Adidas (OTCQX:ADDYY) is also gaining ground, with its successful launch of YEEZY.
Due to increased competition, already large market share, and price elasticity, I believe that Nike will not achieve its $4.5 billion revenue target.
Conclusion
Let me begin by saying that I am a Nike shareholder. Although I am bullish on Nike's long-term prospects, I do not believe it will reach its $50 billion revenue goal by 2020. I believe they will come slightly short on their women's and Jordan initiatives due to intense competition. Other factors are also at play as well. Nike just pulled out of golf equipment, and will need to replace its revenues there. (Seeking Alpha contributor Ricardo Boiati believes this is only a loss of $44 million though.) Under Armour will be the biggest hindrance moving forward. Growing on average 25% compounded each year, I believe they will continue to steal share from Nike. With the new Kohl's (NYSE:KSS) deal, Under Armour will directly challenge Nike in 600-1200 stores.
As a shareholder, I am okay that Nike will not reach its goal by 2020. The segment that will grow the most is DTC, especially digitally with all its e-commerce offerings. The higher margins that accompany this segment will grow what matters more than revenues; earnings. In regards to the threat of Under Armour, I am relieved that their growth is largely limited to the U.S., as only 11.5% of sales are international. This comes out to about $455 million in sales, a small figure to a giant like Nike. International growth in high-opportunity markets like China will propel revenue growth well beyond 2020 and reward those who hold onto Nike stock.
Author's Note: I encourage you to follow me as I cover a wide variety of current topics, with a special interest in the technology, retail, and entertainment industries.
Disclosure: I am/we are long NKE.
I wrote this article myself, and it expresses my own opinions. I am not receiving compensation for it (other than from Seeking Alpha). I have no business relationship with any company whose stock is mentioned in this article.
Editor's Note: This article discusses one or more securities that do not trade on a major U.S. exchange. Please be aware of the risks associated with these stocks.