I've written quite a few articles covering food stocks like General Mills GIS. I like stocks like these because they are not only solid dividend payers but also great macro trades.
Let's first look at food production. Food production has been in a steady uptrend since 2014 and about 4 points higher than the levels of 2011 which has been around 98-99 since 2008.
If we look at year-on-year growth of industrial production, we see that growth is currently razor thin. Post crisis peaks have been around 3%. Current levels have actually been quite common since 2011 which was the moment when growth started to pick up.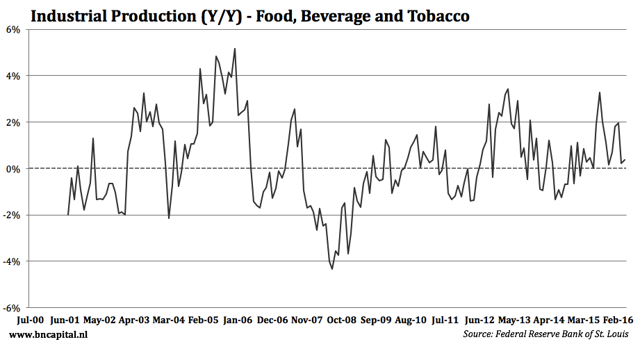 The most important leading indicator has one again predicted everything correctly. We see that growth sentiment of the ISM food, beverage & tobacco industry is picking up in 2011 and has been growing since then. Note that sentiment is mostly around 0.6. This indicates moderate growth.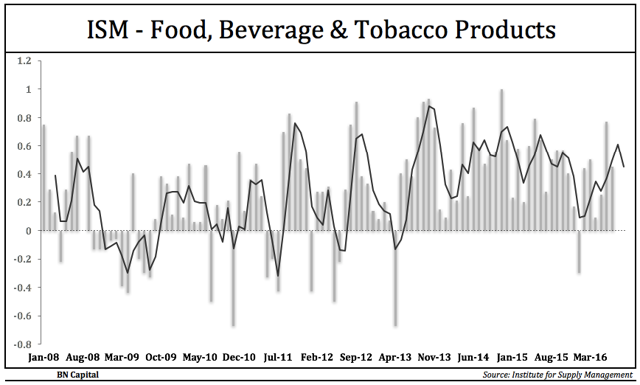 Food and beverage prices are in a free fall. Prices were growing about 1% on a year-on-year basis during my last article in June. Prices are currently at 0.5% which is about 1 point above the 2009 low.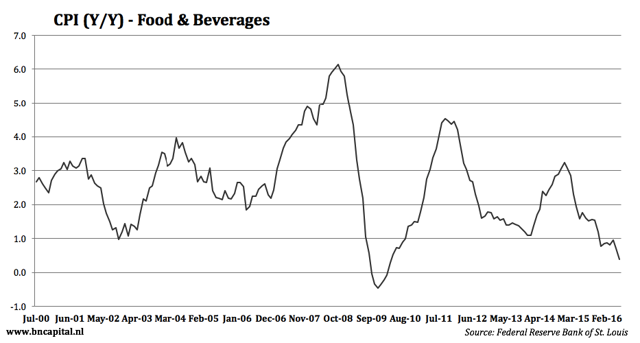 Most of the time, food prices increased along with agricultural commodities DBA. In 2010 we saw an extended period of growth. In 2014 we saw a much shorter period. The current upswing looks like a fake rally buy might turn out to grow in the second half of 2016. Regardless of what happens in H2 of 2016 we see that prices have completely ignored the recent agricultural commodity upswing.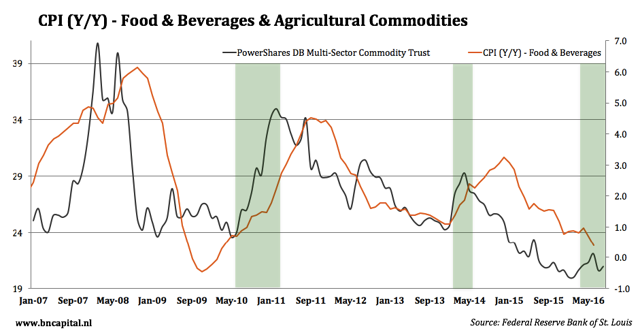 Even with very slow growth and lower prices, stocks were able to perform really good during the last few months.
Most stocks have been in an uptrend since a few years but started to accelerate in January of 2016.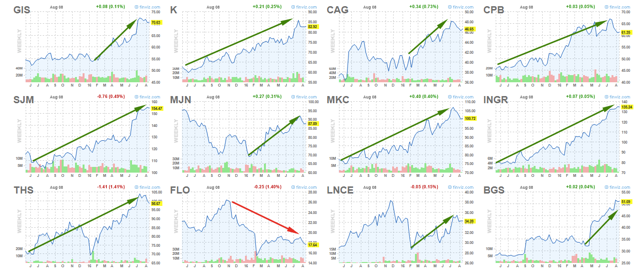 Source: FINVIZ
Extremely slow growth and higher prices have lead to a 'high' valuation.

Source: FINVIZ
P/E ratios can hardly be justified at current prices. Or can they? It always depends on the reason why you trade them. Most stocks still pay a +2% dividend at these levels. In addition to that, these stocks can be used to trade macro themes and economic cycles like I mentioned before.
Just look at the stock price of General Mills. The correlation with long term government bonds TLT is clearly visible. Especially the acceleration that started in Q1 of this year.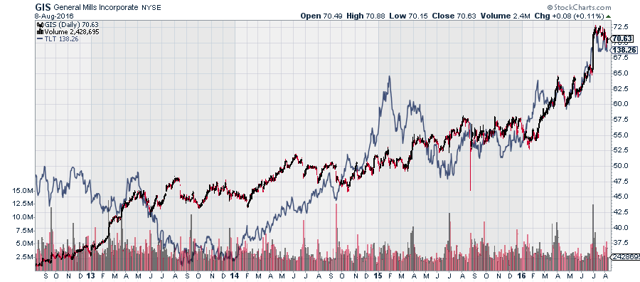 McCormick MKC is showing the same pattern.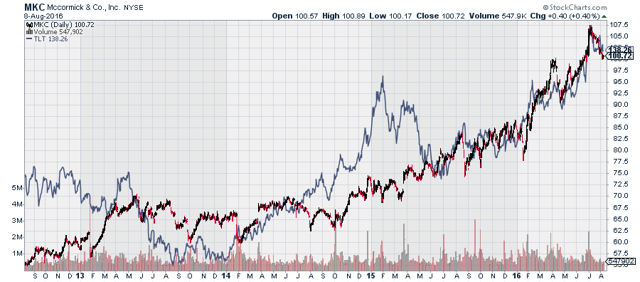 In this article I wanted to make clear that these stocks can be attractive even at these levels. When you trade macro, you can have extended periods where cheap stocks get cheaper and expensive stocks keep going up. Production growth is supporting higher prices, even if growth is razor thin. If rates keep going up, the story will change and these stocks will underperform.
Thank you for reading my article, if you have any questions or remarks, feel free to leave a comment.
Disclosure: I am/we are long GIS.
I wrote this article myself, and it expresses my own opinions. I am not receiving compensation for it (other than from Seeking Alpha). I have no business relationship with any company whose stock is mentioned in this article.