From 2006 to 2015, Verizon (NYSE:VZ) increased their revenue at a compounded growth rate of 4% a year. This was an impressive feat considering the size of the company; they started the period with over $88 billion in sales. They were also able to increase their dividend payment every year. A lot of that success can be attributed to Verizon's massive growth in the wireless business-- wireless users increased at a CAGR of 9% per year (140 million in 2015 vs 59.1 million in 2006) in the period, and wireless revenue had robust 9.2% annual growth.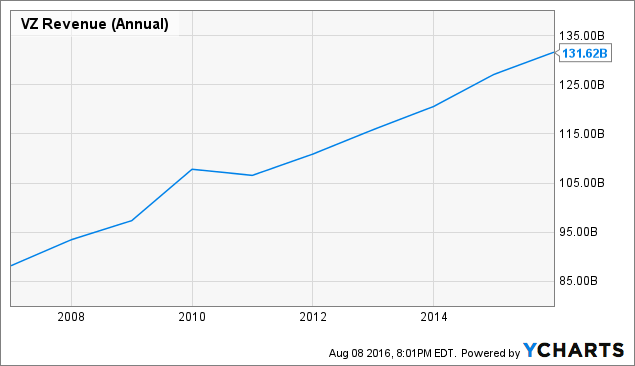 VZ Revenue (Annual) data by YCharts
Unfortunately, this amount of growth in the wireless business is simply unsustainable- there aren't that many more people out there to either [A] get their first mobile device and choose Verizon as the provider or [B] switch to Verizon from other networks. The company does hold a strong reputation as the best wireless provider, but faces aggressive competition and discounting from companies like AT&T (NYSE:T), T Mobile (NASDAQ:TMUS), and Sprint (NYSE:S) in their industry that limit the number of consumers that would realistically switch over in the future. In order to continue to provide solid financial performance and growth, the company needs to find business opportunities beyond wireless.
Management realized this and they have made numerous rapid moves to attempt to find new growth:
These acquisitions provide Verizon with footholds in exciting, hot businesses that are expected to see huge growth: mobile advertising and the Internet of Things.
Mobile
AOL CEO Tim Armstrong recently stated that mobile was set to"rip through the Internet and traditional media." A 2015 Salesforce presentation shows rapid growth in spending on mobile advertising that is only projected to continue in future years: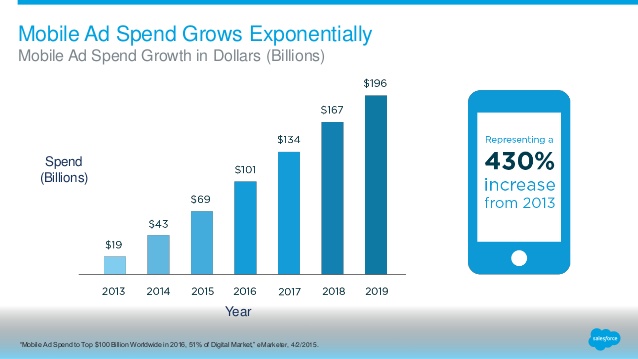 Verizon's combination of AOL and Yahoo provides them with the potential to pursue a share of this growth. AOL provides a range of interesting assets including Convertro (a platform that helps advertisers track which channels produce the most effective ads), Huffington Post, and TechCrunch. Armstrong has asserted that his company's top focus is on improving advertising on mobile ad platforms by utilizing methods such as "reverse commerce", which would apply data Verizon collects from the apps on its users' phones to suggest relevant, location-based products and services, and displaying consumer ad ratings, which would allow users to see how many other people approve/disapprove of an ad in the hopes of improving transparency and combating ad-blocking.
Yahoo brings to the table approximately 600 million monthly mobile users and 280 million email users (according to Marketing Land), greatly helping bring up Verizon's scale in the advertising business. Additionally, according to 2015 eMarketer research, Yahoo will increase Verizon's share of the total display revenue market to nearly 10%, making it third behind Facebook (30%) and Google (16%).
However, while improved scale should definitely help Verizon's ad business, some potential problems remain:
Google and Facebook each have powerful niches of the market (search and social media respectively) cornered; it will take great vision and execution for Verizon to carve out a space of their own in order to truly level up to a top-tier ad company.
On a similar note, both Yahoo and AOL are struggling companies that have long since seen their best days. Yahoo had such little confidence in their core assets after years of decline that they finally just auctioned them off to the highest bidder. In contrast, Google and Facebook are absolutely in their prime as companies and still rising-they are on the top in terms of technology, experience, and execution and it will be an extremely tough task for Verizon to wrest market share from them.
It also may take time for any real growth to come out of this segment; for example, Verizon's Go90 video service, launched last fall, won't be profitable for at least the first two years.
Internet of Things
The Internet of Things may have even higher expectations of future growth than mobile advertising: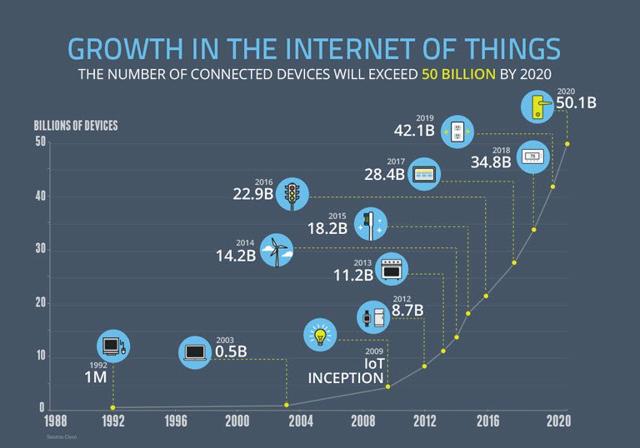 Business Insider predicts that nearly $6 trillion will be spent on IoT solutions over the next five years. Telogis and Fleetmatics both provide Verizon with plays in the growing industry-Telogis specializes in enterprise telematics and fleet-tracking, while Fleetmatics develops software that tracks vehicle location, fuel usage, speed, and other metrics. Verizon already had a Telematics business operating under its IoT segment (which posted revenue $205 million in Q2 2016) headed by Andres Irlando. According to Irlando, the two acquired companies add top of the line technology in the enterprise (Telogis) and small/medium sized (Fleetmatics) spaces, and Fleetmatics additionally provides presence in Western Europe and Australia.
While the IoT story is exciting, analysts again need to keep competition in mind-Verizon will be up against big players like Google, Microsoft, Cisco, Intel, and IBM going after a piece of the business. According to IOT Analytics, Verizon was just 20th on the list of biggest IoT companies (as of 2015):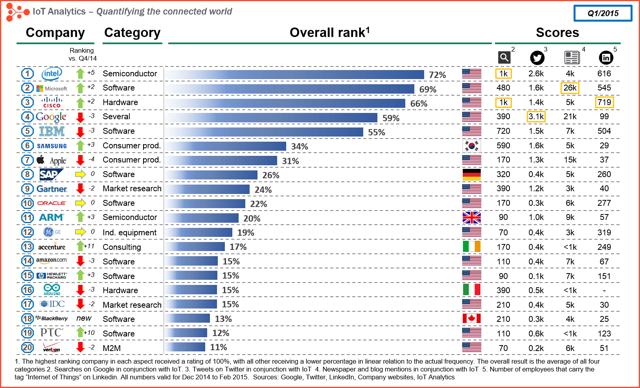 Conclusion
Harvard Business Review has reported that 70-90% of mergers and acquisitions fail. While I'm not saying that Verizon's acquisitions will all bust, it is going to take a great effort for the company to put all of the pieces together and have success against major competition. This will no doubt take time as well.
Keep in mind that the four acquisitions put together account for less than 10% of Verizon's market cap-in the immediate term, by far the biggest factor driving Verizon will be their wireless segment, which should see diminished growth. Only if the acquired businesses see major growth (as the company is hoping) will they have any major effect on Verizon's financial performance. I am choosing to avoid Verizon because I expect slowing growth for the company in the short term and I believe expectations for the acquisitions may be too high-bringing everything together won't be as easy as some people are expecting. However, the dividend should be safe; Verizon brings in operating cash flow north of $30 billion a year and FCF over $10 billion a year, which is plenty to cover what they're currently paying out. If you're investing purely for dividend, feel free to hold but definitely keep a close eye on Verizon's new segments and how they're affecting financials.
Disclosure: I/we have no positions in any stocks mentioned, and no plans to initiate any positions within the next 72 hours.
I wrote this article myself, and it expresses my own opinions. I am not receiving compensation for it (other than from Seeking Alpha). I have no business relationship with any company whose stock is mentioned in this article.