Chipotle (NYSE: CMG) stock price hasn't had a good year and that is putting it lightly. The stock was trading around $750 per share a year ago until the food poisoning catastrophe happened.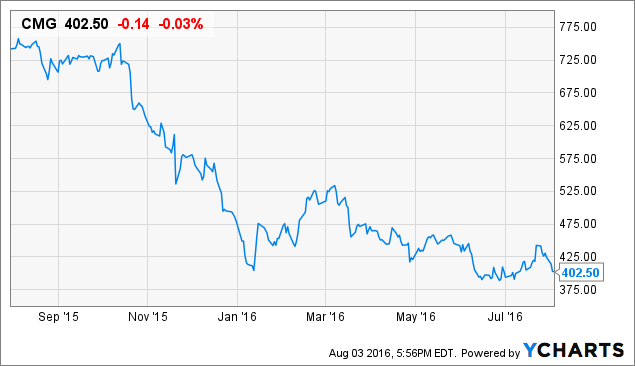 Chipotle had interesting new store return on capital metrics in 2015. The company could be again a compounding machine if they can get back on track.
At the end of fiscal year 2015 the company had 2,010 restaurants. Management plans to increase this by about 230 new restaurants this year. In the 2015 annual report management noted that it cost on average approximately $805,000 to open up a new restaurant. With 230 new restaurants being opened in 2016 this would total $185 million in invested capital.
The average revenue in 2015 per store was $2.42 million. Historical net margins before the food poisoning incident was around 10%. So, every new store created a net profit of $242,000. This is a 30% return on invested capital. For every $1 invested in new restaurant development the company received $.30 back. This is incredible returns.
It appears there is still room for store growth in their main market of the United States. There is about 14,200 Mcdonalds (NYSE: MCD) in the U.S., so if the market can handle even half that there is still room for value creating store growth. There is no reason why we can't see 7-10% store growth over the next 5 years.
One of the remarkable feats Chipotle has been able to do is have outstanding growth with the minimal use of debt. Currently Chipotle has no debt. Most of the growth has been funded through internal cash flow. The outstanding share count has been mostly flat over the last 10 years also. This proves that new restaurants don't take long to become profitable.
Risks
The food poisoning incident has put tremendous headwind on earning over the past 2 quarters. This is the biggest risk in my eyes. Can Chipotle win back its loyal costumers? This is the unknown and what is keeping the stock price down. In the second quarter comparable restaurant sales decreased 23.6%. Net income came in at $26 million compared to $140 million a year ago. This was better than the 1st quarter where they had a $26 million loss.
Chipotle has a summer rewards program going on currently to fix this issue. For more detail on it please see here. This program will be over September 30, 2016.
Forecasts
Below is the most optimistic forecast where comparable store sales normalize in the next few years because of the rewards program and marketing efforts.
| | | | | |
| --- | --- | --- | --- | --- |
| Store Count by 2019 | Stores added in 3 years | Revenue (Billion) | Profit Margins | Profit (Million) |
| 2,915 | 675 | $6.4 | 10% | $641 |
This forecast is if the rewards program only has a minimal impact on winning back loyal costumers.
| | | | | |
| --- | --- | --- | --- | --- |
| Store Count by 2019 | Stores added in 3 years | Revenue (Billions) | Profit Margins | Profit (Million) |
| 2,840 | 600 | $5.1 | 8% | $408 |
Concluding Thoughts
If Chipotle can normalize their same store sales back to where they were over the next year the company looks attractive. The new store economics are great. There is a big cloud overhead on if they can win back their loyal costumer base? The quarter to watch for and review will be the 4th quarter ending December 2016. The rewards program will have ended in September 2016 and this will be the first full quarter where we can see if the program helped retain back costumers. It will be advantageous for investors to wait to invest after the 4th quarter earnings to get a better understanding of the future of the company.
To read more research on stock spin-offs, micro to large cap companies, and compounding machines please consider following me (by clicking the "Follow" button at the top of this article next to my name) to receive notification when I publish research next.
Disclosure: I/we have no positions in any stocks mentioned, and no plans to initiate any positions within the next 72 hours.
I wrote this article myself, and it expresses my own opinions. I am not receiving compensation for it (other than from Seeking Alpha). I have no business relationship with any company whose stock is mentioned in this article.