With more than a million barrels per day of production being cut off during the past quarter due to the forest fires in Fort McMurray there was bound to be a dramatic effect on the energy industry. This shut down has had a dramatic effect on both producers and pipeline companies alike and has created an opportune time for investors to take a quick look at well performing Canadian energy stocks.
Today we will be focusing on how Canada's largest pipeline company Enbridge Inc. (NYSE:ENB) (along with its subsidiaries Enbridge Income Fund Holdings Inc. (OTC:OTC:EBGUF) and Enbridge Energy Partners LP (NYSE:EEP) which I have covered previously) remains an attractive investment option despite the recent quarter.
The fallout from the fire
Luckily for Enbridge most of its facilities and operations were not in the danger zone of the forest fires but the company did take preventative measures such as evacuations, reduced operations at the Athabasca terminal and the suspension of its Cheecham terminal. The temporary shutdown of this terminal resulted in 900,000 boe/day of crude being removed from Enbridge's pipeline system and lowered the average amount of product moved in the quarter by 250,000 boe/day.
This reduced movement had a negative effect on the company's financials, but Enbridge remained in the black during its second quarter. Available cash flow from operations actually rose in the quarter to C$868 million from C$808 million, somehow. EBIT fell to C$731 million from C$939 million, when we break this down we see that Liquids Pipelines' EBIT fell to C$643 million from C$1.09 billion and Gas Distribution climbed to C$83 million from C$78 million. At the bottom of the barrel, net earnings (attributable to common shareholders) fell to C$301 million (C$0.33 per share) from C$577 million (C$0.68 per share).
The impact was not the only factor which was working against EBIT in the second quarter as there was also an "impairment of $176 million ($103 million after-tax attributable to Enbridge) related to Enbridge's 75% joint venture interest in Eddystone Rail, a rail-to-barge transloading facility located in the greater Philadelphia, Pennsylvania area that delivers Bakken and other light sweet crude oil to Philadelphia area refineries." Along with a "goodwill impairment charge of $440 million ($167 million after-tax attributable to Enbridge) recognized in the second quarter of 2015 related to Enbridge Energy Partners, L.P.'s (NYSE:EEP) natural gas and NGL businesses."
While there have been a few minor hiccups and one major hiccup in the quarter this should be seen as a one-off quarter for Enbridge, and really the entire Canadian energy market.
Demand continues to skyrocket
Oil production and movement may have stepped back in the second quarter but demand for not only this year but several years to come is growing exponentially. Enbridge has recently stated that development of the Fort Hills, Christina Lake, Sunrise, Kearl and Surmont projects will increase pipeline demand by 700,000 boe/day by 2020. While over the short term Enbridge is claiming that demand for heavy crude transportation is currently 200,000 boe/day beyond its current capacity.
Enbridge traditionally tends to build its own pipelines rather than relying solely on acquisitions, but the current political climate concerning trans-border pipelines has perhaps played a role in a new deal. It has been revealed that Enbridge (under the Enbridge Energy Partners banner) has entered into a joint venture with refining company Marathon Petroleum (NYSE:MPC) (75% Enbridge 25% Marathon) to purchase a 49% equity stake in the holding company which owns 75% of the recently completed Bakken Pipeline System.
For Enbridge this comes at a cost of $1.5 billion for 27.6% of the pipeline network, but gives the company another route from the Bakken Region of North Dakota to Louisiana. The pipeline consists of two major lines: the Dakota Access Pipeline which runs from North Dakota to Illinois, and the Energy Transfer Crude Oil Pipeline which runs from Illinois to Louisiana.
This acquisition is an instant win for not only Enbridge but for many other Canadian oil producers as it gives them another route which can move 470,000 boe/day of crude to refineries in the Gulf of Mexico at a time when authorization for new trans-border pipelines has been scarce. Enbridge management has been advertising that this deal will give "our shippers the ultimate potential to reach the eastern U.S. Gulf Coast, which has been a strategic priority for us," and that this "provides a new market for Canadian crude oil through possible joint tolls with the Enbridge mainline."
This is the second major expansion by Enbridge to get Canadian crude to the United States, right behind the completion of the Flanagan South Pipeline which stretched from Illinois to refineries in Oklahoma. The joint venture between Enbridge and Marathon Petroleum will now share this new pipeline system with Phillips 66 (NYSE:PSX), which owns 25% of each of the two lines.
With this acquisition in place it appears that Enbridge will be cancelling its proposed 991km Sandpiper project, which was designed to carry Bakken oil from North Dakota to Wisconsin. Still, Enbridge has an aggressive capital expansion program in effect and is looking towards long-term growth at a time of lower energy prices.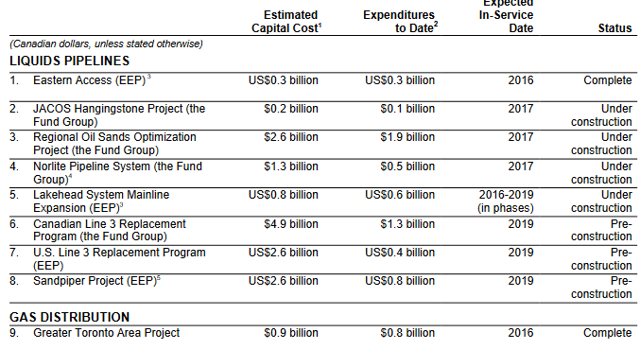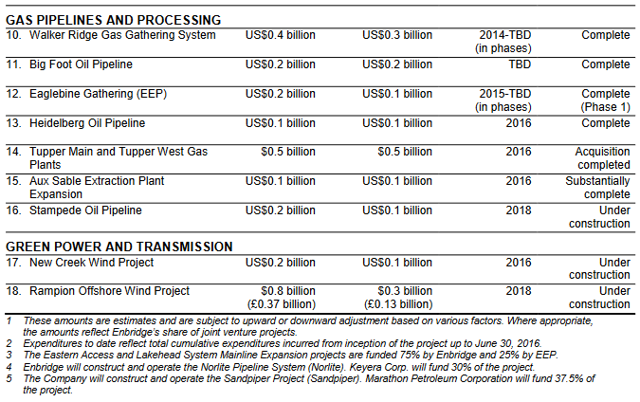 Source Q2 2016 report. Note Sandpiper project now cancelled.
Currently Enbridge has C$18 billion earmarked for projects which already have secured customers reaching to 2019 and the company is looking to grow even further beyond the oil patch. Enbridge is currently increasing its presence in the power generation industry with a pair of recent acquisitions in Europe. The first was the C$282 million purchase of a 50% stake in Éolien Maritime France SAS, a French offshore wind development company. The second deal was when Enbridge won the bidding process for an ownership stake (up to 49.9%) in one of Europe's largest wind power projects, Energie Baden-Wuerttemberg AG's "Hohe See" wind farm, with a capacity of 497MW.
The price to play
In order to pay for these recent acquisition and its continuing capital expenditure program, Enbridge recently ran a pair of common equity offerings. The first one in March offered 56.5 million Enbridge shares at C$40.70 per share and generated C$2.3 billion. The second one in April offered 20.4 million Enbridge Income Fund shares for C$28.25 which generated C$575 million.
Like many energy companies these types of aggressive acquisitions in this suppressed market have added extra stress to Enbridge's long-term debt.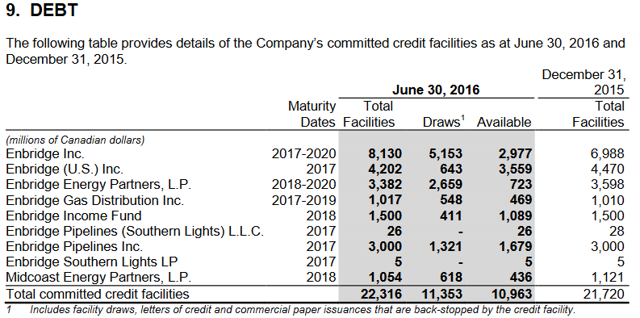 Source Q2 2016 report
Enbridge remains a company with good liquidity and the nature of pipeline companies means that there will be guaranteed sources of income for decades which makes the debt a smaller issue for lenders. For investors, as long as Enbridge can stay in the black the debt, especially in 2017, shouldn't be too much of an issue. Given the fact that Enbridge managed to stay in positive earnings territory in the past quarter also alleviates some concerns.
Laying the ground work
Despite all of the market turmoil in the energy sector I still believe Enbridge to be a solid long-term investment. Personally I own TSX:ENB and TSX:EEF and chose Enbridge as my pipeline of choice, given its solid growth backed dividend and its ability to adapt its network to increase its shipments to the United States; the Flanagan South pipeline was what got me interested initially.
In terms of the dividend which I have covered previously, it continues to grow. When I wrote about Enbridge previously in April 2015 the annualized dividend for TSX:ENB was C$1.86 and has since grown to C$2.12 with a yield of 4.01%. On the stock price side, Enbridge has climbed out of the back-breaking February on the TSX and is showing some good momentum.
| | | | | | | | |
| --- | --- | --- | --- | --- | --- | --- | --- |
| | Price | 52 Week Low | 52 Week High | Dividend | Yield | Average Price Target | Fwd P/E |
| TSX:ENB | C$55.21 | C$40.03 | C$58.67 | C$2.12 | 3.84% | C$58.29 | 23.34 |
| NYSE:ENB | $41.98 | $27.43 | $44.67 | C$2.12 | 3.94% | C$58.27 | 17.85 |
| TSX:EEF | C$33.43 | C$24.32 | C$35.27 | C$1.87 | 5.58% | C$35.00 | 15.28 |
| NYSE:EEP | $24.61 | $14.27 | $31.35 | $2.33 | 9.48% | $23.60 | 34.69 |
Given the current capital expenditures which already have secured customers coupled with the overcapacity coming out of Alberta, Enbridge still has many good years ahead of it. Investors also should be able to take advantage of these secured sources of income with a long-term and dividend backed investment. At least up until 2019, at that point we will have to see how Enbridge plans to initiate the next decade of capital expansion and growth possibilities.
Author's note: If you enjoyed this article and found it helpful, please "Follow" me on Seeking Alpha to receive notification whenever I publish a new article.
You may also be interested in other recent articles I have written for Seeking Alpha with my Canadian point of view that focus on stocks and stories that I have found compelling. You can also find my previous articles here for further study.
Disclosure: I am/we are long ENB, EBGUF.
I wrote this article myself, and it expresses my own opinions. I am not receiving compensation for it (other than from Seeking Alpha). I have no business relationship with any company whose stock is mentioned in this article.