On Friday night, August 5th, those who owned mattresses from Mattress Firm Holding Corporation (NASDAQ: MFRM) were laying their heads down on a product made by a company worth a modest, and maybe even overvalued, $29.74 per share. When the markets opened Monday, August 8th, those mattresses resembled a company worth something much more. Thanks to a sale with Steinhoff, a South African furniture retailer, MFRM entered Monday's trading session at $64 a share, a 115% increase. Although the company realized incredible gains over the past 24 hours, it's questionable past quarters forecast much grey for the future.
Steinhoff (Johannesburg: SNH:SJ) bought the nation's largest mattress retailer for what equates to be $2.4 billion. The South African retailer used this sale as a way to get its foot in the door of the United States economy. Steinhoff's primary stock listing is in Frankfurt (secondary in Johannesburg) and currently mainly operates abroad in Africa and Europe but has been looking to expand internationally.
This foreign effort is evident in Steinhoff's recent purchase of Britain's own Poundland Group and also international clothing discounter Pepkor Holdings Proprietary Ltd. which is also based out of South Africa. This weekend's sale with Mattress Firm may only be Steinhoff's first push into North America, but it is a very aggressive push nonetheless.
Mattress Firm is the United States' largest mattress retailer, with 3,500 franchised locations, but the Houston firm brings Steinhoff a great deal of economic inklings. Despite getting a substantial boost from purchasing Sleepy's in February, the company's main weakness lies in its financials. Buying Sleepy's resulted in rising costs for the company and also doubled its debt outstanding which did not help their cause.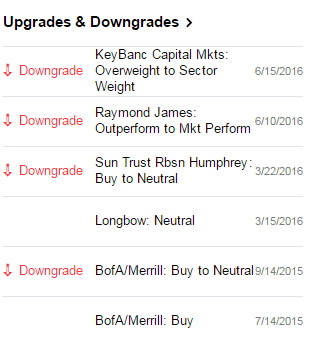 Source: YahooFinance
This unfortunate reality had many analysts' downgrading Mattress Firm even after their lucrative deal with Sleepy's. Revenue has undoubtedly grown for the retailer since the sale but MFRM has yet to generate the large profits it had hoped for. Further, MFRM has continuously underperformed analysts' estimates and projections dating far back into company history.

Source: YahooFinance
To many analysts, it is bewildering why Steinhoff took such a chance on an otherwise unstable company such as Mattress Firm. EPS has been on the decline since Q4 of last year and the company has been making investments that have not proven to be worthwhile. As of April of 2016, Mattress Firm's return on invested capital was at -26.62%. This has been accredited to many sales that have not paid off as well as atypical managerial compensation.
As David Trainer of Seeking Alpha writes (this author goes as far to call Mattress Firm a roll up scheme), "Apart from base salaries, executives at Mattress Firm receive annual cash bonuses and long-term stock-based awards. The cash bonuses are granted solely for meeting adjusted EBITDA targets." Adjusted EBITDA is not a reasonable measure of a company's actual performance because it does not keep the shareholders' best interests in mind. Simply put, EBITDA is not a measurement of the bottom line and is really overvalued. Mattress Firm's corporate office is doing a disservice to its business and its investors by not granting incentives based on ROI or even EPS.

Source: SeekingAlpha
While revenue has grown for Mattress Firm, profits have not. Unfortunately, Steinhoff purchased a suffocating amount of debt in this weekend's deal. MFRM has made acquisitions in the past 6 years in an attempt to be America's leading mattress retailer. In fact, their CEO was quoted after the tentative sale agreement stating, "Steinhoff's management team shares our vision for the growth and expansion of Mattress Firm and, as such, we believe they are the right long-term partner for our customers, employees, suppliers, and other stakeholders."
While these acquisitions surely gave Mattress Firm the capital to plant thousands of stores around the nation, they have not provided significant returns in sales. This quarter alone Mattress Firm's store sales fell 6.1% even after acquiring Sleepy's.
Even after studying every nook and cranny of Mattress Firm's balance sheet, it is still surprising that Steinhoff paid such a high premium for this company. While Steinhoff was certainly thinking about the positive implications from planting a flag down in the U.S., the financial motives are shaky. Dana Blankenhorn, a fellow Seeking Alpha contributor offers that:
"Steinhoff saw value in Mattress Firm because it gives the company an entrance into the U.S. market for a full line of home furnishings and provides assets valued in U.S. dollars, which are stable and even growing in value against many global currencies."
They have been attempting to tap into markets abroad, as director of corporate Mariza Nel states, "In South Africa and Africa, our market-share is already quite big. Growth potential in our current product category is a bit capped. We need the market to grow, or we will need to enter into a new product category."
Well, they certainly have invested a great deal into a new product category and right now, Mattress Firm investors are smiling cheek to cheek about it.
However, short sellers are not.
This weekend's sale is an example of how maniacal the stock market can act.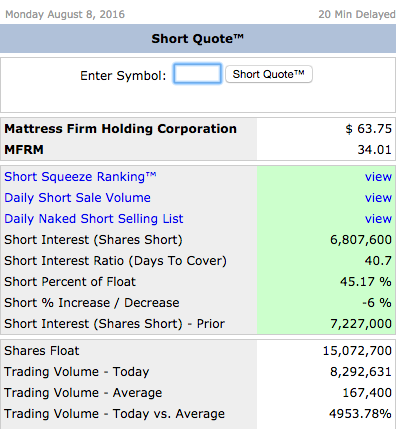 Source: ShortSqueeze
45.17% of the shares available for trading were being shorted on Mattress Firm. This equates to roughly 6,808,338 shares total. Usually, a heavily shorted stock is about half of that percentage or even less. MFRM's poor business plan was so well known that almost half of the shares available were being shorted. How could all of these people go so wrong?
While all short interest holders were waiting for this company to depreciate, the stock did the complete opposite. And it did the opposite for no real reason. Steinhoff was Mattress Firm's guardian angel.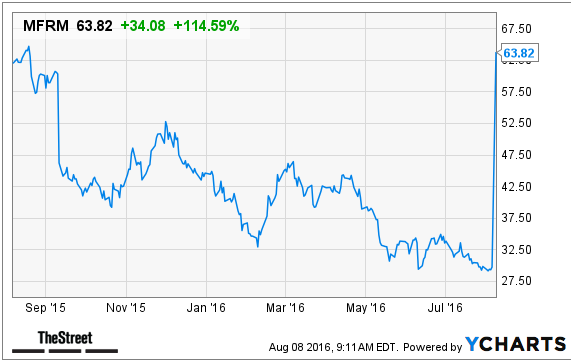 Source: TheStreet
This graph simply shows how really any sane investor could have decided that MFRM was worth shorting. Their poor financials coupled with acquisitions that really were not paying off are reason enough to bet against a stock. But instead of making money off of Mattress Firm's poor financials, these short sellers lost thousands of dollars.
This is a classic, yet unfortunate, example of even when you play the market right on paper, you can still lose big.
While short sellers lost today, it's tough to say that they will lose again in the future. It really appears as if Steinhoff bought a dying company just as a means to get their foot in the American market. It will be really interesting to see where they take this company, especially with Mattress Firm not really changing much hands in leadership (keeping their president and CEO).
Mattress Firm investors can sleep easy; but only tonight. Their pillows are stuffed with unprofitable investments and poor business management which they can sleep on for now but, unfortunately, not in the long run.
Disclosure: I/we have no positions in any stocks mentioned, and no plans to initiate any positions within the next 72 hours.
I wrote this article myself, and it expresses my own opinions. I am not receiving compensation for it (other than from Seeking Alpha). I have no business relationship with any company whose stock is mentioned in this article.