The weak summer crude oil inventory drawdown portends further trouble down the road for the price of crude oil. With U.S. crude-oil inventories at seasonally record-high levels already, there is a high likelihood we'll see new all-time high inventories this fall.
Weak Summer Drawdown
The last two weeks of large crude oil inventory buildups have pushed down the average weekly draws near a four-year low and almost below the five-year average.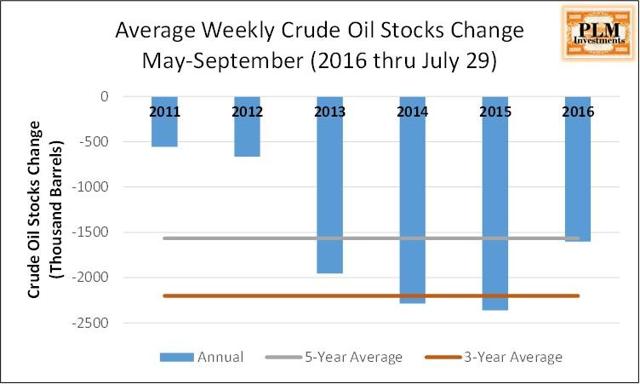 The early inventory buildup this summer is a result of an earlier than usual shift from summer blend to winter blend gasoline, as refiners came off line for maintenance and reconfiguration in response to the summer gasoline glut. The summer blend inventory excess is now being worked off and I expect the crude inventory draws to increase again shortly to cover the winter blend production, but only for a brief period.
The Next Record Inventory Peak
A fall uptrend has occurred the last five years as shown in the chart below. The shift in refinery timing creates a shift in this seasonal inventory change. We will enter this new seasonal inventory buildup period sooner than previous years by perhaps a few weeks.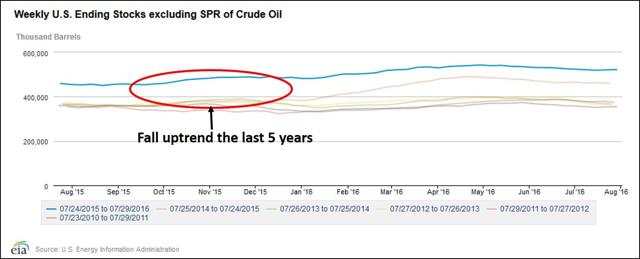 The last fall-winter seasonal peak occurred in December 2015. That rise came up to a peak around the record April-May 2015 level, and then dipped before rocketing to the spring 2016 peak.
Hence, I'm projecting the next record U.S. inventory levels to be hit this fall, potentially as early as the September-October 2016 timeframe. Of course, this assumes no major adverse oil event, geopolitical or otherwise, occurs in the interim.
Investment Implications
OPEC's decision to hold an informal meeting in September to address production limits is tied to potential near-term worldwide over-production. Some OPEC members are clearly worried. This will likely be just discussion, though, with no new implementations. Furthermore, Russia says prices are normal and not at a point where they would be cutting production. So don't expect any broad production-limit agreements soon.
With both the U.S. and China having economic struggles, demand could remain weak at least well into next year. The result is that we'll continue to have concerns over too much production and not enough demand.
I expect these conditions to weigh on the price of oil at least into the middle of next year. This will hit the price of oil and continue to give the oil majors grief as they struggle to react to the not-so-new low-oil-price environment. Look for buying opportunities after upcoming quarterly earnings reports, especially in early to middle 2017.
There is trouble ahead.
Disclosure: I/we have no positions in any stocks mentioned, and no plans to initiate any positions within the next 72 hours.
I wrote this article myself, and it expresses my own opinions. I am not receiving compensation for it (other than from Seeking Alpha). I have no business relationship with any company whose stock is mentioned in this article.