Canada's telecom market may have been declared "mature" by many several years ago but there is still a large amount of growth going on. This is not only true for the top two companies but also for others such as Telus Corp. (NYSE:TU), which is currently at the bottom of the Big 4 telecoms in Canada. Still Telus has been able to grow from its roots in Alberta and British Columbia and has consistently advanced over the past decade.
Choosing to focus on its core operations of wireless, internet and TV rather than pursuing its own Media division, Telus has focused the bulk of its capital on service upgrades. Such as 4K TV in Western Canada, the conversion to fiber optic lines and its growing wireless network. Like most of Canada's telecoms this company has a slower moving stock price but offers a healthy and stable dividend to investors.
Exceeding expectations
Just recently Telus revealed its second quarter report and while the slowdown in the Albertan economy has had an effect, it is still showing positive results. Operating revenues rose to C$3.14 billion from C$3.1 billion falling just below analyst's expectations of C$3.19 billion. When we segment the results we see that the wireless division saw revenues rise to C$1.76 billion from C$1.74 billion and wireline (TV, internet, home phone) rose to C$1.44 billion from C$1.42 billion.
Seeing positive growth in the wireline division is an accomplishment in itself given the current market and the rise of cord-cutting across the country. This bump in revenues was also coupled with a drop in operation expenses which fell to C$1.95 billion from C$2.02 billion. This in turn helped EBITDA increase to C$1.18 billion (C$1.21 excluding restructuring) from C$1.16 billion, beating analyst predictions. Again when we segment these results we see a sharp jump in wireless EBITDA which rose to C$793 million from C$719 million and wireline EBITDA also rose to C$396 million from C$362 million. When we get to the bottom line we see that net income rose in the quarter to C$416 million (C$0.70 per share) from C$341 million (C$0.56 per share).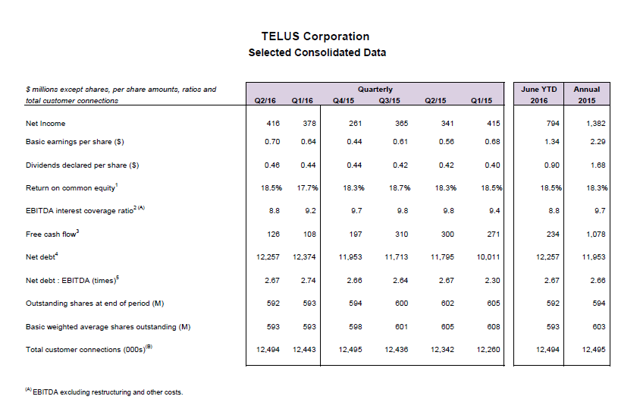 Capturing the market
These results have been able to be so positive thanks in part to a tangible increase in wireless data usage and Telus' mounting wireless subscriber base which has now reached 8.4 million. On the wireline side Telus currently has 1.6 million internet subscribers and TV subscriptions are just over 1 million.
In the second quarter alone Telus was able to maintain its industry leading churn rate of 0.90 and add 61,000 net new wireless subscribers. While this is a drop from the 76,000 net new subscribers added in Q2 2015 it far surpassed analyst's expectations of 37,500 net new subscriber as there was a belief that the current state of Alberta would have had a more dramatic effect on Telus.
Unfortunately for Telus while it did managed to add 61,000 net new subscribers it still came in third place among Canada's telecoms as BCE Inc. (NYSE:BCE) managed to bring in 70,000 net new subscriptions and Rogers Communications (NYSE:RCI) surprised many by adding 65,000 net new subscribers in the quarter. Even though Telus came in third in the quarter for subscriber growth it came in first place in terms of average revenue per user at C$64.38, which is an increase of 1.4% over last year's quarter.
Telus may be battling hard for wireless growth but there still remains an opportunity for the company to grow its wireline division. In a quarter where Shaw Communications (NYSE:SJR) Telus' main competitor in Western Canada lost 8,760 internet customers, Telus managed to bring in 18,000 new internet subscribers. On the TV side Telus managed to add 13,000 new subscriptions which is down from the 17,000 but much better than Shaw's loss of 27,482 TV customers.
Future growth
Following these positive results Telus has declared that it has increased its 2016 revenue forecast to C$12.78 billion - C$12.88 billion from C$12.75 billion to C$12.88 billion. The company has also announced that it will be increasing its capital expenditure target to C$2.85 billion from C$2.65 billion. The C$200 million increase has been earmarked to accelerated fiber optic deployment from 830,000 homes to over a million by the end of the year in order to help it develop its wireline subscriber base through increased bundling. A portion of this increased capital expenditure budget will also be used for the preparation of the activation of 5G wireless technology.
So far this year Telus has already spent C$1.39 billion in capital expenditures with C$769 being spent in the last quarter alone. This has in turn reduced the company's free cash to C$126 million from C$300 million. There have been some concerns that Telus' aggressive capital expenditure program could hinder its dividend program but some of those fears were tempered by the recent increase to the dividend. In the quarterly report it was announced that the October 2016 quarterly dividend had been increased to C$0.46 from C$0.42.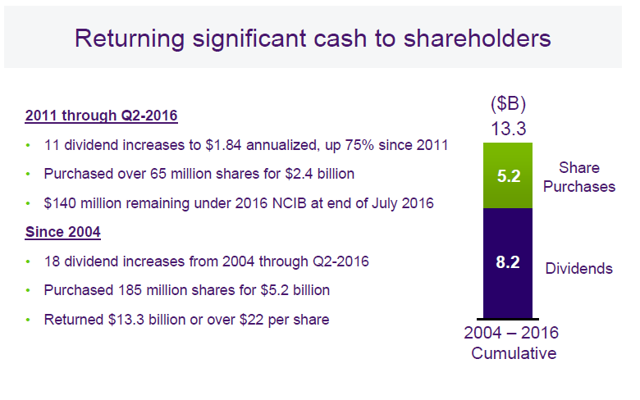 Telus management cites that the company's recent performance gives them faith to continue its current strategy as "Importantly, our strong financial performance further demonstrates TELUS' ability to fund simultaneously our strategic growth investments as well as the TSX and NYSE's only multi-year dividend growth and discretionary share purchase programs now running through 2019".
While I agree that the increased capital expenditures coupled with a rising dividend and share repurchase program will greatly increase the stress on the company's cash flow, I also agree with the strategy. If Telus doesn't take advantage at this time it will quickly fall behind its competitor who are also upgrading their infrastructure to handle 4K TV, gigabyte internet and the upcoming jump to 5G wireless. Like most dividend plays we have to look at the long term value of Telus. At times like this when a significant capital expenditure plan is necessary we have to realize that in the long run it should result in a net benefit for the company and investors.
The dividend is perhaps the most attractive part of an investment with Telus as thank to the recent quarterly report the stock price has come up just shy of its 52 week highs and the average price targets.
| | | | | | | | |
| --- | --- | --- | --- | --- | --- | --- | --- |
| | Price | 52 Week Low | 52 Week High | Price Target | Annualized Dividend | Yield | Fwd P/E |
| TSX | C$43.50 | C$35.51 | C$45.19 | C$43.38 | C$1.84 | 4.23% | 16.37 |
| NYSE | $33.04 | $24.34 | $34.41 | $33.90 | C$1.84 | 4.40% | 18.33 |
Even the most recent price target from National Bank Financial on August 2 is only at C$44.00, leaving limited room for growth. Couple that with a five-year high stock price of $38.33 on the NYSE and C$45.14 on the TSX leave little hope for instant stock price growth. Still Telus remains a strong option for its dividend as it still has much market share left to access in Central and Eastern Canada, not having the burden of having to manage a Media empire also gives it the added capital to full develop its infrastructure.
Author's note: If you enjoyed this article and found it helpful, please "Follow" me on Seeking Alpha to receive notification whenever I publish a new article.
You may also be interested in other recent articles I have written for Seeking Alpha with my Canadian point of view that focus on stocks and stories that I have found compelling. You can also find my previous articles here for further study.
Disclosure: I/we have no positions in any stocks mentioned, and no plans to initiate any positions within the next 72 hours.
I wrote this article myself, and it expresses my own opinions. I am not receiving compensation for it (other than from Seeking Alpha). I have no business relationship with any company whose stock is mentioned in this article.