It is a given that Ms. Market's mood can change at a moment's notice (or the drop of an algo). But for the time being, it appears that sideways just might be the new down.
Since the BREXIT freak-out ended on June 27, the reality is that stocks have only had a handful of unpleasant days, all of which were reversed in short order. Couple this with the declaration of a fresh bull market, better than expected economic data, and significant improvement in the indicators, and you've got a recipe for higher stock prices - from a big-picture perspective.
Yes, I see the calendar (the cycle composite says things are about to get sloppy into the fall) and I do indeed know that stocks are overbought (the VIX is crashing to lows not seen since mid-2014 on a weekly basis). But the key is to understand that I'm not really talking about the outlook for the next few days here. No, if I look out toward the final one-third of the year and into the first quarter of 2017, I have little choice but to be optimistic at this point in time. Sure, this would appear to be a modestly contrarian view as the chorus from the pouting pundits is that the sky will surely fall any minute now.
But in this business the trick is to (a) remove your emotions, (b) try not to make a "call" on what "should" happen next, (c) check your ego at the door each morning, and (d) try to stay in tune with the "weight of the evidence" from our major market models.
From a technical standpoint, the bears will likely use the summer doldrums to find a reason to attack the near-term line in the sand. Stocks ARE overbought and ripe for a pullback. If our furry friends can break through the first lie, then a test of S&P 2145 would be likely in order.
S&P 500 - Daily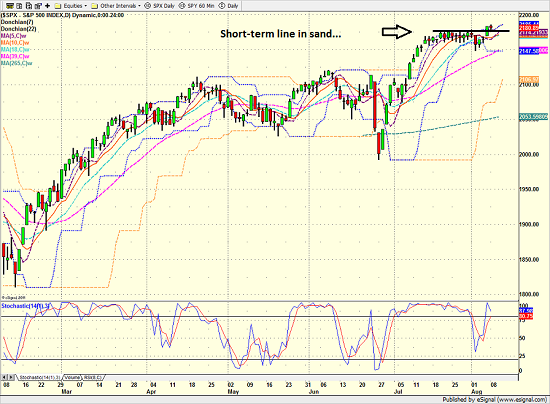 It is also worth nothing that oil prices are in play here. Analysts I trust believe that the recent correction in oil is likely ending (the news of an informal OPEC meeting next month is helping crude prices here). Should crude rebound from here, it would actually bode well for stock prices in the near-term. So, this remains something to watch.
US Oil Fund (NYSE: USO) - Daily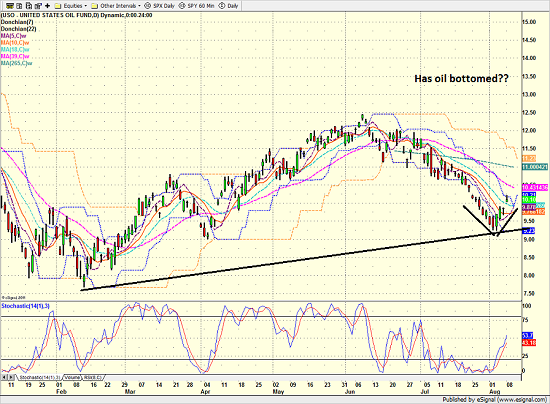 Current Market Drivers
We strive to identify the driving forces behind the market action on a daily basis. The thinking is that if we can both identify and understand why stocks are doing what they are doing on a short-term basis; we are not likely to be surprised/blind-sided by a big move. Listed below are what we believe to be the driving forces of the current market (Listed in order of importance).
1. The State of Global Central Bank Policies
2. The State of the Earnings Season
3. The State of Oil Prices
4. The State of U.S. Economic Growth
Thought For The Day:
Respect yourself and others will respect you. -Confucius