Penn West (PWE) has emerged as a vastly different company following sale of assets that has seen the company's debt fall below $500 million. Under the strong leadership of Dave Roberts, Penn West has gone through a dramatic restructuring leaving it with some of the most profitable oil plays in Western Canada.
Many observers thought Penn West would not survive the collapse in world oil prices that began in the fall of 2014. The risk of insolvency saw the stock price plummet over 90%. That created an opportunity for aggressive investors.
The macro environment seemed hostile with highly leveraged oil producers at risk of bankruptcy and most companies curtailing capital expenditures to preserve their balance sheets while commodity prices fell from over $100 per barrel for West Texas Intermediate ("WTI") to less than $30 per barrel. Investors dumped oil stocks as fast as they were able. Not me, however, I added to my holdings.
Sharp cuts in capital outlays resulted in a dramatic drop in drilling and U.S. oil production fell over 1 million barrels a day in just over 1 year.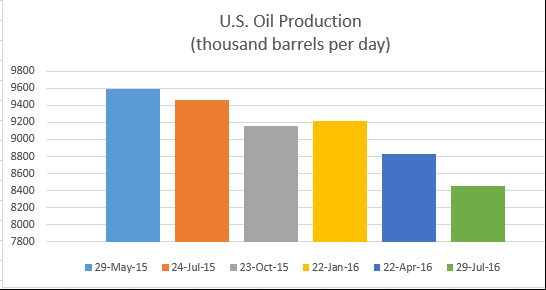 Source: EIA
The fall in production mirrors a 75% reduction in the number of drilling rigs in use according to data from Baker Hughes.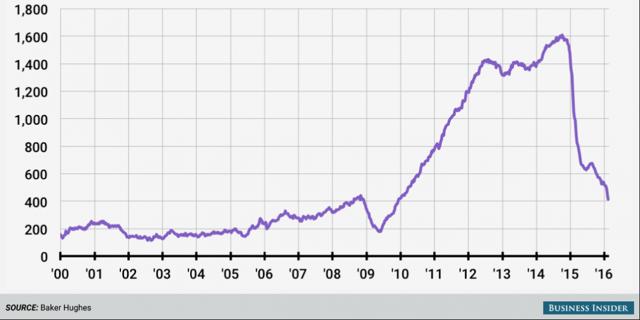 Source: Business Insider
Penn West management acted swiftly to the hostile industry environment cutting debt by more than $2 billion since late 2015.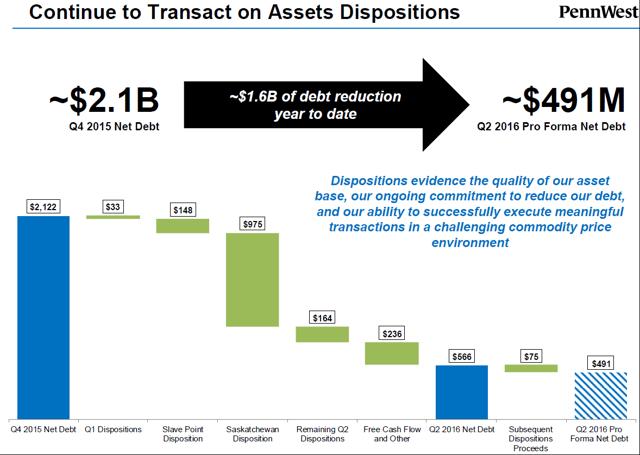 Source: Penn West
Penn West management now sees the company as capable of growing at 10% annually while maintaining capital outlays within internally generated cash flows at today's oil prices.
At current prices, Penn West earns a net back of just over $20 per barrel based on its June quarter.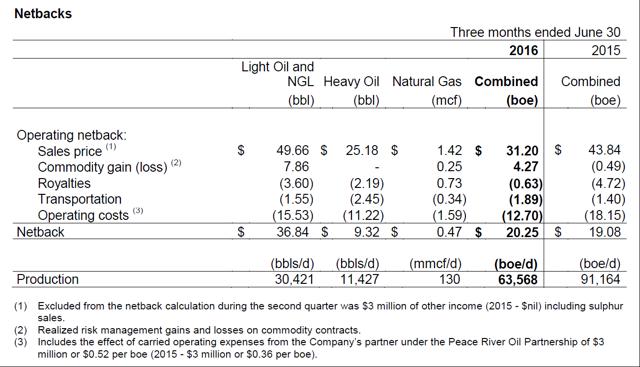 Source: Penn West
That figure should improve markedly as Penn West completes the sale of its remaining non-core assets. Production from Penn West's core properties (which are primarily light oil) is likely to be in the range of 24,000 barrels a day which, at net backs of $35 or so will generate over $300 million profit before SG&A expenses. In my opinion, a multiple of at least 6 times is appropriate for these high quality assets, putting a value on the core assets of about $1.8 billion. After debt of $400 million, that translates into a value for Penn West of $1.4 billion or somewhere around $2.60 per share.
At a current price of $1.40 per common share, Penn West is cheap. I am long the stock and adding to my holdings.
Disclosure: I am/we are long PWE.
I wrote this article myself, and it expresses my own opinions. I am not receiving compensation for it (other than from Seeking Alpha). I have no business relationship with any company whose stock is mentioned in this article.