Over the past week, shares of Mid-Con Energy Partners (NASDAQ:MCEP) have soared. Since August 5th alone, shares are up 58.3% as of the time of this writing and they are up an impressive 90% from August 1st. In this article, I will dig into the events surrounding this and give my own thoughts regarding the company and where it appears to be heading.
Some big news
In my last article on Mid-Con, I highlighted the troubles the company faced, primarily stemming from the fact that it was significantly overdrawn on its credit facility. In its credit facility redetermination earlier this year, the company's borrowing base was lowered to $110 million, leaving it facing a deficiency of $53 million. Management announced that it was going to allocate $18 million from its Hugoton asset sale toward this, reducing the deficiency to $35 million that its lenders allowed the firm to classify as an allowed non-conforming excess.
Overall, this picture looked very risky because if management could not pay down the non-conforming amount in a reasonable time frame, there was a real chance that the firm would be forced into bankruptcy despite the fact that its cash flow should be positive at current prices for oil and natural gas for quite some time moving forward. Fortunately, however, management seems to have discovered an interesting workaround.
You see, on August 1st, the company announced three really exciting pieces of news. For starters, they announced that they were raising $25 million through a preferred equity investment. According to the terms of the deal, Mid-Con would issue preferred shares worth $2.15 apiece, carrying a distribution of 8% each year. In the event that Mid-Con could not pay the amount in cash, a total of $2 million per year, the company could elect to pay out like-kind shares with a rate of 10% per year. At any point between the 6-month mark and the 5-year anniversary of the share issuance, the investors could convert them into common units on a one-to-one basis. Starting on the 5-year anniversary, those same investors could either redeem the securities for cash or management would force a conversion into common.
For a company whose market cap just a week ago was $47.86 million and whose investors were likely anticipating Chapter 11 being around the corner, this is a tremendous and unexpected move. What's more interesting is that these proceeds will be going to the second big piece of news released by management; an asset purchase. That's right, despite just selling assets at a price of $5.63 per boe (barrel of oil equivalent) in reserves, management bought another property for $19.5 million, giving them a 96% working interest in it. Based on reserves of 1.5 million boe, 96% of which is oil, this places a price per boe of about $13.
At first glance, this seems really odd. Why would a business sell off a property for cheap, only to buy another one for a much higher price? The likely reason relates to two factors; property economics and capital structure. You see, during the second quarter of this year, Mid-Con's lease operating expenses totaled $15.57 per boe. This property, located in Nolan County, Texas, however, will see its lease operating expenses come in at a more modest $12 per boe, which is a nice way to boost cash flow per barrel of crude extracted from the ground.
This is good news for Mid-Con and its investors, but what's even better is that the deal also increases the company's value in the eyes of lenders. You see, in addition to monetizing assets from its prior divestiture, this deal will involve no debt since it has been funded by preferred shares. This ultimately results in greater collateral for the credit facility lenders, which helps to explain why the lenders would increase Mid-Con's conforming borrowing base up to $140 million. After factoring all of these adjustments into its equation, and assuming that the firm's cash is still at around $4 million today and that the company holds true on its plan to pay the rest of the preferred share proceeds toward the credit facility, long-term debt should fall to $133.8 million, affording it wiggle room of $6.2 million.
The final factor that I believe is responsible for this move higher comes down to cost structure. According to prior guidance that I had used from management, I was expecting lease operating costs this year to average about $18 per boe. However, updated guidance shows a mid-point there of about $16 per boe and with second quarter results of $15.57 per boe, down 14.2% year-over-year, it's possible that a further downward revision could be warranted in the months to come.
What's this mean for investors?
Overall, this flurry of news presented by Mid-Con, combined with the intense market reaction, seems to indicate that the company's future is looking up meaningfully compared to where it was in the recent past. In fact, as you can see in the image below, which shows financial results for 2017 and 2018 given management's updated guidance and assuming that oil prices average $42.95 per barrel while natural gas prices average $2.708 per Mcf, the cash flow picture for Mid-Con is looking pretty good. Next year, the firm should generate free cash flow, net of capital expenditures of $8 million (which is what the company plans to spend this year but may be higher next year), of $18.60 million. As hedges, which have also been adjusted, roll off, cash flow in 2018 should be $11.17 million.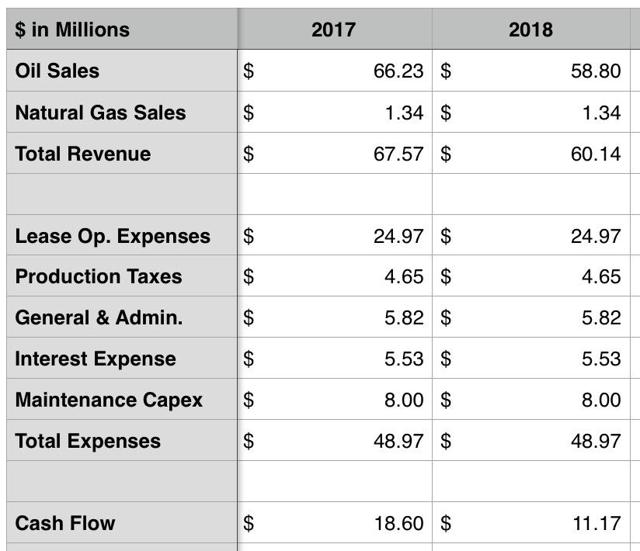 From a pure cash flow perspective, it seems as though problems are solved, but investors should be cautious about two things. While these transactions have helped the company salvage itself, the small $6.2 million in wiggle room on the credit facility doesn't give Mid-Con a lot to work with when its next redetermination does come. Perhaps more importantly, however, is the fact the preferred stock deal will dilute shareholders meaningfully. If management pays all distributions in cash and then shares are converted into common units over the next five years, then preferred owners will control about 28% of the business. If, however, units are paid distributions using other units, then preferred holders will control 36.8% of the business. This is far better than going bankrupt and the market seems to be applauding this move, but it is something for shareholders to keep in mind.
Takeaway
Based on the data provided, it's clear that Mid-Con pulled off one heck of a move. Had you asked me a week before the news came out, I'd have said that there's a good chance the business would be going under but this strategy is both unique and effective. It does, unfortunately, come at pretty hefty costs to investors but, in the grand scheme of things, it's a net positive for them and serves as a net positive for lenders as well. Furthermore, it also makes me wonder if such strategies could be employed for competitors in this space like Legacy Reserves (NASDAQ:LGCY) or Memorial Production Partners (NASDAQ:MEMP).
Disclosure: I am/we are long LGCY, MEMP.
I wrote this article myself, and it expresses my own opinions. I am not receiving compensation for it (other than from Seeking Alpha). I have no business relationship with any company whose stock is mentioned in this article.
Editor's Note: This article covers one or more stocks trading at less than $1 per share and/or with less than a $100 million market cap. Please be aware of the risks associated with these stocks.