If you've ever bought Cheerios, Yoplait, or Haagen-Dazs, then you've known General Mills (NYSE:GIS). It owns some of the most recognizable food brands in the world, going well beyond the three noted here. The shares sport a roughly 2.7% dividend yield, well above what the S&P offers. Indeed, there's a lot to like about General Mills. Unfortunately, there's one big reason for you to tread with caution here.
Leading in many ways
General Mills is really one of the big players in the pre-packaged food space. This is a staple category where bigger is better because it gives you access to vital shelf space in the grocery aisles. And while some of the categories in which General Mills competes are highly competitive, the company has more than held its own over time.
Part of that involves adjusting to the times. For example, it recently sold its Green Giant brand of frozen vegetables to B&G Foods (NYSE:BGS), a turnaround expert in the food business. Although the name brand was huge, the niche was struggling. Instead, General Mills has been focusing on other areas, such as its purchase of Annie's, which makes natural/organic food products. This niche has been growing quickly in recent years as consumer tastes change.
In addition to big portfolio changes like these, General Mills has also been focusing on cutting costs. For example, it was able to increase adjusted operating margins by nearly a full percentage point in fiscal 2016. It thinks there's plenty more room to run, too, since it upped its long-term cost savings goals by 20% along with its earnings announcement.
And it's giving back to shareholders, too. For example, the dividend was upped 7% last year. It's been increasing the dividend yearly since 2003, after a long stretch where the dividend sat stagnant. General Mills also bought back roughly 1% of its stock in fiscal 2016, returning value in another way. That said, the stock price is near all-time highs, so those stock buybacks may have been undertaken at less than compelling prices. Which is the bigger problem here.
Not cheap
While there are a lot of things to like about General Mills, only some of which I've noted above, sadly price isn't one of them. For example, the 2.7% dividend yield is actually toward the low end of the company's historical range. And it's nearly 15% lower than the five-year average.
But that's not the only valuation question mark. For example, the company's trailing price-to-earnings ratio is more than a third higher than its five-year average. Forward PE is only slightly better, a little over 20% above average. Price to cash flow is almost 30% above the recent average. Price to sales is nearly 45% above the five-year average. And price to book is around 80% above the recent average, though to be fair that's biased higher by a write off taken when the company sold Green Giant.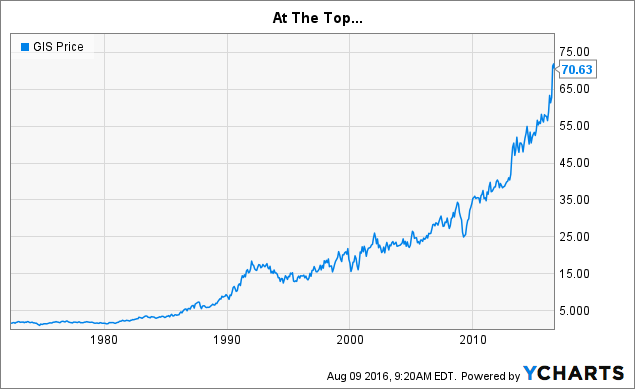 And from a more basic level, the shares are near their all-time highs. In fact, they are up over 20% this year alone. The SPDR S&P 500 Trust ETF (NYSEARCA:SPY) by comparison is up around 7%. The point is, General Mills is a good company selling things people buy regularly, but it's hard to suggest new investors are getting a good price. It looks more like investors are flocking to a stock that has "safe" operations.
The price is risky
But the high price may, in the end, make General Mills at its current prices a far more risky investment than some investors expect. It sounds simplistic, but if you overpay for a stock, you materially increase the risk you are taking on. And while General Mills the business is doing reasonably well, perhaps even good, General Mills the stock isn't nearly as compelling a story. If you are looking at General Mills as a potential investment, you'd probably be better off waiting for a cheaper price. Eventually Mr. Market will grow tired of "safe" businesses and drive General Mills' shares to bargain levels.
Disclosure: I/we have no positions in any stocks mentioned, and no plans to initiate any positions within the next 72 hours.
I wrote this article myself, and it expresses my own opinions. I am not receiving compensation for it (other than from Seeking Alpha). I have no business relationship with any company whose stock is mentioned in this article.