So far this year there have been 90 bankruptcies among upstream oil and gas, and with crude oil prices tanking in the latter part of July, signs point to yet more bankruptcies throughout the year. At one point earlier this year, many thought Chesapeake Energy (NYSE:CHK) would be a bankruptcy casualty. So far that has not happened.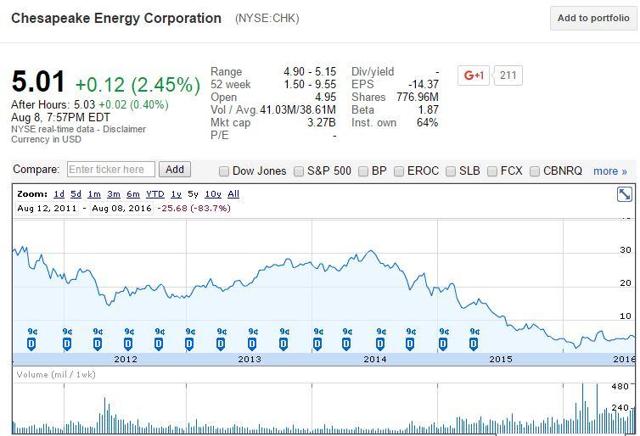 Courtesy of Google Finance.
Shares of Chesapeake have crashed as oil and gas prices dropped, likely due to the company's high leverage and heavy shale exposure. Moody's currently rates Chesapeake's debt at Caa2, or "extremely speculative."
Nevertheless, Chesapeake has managed to stay afloat and defy the rumors for month after month. Back in April, Chesapeake managed to score some concessions in exchange for putting nearly all of its assets up as collateral. The new agreement was for a $4 billion credit line, virtually all untapped as of now, with no balance redetermination until September of 2017. I am fairly confident that this deal ensures Chesapeake's survival until then.
In the meantime, it's Chesapeake's job to reduce its cost and capex to achieve cash flow neutrality, or at least get as close to it as possible. It's also Chesapeake's job to sell non-strategic assets in order to pay off highly-discounted debt.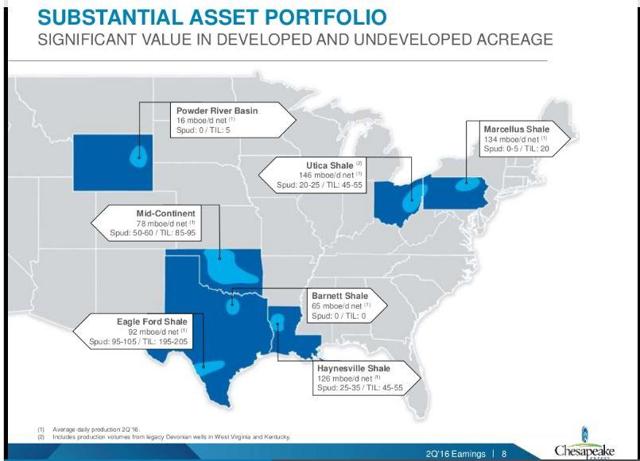 Courtesy of Chesapeake Energy Investor Relations.
There's a good reason for sale of assets right now. Chesapeake has a huge portfolio of assets that it had acquired during better times. Most of that acreage is dry-gas oriented and situated in the shale. With the massive drop in oil and gas prices since 2014, Chesapeake has had to very aggressively "high-grade" its portfolio. That meant abandoning large pieces of its acreage and focusing only on the most profitable locations. At these prices, and with this liquidity situation, Chesapeake will not be able to get to much of that acreage anytime soon.
Meanwhile, so far this year Chesapeake has paid off $1 billion, which includes bonds maturing in 2017 which were trading at 45% below face value. This year Chesapeake expects to sell a total of $2 billion worth of assets. I suspect most of the proceeds will go into delevering, especially since the existing $7.6 billion in debt is 2-to-3 times greater than existing market cap. Debt reduction has to be a priority.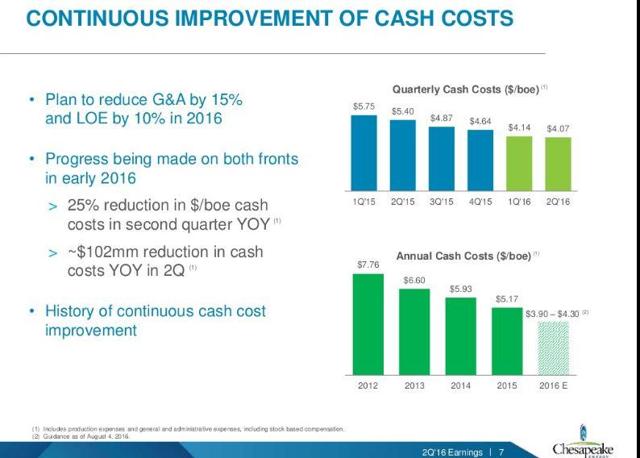 Courtesy of Chesapeake Investor Relations.
The other strategic imperative is reducing expenses; much more of a 'block-and-tackling' issue. At this rate Chesapeake is on track to reduce cash costs by 25% this year, and capital expenditure by 50%. Will that be enough to achieve cash flow neutrality? I don't believe so, but it's getting close-ish.
For example, Chesapeake expects about $1.8 billion in annualized capex in 2016 (the expected 'high end' of management's guidance of $1.3 billion to $1.8 billion). Last quarter Chesapeake managed only $90 million in operational cash flow, but if the last few quarters are any indication, Chesapeake should be able to average about $300 million in operating cash flow, which would come out to an annualized operational cash flow of $1.2 billion and therefore a cash flow "gap" of $600 million per year. Obviously, that is quite a fluid number, which should vary greatly depending upon where oil and gas prices go. Basically, Chesapeake will still be cash flow negative, but it shouldn't be by too much.
Conclusion
Chesapeake's deal with creditors is something like kicking the can down the road. Specifically, to the third quarter of next year. Chesapeake's fate will depend upon oil and gas prices at that time, and, to a lesser extent, upon how much Chesapeake can delever and reduce costs until then. So far, management is making good progress in the things it can control.
Is Chesapeake a buy? Not for income investors. I would say that Chesapeake, like its bond-rating, remains an "extremely speculative" pick. As far as bankruptcy risk goes, although it certainly is not imminent, I also do not believe that Chesapeake is entirely out of the woods.
If you're interested in Chesapeake, feel free to follow me here on Seeking Alpha. Although I am not long this stock, I intend on writing periodical updates when doing so is material and relevant.
Disclosure: I/we have no positions in any stocks mentioned, and no plans to initiate any positions within the next 72 hours.
I wrote this article myself, and it expresses my own opinions. I am not receiving compensation for it (other than from Seeking Alpha). I have no business relationship with any company whose stock is mentioned in this article.