The profit of an income investment is determined by the purchase price. A popular saying is that time in the market trumps timing the market. The old adage helps you sleep well at night and may prove correct for the broad market, but it doesn't apply to Prospect Capital (NASDAQ:PSEC).

A quick look at the total return of PSEC since inception would show an investor receiving a positive total return. Despite share price dropping from $15.00 to $8.26, an investor achieved a 6.1% CAGR. That would seem to prove that time in the market trumps timing the market. Just sit back, reinvest your dividends, and get rich. Below is a graph from MorningStar showing PSEC total return since inception.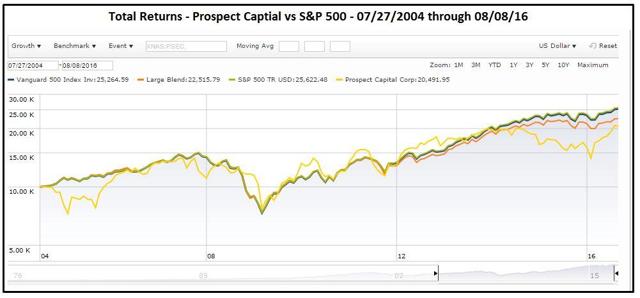 $10,000 grew to $20,491. That's not a bad return for a time period that included the financial crisis of 2008. However, an investment in a simple Vanguard S&P 500 Index (MUTF:VFINX) would have resulted in $25,264 or 23% higher with lower volatility and superior tax efficiency.
What's interesting is how much of a difference five months makes. Below is another MorningStar graph showing PSEC total returns since 12/31/04 when PSEC share price dropped to $12.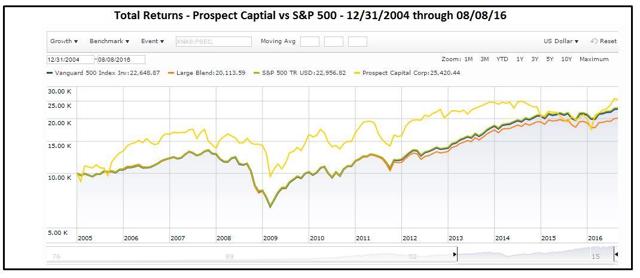 $10,000 grew to $25,420 with an 8.4% compound annual growth rate. Twelve years later, the lower purchase price is able to produce a 2.3% higher annualized rate of return. The investment was still more volatile than the S&P 500, but PSEC's return only dipped below the S&P 500 once. It's like looking at two completely different investments with two different outcomes. My point is not to cherry pick data. My point is to show how big of a difference purchase point makes even to a high income, monthly paying investment like PSEC.
PSEC has come roaring off its 52 week low with a steady, constant climb towards net asset value. Q1 NAV stood at $9.61 giving PSEC a 14% discount to NAV. Some will argue that the discount is deserved due to high management fees and risky investments. The charts below from Prospect Capital's May 2016 Corporate Presentation show the portfolio composition. The portfolio yields 13.4% with a heavy dose of 16.6% Structured Credit and 11.1% equity.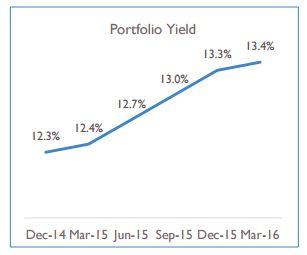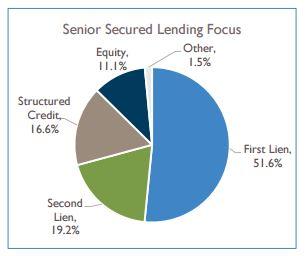 Writing Puts
There's no denying that PSEC is risky. I would not pay NAV and I would not even pay $8.26 per share, but I would gladly pay $7.00 a share if I could still have the high income. Selling puts on PSEC produces amazing yields even with strike prices well below the current market price. Below is a menu of put options for PSEC compiled using data from Schwab.

The annualized return varies from 12.3% to 25.3% depending on your appetite for risk. All three are out-of-the-money meaning you reach maximum profit even if the stock price trades sideways. Of interest to me is the breakeven price, the price that PSEC's share price could be at the options expiration date and the investment would breakeven. The January 2018 $7 put could withstand PSEC share price dropping 28% and still breakeven.
The two conservative options have a comparable yield to PSEC with less volatility. I look at it as receiving all of your dividends up front. If PSEC cuts its dividends, which with the low interest rate environment and PSEC's 100% payout ratio, is not out of the question, the put writer still keeps his full premium. You are selling your upside, for downside protection. If PSEC's price dips, you will get a better entry point and your total return will forever be higher, similar to the example of buy on 12/31/04 or those skilled buyers earlier this year in February. If the price continues to climb, collect your premium, and write another option. It's a win-win.
Other investments have had higher returns than PSEC including another BDC Main Street Capital (NYSE:MAIN). It would only be fair to include the Morningstar total returns graph with PSEC vs. MAIN since MAIN's inception in October 2007. However, not even outstanding past performance and internal management, can get me to pay the 62% premium to NAV of MAIN. Just as purchase price matters, valuation matters a great deal.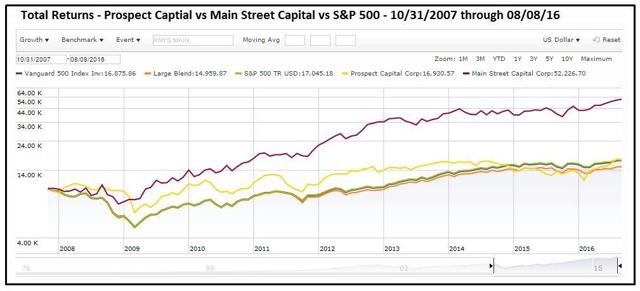 Cheap Leverage Bonus
If writing puts in a margin account, the option does not require a 100% cash security. I view this lack of requirement as interest free margin that I use to invest in preferred stocks such as American Capital Agency (NASDAQ:AGNC) Preferred Series B or for the bold investor Armour Capital (NYSE:ARR). I have recently written an article on the risks of mREIT preferreds found here and another on ARR found here. I leverage my discretionary spending (Non-Retirement) portfolio, 10% using cash freed up from writing puts.
If you found this information useful, please follow me.
Disclosure: I am/we are long AGNC-B AND ARR-B. I AM ALSO SHORT PSEC NOV-16 $7 PUTS AND JAN-18 $5 PUTS.
I wrote this article myself, and it expresses my own opinions. I am not receiving compensation for it (other than from Seeking Alpha). I have no business relationship with any company whose stock is mentioned in this article.