Teck Resources Ltd. (TCK) is known as being Canada's largest diversified resource company with mining projects extracting copper, molybdenum, zinc, lead, coal (metallurgical, PCI and thermal), gold, silver and soon crude oil. Teck has attempted to shelter itself from commodity price swings in certain resources by diversifying itself in this manner. It has also been able to amass a rather large stockpile of resource reserves which has made the company the third largest producer of zinc, the second largest seaborn exporter of steelmaking coal and one of the largest producers of copper in North and South America.
For many years Teck has been able to take advantage of the rise in construction in both China and the developing world as demand for steel has skyrocketed. While Teck itself does not produce steel it does produce metallurgical coal which is used to transform iron into steel, as well as produce zinc which is used to galvanize and weather protect steel. This combined with copper has made Teck Resources an attractive investment for those looking to take advantage of the building boom
However, as China has begun to plateau its building programs commodity prices began to level off and then began to recede. It has become a trend which has become generally accepted at face value "China is slowing down so sell industrial commodities" and Teck Resources has seen its stock price take a hit because of it over the past couple of years. With lower commodity revenues Teck was placed in a difficult position as it grappled with falling income and mounting debt loads and saw its stock price fall from $37.00 in January 2013 to $2.56 earlier this year.
All that glitters
Now following Teck's second quarter report something dramatic has happened to the stock price. On July 20 the stock price on the NYSE was trading at only $12.70, then on July 27 the day before the quarterly report release the stock price had climbed back up to $14.31. Following the release of the report on July 28 the stock jumped up to $15.39 and prompted Deutsche Bank to post an analyst report with an $11.50 price target and a sell recommendation. Since then the stock has crept up to $16.82 on August 8th before finishing the day at $16.34.
But what has happened which could have sparked such a short-term price surge? Teck's second quarter report wasn't much to get excited about, as revenues fell to C$1.74 billion from C$1.99 billion. Right across the board Teck saw revenue decreases as metallurgical (steel) coal revenues fell to C$678 million from C$764 million, copper revenues fell to $514 million from C$704 million and zinc revenues fell to C$514 million from C$530 million.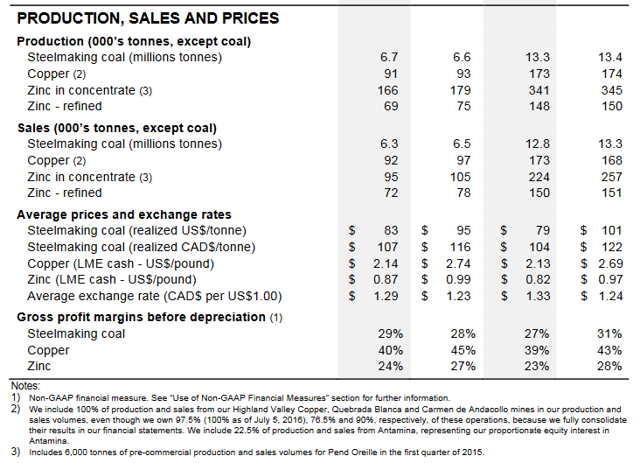 Source Q2 2016 report
EBITDA also fell to C$468 million from C$596 million and bottom line profits attributable to shareholders fell to C$15 million (C$0.03 per share) from C$63 million (C$0.05 per share) from the same period last year. Teck may have exceeded analyst's expectations of profits but it fell short of revenue expectations, so why has the stock been growing at the rate which it has been since January? Part of the reason has been Teck's multi-year cost cutting program which included layoffs and dividend cuts which helped it get through the worst of the commodity price drought. Another factor has been the re-working of its debt loads, but the most public facet of Teck has been its coming entry into the crude oil sector.
Diversification or death
What got many to take a fresh look at Teck Resources is its 20% interest in the upcoming Fort Hills oil sands project, in partnership with Suncor Energy (NYSE:SU) (50.8% ownership) and Total S.A. subsidiary Total E&P Canada Limited (29.2% ownership). For Teck this ownership stake gives it what it calls "its fourth leg" as the company is looking to use oil and gas production to help it further diversify its portfolio and limit the amount of risk the company currently faces from slowdowns in major construction and steel consumption. In order for Teck to become a member of this project it was forced to pledge C$2.9 billion to the construction of the project, with C$960 million of the total coming from 2016 alone.
Currently the project which is based in the Athabasca region of Alberta is approximately 60% completed and it is believed to become operational in 2018. Upon completion the project is expected to produce 180,000 boe/day of bitumen.
While this investment by Teck may be seen as an investment into the future the sheer cost of the project has led many to seriously question the financial security of the company, since Teck's long-term debt load is already straddling the C$9 billion mark. Teck Resources President and CEO Donald Lindsay recently commented on the issue stating that "We have all the cash on the balance sheet now that we need to complete that and we haven't touched the $3-billion (U.S.) credit facility that we have. And we don't intend to touch it this year and I think we have a reasonable shot of finishing the project without ever touching it".
The lack of concern from management stems from recent reorganizations of its debt which will see "no major bond maturities coming until 2021". Teck also has $5.4 billion in available liquidity along with the above mentioned $3 billion in undrawn committed credit facilities, and has recently issued $1.25 billion of five year and eight year senior unsecured notes which do not mature until 2021 and 2024. Teck has announced that it will be using those proceed to buy back notes maturing in 2017, 2018 and 2019. All of this means that Teck should be able to easily fund this expansion into the energy market while being able to maintain itself despite the current price of commodities.
Earnings projections
Now this is where things begin to get interesting, the Fort Hills project alone shouldn't be enough basis for an investment decision in Teck Resources. Yes, while this project should be great PR for the company and it will lure in attention from investors, there is more at work with Teck. Despite the state of the commodities markets Teck revealed in its Q2 report that it would be increasing revenue projections for steel coal, zinc and copper. Teck's CEO has also stated since the quarterly report that "While the commodity cycle continues to be challenging, we are starting to see some positive changes in the direction of zinc and steelmaking coal prices" and that "We're looking forward to Q3 as coal production and coal sales ramp up in a market that appears to have a decent tailwind in both steel-making coal and in zinc".
So lets quickly go through these three commodities and see if there is any basis to these predictions from Teck. The largest market driver here is steel and more specifically China's consumption of steel for construction which has made it the world leader in steel production. This factors into the future of Teck as metallurgic coal is used to create steel and zinc is used for galvanizing. Any time that steel is used to create a structure copper is required for electricity transmission in the building.
Steel prices and production took a hit back in April when the World Steel Association released its short range outlook report for 2016 - 2017.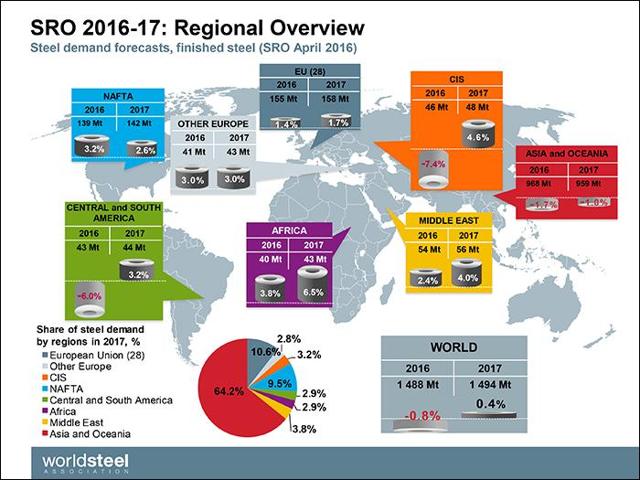 This announcement sent a shock through the markets and led many commodities down in value. Teck is among those companies affected, but rather than see its stock suffer it continued its upwards track. Then in June World Steel reported that global production of steel remained flat at 136 million tonnes. Despite all of this Chinese stockpiles of iron ore have reached their highest point in over a year, which has led some to speculate that China could be preparing for another resurgence in steel production as the price has surged by 123% year over year. Be it within its own borders or in a place such as South Korea which has the worlds highest steel use per capita.
With Chinese iron ore stockpiles mounting and the closures of several zinc mines globally this has resulted in the price of zinc rising to $2,264.25/tonne. This pushes the price of zinc up by 60% so far this year and 21% year over year, compare this to copper which is down 7% year over year, and coal which is up 8.2%.
Zinc has already exceeded its price estimate of $2,150.00/tonne for the third and fourth quarters of 2016, which has garnered some concern for Teck Resources at its current price. Over on the copper side prices have been trapped below the $2.30/lb range for the better part of the year, despite increased demand from India and increased use in electric vehicles. Then we have coal which despite continuing its seven year long death spiral has finally seen a noticeable uptick in commodity prices.
All of these macro-market factors has led Cormark to reduce their 2016 earnings estimates from C$0.47 to C$0.46 for the full year. Personally I believe that Teck could be an attractive investment for those looking for a wide range of mining commodities. However the current price surge which has sent the stock price to C$21.86 on the TSX and $16.69 on the NYSE may be a little rich of a price to initiate a position. Stock price growth is the key factor investors should be looking at since the partial dismantling of the dividend program which is down to C$0.10 annualized with yields of 0.46% on the TSX and 0.49% on the NYSE.
The current price targets for Teck add to my argument as they are only C$12.47 on the TSX and $12.92 on the NYSE, with the most recent analyst report coming from Goldman Sachs on August 1 with a price target of $13.00 and a neutral rating. Teck is an intriguing option for investors and can be a long-term hold option, but the price is very rich at the moment and its current forward p/e ratios have jumped up to 47.47 on the TSX and 39.59 on the NYSE. If the stock price were to fall back to the $14.00 range that it was hovering at for most of July that would be a far better entry point for investors.
Author's note: If you enjoyed this article and found it helpful, please "Follow" me on Seeking Alpha to receive notification whenever I publish a new article.
You may also be interested in other recent articles I have written for Seeking Alpha with my Canadian point of view that focus on stocks and stories that I have found compelling. You can also find my previous articles here for further study.
Disclosure: I/we have no positions in any stocks mentioned, and no plans to initiate any positions within the next 72 hours.
I wrote this article myself, and it expresses my own opinions. I am not receiving compensation for it (other than from Seeking Alpha). I have no business relationship with any company whose stock is mentioned in this article.