It was a year ago that Robert Iger, chief executive of The Walt Disney Co. (NYSE:DIS), stunned analysts and investors with news that its crown jewel, ESPN, was losing subscribers for what may well have been the first time in its 36-year history. This proved to be a drag on shares, which tumbled better than 12% on the news. What's happened since then?
Unbundling, or what the industry refers to as "skinny bundling" with smaller offerings, and a not-too-pleasant distribution dispute between DIS and Verizon are still at issue, analysts say. When DIS reports its results after the bell Tuesday, analysts may see what the diet of skinny bundling did to the House of Mouse's bottom line.
But there are other divisions rocking at DIS, most notably its $5.5 billion theme park in Shanghai that opened in June to more than 1 million visitors in the first month. Also, the company's blockbuster results from movies such as "Finding Dory," Zootopia," and "Junglebook" might help overshadow lackluster results out of the likes of "Alice Through the Looking Glass." Then there's the robust sales of recently released DVDs like "Star Wars: The Force Awakens" and the sales for toys, games, and other merchandise tied to movies.
Still, many eyes and ears will be on ESPN's results, though its subscriber numbers have stabilized, analysts say. Has DIS figured out a way to bring luster back into the crown jewel? And what about issues like the Zika virus popping up in Florida cities and that horrible alligator incident? Are those hurting tourist turnouts?
Analysts reporting to Thomson Reuters have forecast per-share earnings of$1.61, up more than 11% over the year-ago profit of $1.45 per share. Revenues are projected to climb better than 8% to $14.16 billion from $13.1 billion a year ago.
Short-term options traders have priced in a 3% potential share price move in either direction around the earnings release, according to the Market Maker Move™ indicator on the thinkorswim®platform by TD Ameritrade.
Options trading activity has been focused around the 95-strike put and 96-strike calls. The implied volatility is at the 14th percentile. (Please remember past performance is no guarantee of future results.)
Note: Call options represent the right, but not the obligation, to buy the underlying security at a predetermined price over a set period of time. Put options represent the right, but not the obligation, to sell the underlying security at a predetermined price over a set period of time.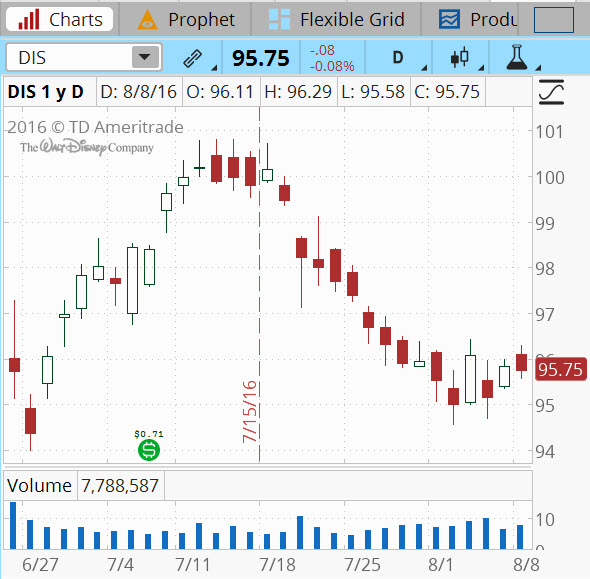 Figure 1: Pullback ahead of Earnings. DIS shares reached a relative high near $100 a month ago and have since pulled back and held in a tight range ahead of earnings. Data source: Standard & Poor's. Image source: the TD Ameritrade thinkorswim® platform. Not a recommendation. For illustrative purposes only. Past performance does not guarantee future results.
TD Ameritrade® commentary for educational purposes only. Member SIPC. Options involve risks and are not suitable for all investors. Please read Characteristics and Risks of Standardized Options.
Disclosure: I/we have no positions in any stocks mentioned, and no plans to initiate any positions within the next 72 hours.
I wrote this article myself, and it expresses my own opinions. I am not receiving compensation for it. I have no business relationship with any company whose stock is mentioned in this article.