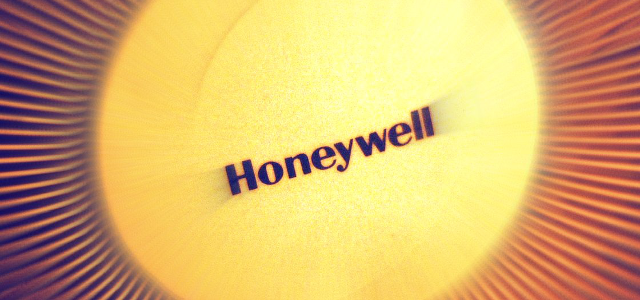 Honeywell (NYSE:HON) has always been one of my favorite industrial conglomerates out there. With impressive fundamentals and a nice, balanced mix of industrial sectors handled by them it is an attractive company: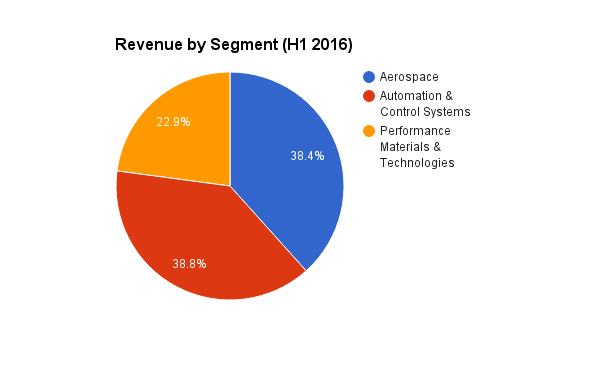 Yet its recent Q2 results were not entirely received favorably by investors. Consequently the share price took something of a hit on their announcement on 22 July: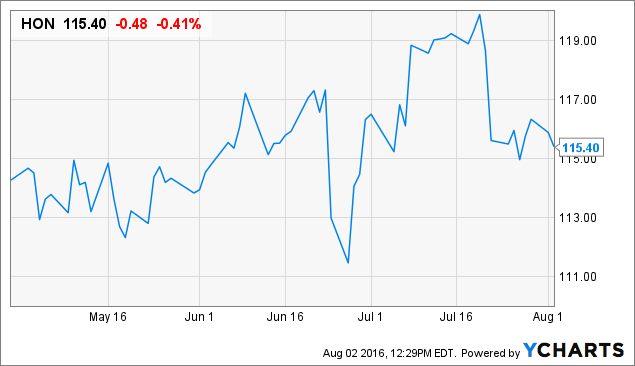 As we shall see, I can understand investor's frustration with the results. Yet here I explain why I think that Honeywell remains a compelling investment.
What's The problem?
On first glance it may not be transparently obvious why investors were not entirely delighted by the results. Indeed, the headline reported figures started off well. Honeywell, it seemed, saw further growth emerge: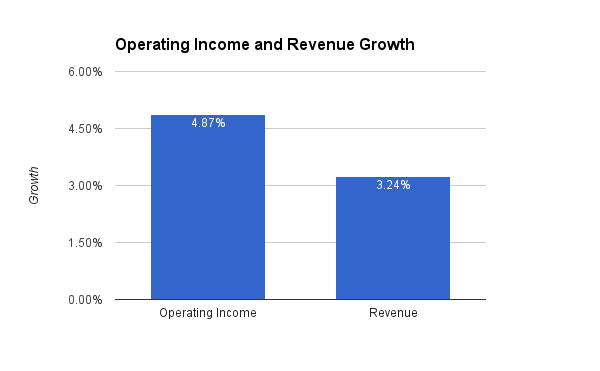 Sure, it is hardly world-beating levels of growth. Yet in the current volatile environment, the ability to pull out mid-single digit growth is an admirable (and valuable) trait. So where's the problem?
A large part of the problem emerges when we look at Honeywell's organic growth. Since Q4 2015 the company has seen its organic revenue struggle to post positive results with Q2 2016 seeing a particularly unpleasant looking 2% drop: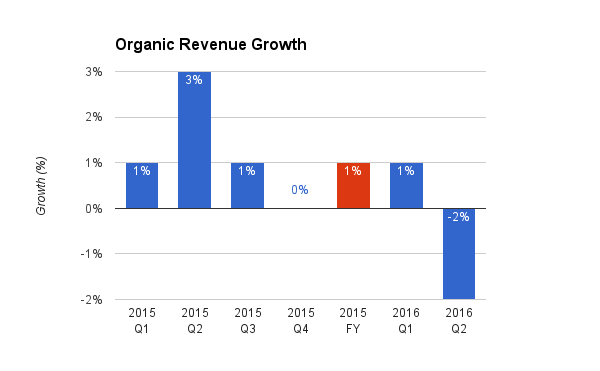 All the more galling is the fact that the struggling organic revenue performance in Q2 2016 was caused by across the board weak segmental organic performance: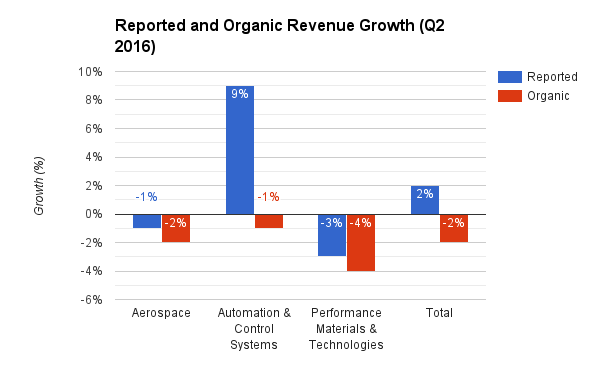 This contrasts to when I looked at their Q1 results in which organic revenue weakness was limited to the Performance Materials & Technologies segment.
Consequently, the company has felt the need to revise its organic revenue growth predictions for the full-year from between 1% and 2% to simply ~1%. They also issued a revenue warning on the reported front as well. Revising predictions from between $40 and $40.6 billion, chipping off $300 million from both the high and low end of these predictions.
All in all, this has meant that Honeywell's acquisitions have served and will continue to serve as important catalysts for growth at the company. Rather than supporting organic revenue growth, acquisitions therefore appear to be disguising organic revenue declines.
I can therefore understand investors' concern especially as Q2 2016's performance raises the potential for similar weakness in future quarters driving guidance lower. Yet for me, even if this was the case, this possibility hardly detracts from the long-term appeal of Honeywell. Let me explain why.
Cash Flow Remains Strong
Essentially Honeywell's growth has always been underpinned by its acquisition activities. For some companies this can be a serious concern especially if it is serviced not by internally generated cash but by external debt.
Here is where Honeywell continues to impress even in light of organic revenue struggles. Honeywell's always impressive cash flow generation continues to reveal its strength: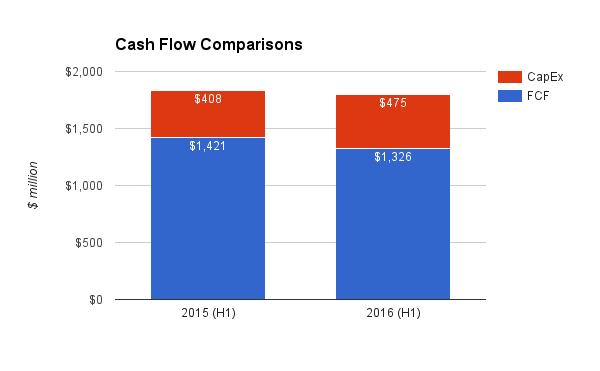 Certainly, looked at from the 6-month perspective above it is clear that operating cash flow and FCF was weaker in H1 2016 than in H1 2015. However, this disguises their actual Q2 2016 FCF performance which was much stronger:

Consequently, although their reported and organic revenue guidance had to be revised down, they stuck to their $4.6 to $4.8 billion FCF guidance. This, I think, is fair and is in line with my own estimations of Honeywell's FCF generation which would suggest a figure (admittedly) towards the lower end of their guidance.
My point is that Honeywell has the FCF firepower to continue to lean on acquisitions to drive their revenue growth over the short term. Certainly, this would not be a happy state of affairs should it continue indefinitely. Yet I have little doubt that Honeywell's record for well-chosen and well-executed smaller acquisitions will continue to serve them and their shareholders well over the long-term despite stuttering organic performance over the short-term.
Dividends Not Holding Back
What is more, shareholders do not look likely to be particularly disappointed in the shorter-term either. Honeywell has offered a pretty compelling shareholder return story over the last few years through a combination of dividends and share buybacks: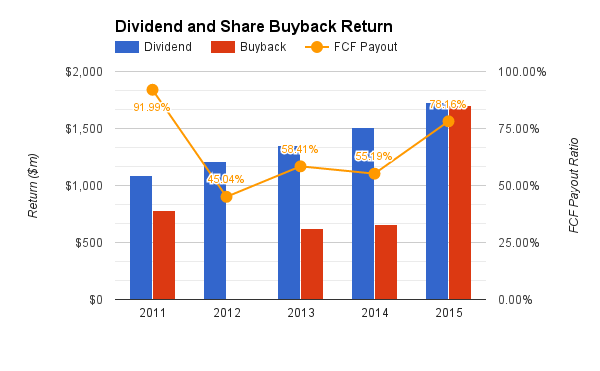 Yet, here is the thing, despite this generous policy they have not really overly stretched their FCF to date with their combined buybacks and dividends never eating up all their available FCF.
Honeywell can therefore continue on its acquisition path without compromising its balance sheets or its generous shareholder-returns policy which should also aid in generating robust EPS growth as well as providing healthy total shareholder returns to investors.
Certainly, you may be able to get a more generous dividend yield than Honeywell's ~1.85% in the conglomerate space. Yet it remains very well-covered by FCF with plenty of room for further growth: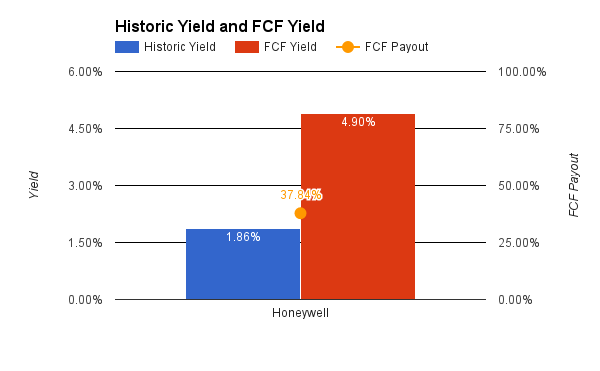 Indeed, with the current quarterly dividend running at $0.595 per share, the forward yield is sitting at around 2%.
Conclusion
Clearly it is far from ideal that Honeywell is having to lean so heavily on acquisitions to drive growth. With organic growth increasingly hard to come by as we have moved through the quarters so far in FY2016, it appears that acquisitions will become even more important.
Yet what is certainly true is that their cash flow continues to provide ample opportunity for this to continue. What is more, their excellent record for well-chosen and well-executed acquisition should steel investors even further.
The ride with Honeywell looks likely to be a little rougher in the near-future than it has been of late. Yet it remains a comparatively stable one. Sure, organic revenue is stalling. Sure, a new CEO (Darius Adamczyk) is on the horizon in March 2017 after over 14 years under David Cote.
Both matters may well unsettle investors for a little while yet. Certainly negative organic growth is unwelcome and Adamczyk's arrival after such a long-term incumbent despite him being an insider will cause some disruption and change. What I doubt is that it will materially affect Honeywell's cash flow strength or its ability to select and deliver intelligent acquisitions. Organic growth will return, in the meantime Honeywell has more than enough muscle to push reported growth higher and reward investors at the same time.
Notes
Unless otherwise stated, all graphs and the calculations contained within them were created by the author. Creative Commons image reproduced from Flickr user macbeck.
Disclosure: I/we have no positions in any stocks mentioned, and no plans to initiate any positions within the next 72 hours.
I wrote this article myself, and it expresses my own opinions. I am not receiving compensation for it (other than from Seeking Alpha). I have no business relationship with any company whose stock is mentioned in this article.