Fitbit (NYSE:FIT) is one of those stocks that look cheap - and is likely to stay that way.
After the maker of fitness activity trackers reported 46% revenue growth last week, its stock, which has mostly been in a funk since shortly after its IPO last year, went on a tear. The stock price jumped 17% in three sessions.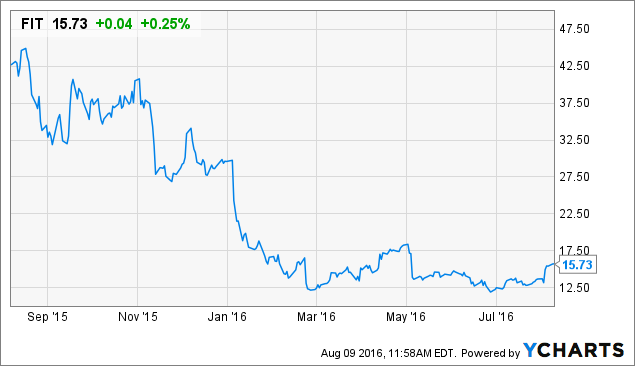 The midpoint of the company's full-year guidance calls for revenue of $2.5-2.6 billion (a 22% increase) and EPS of $1.12-1.24, a forward P/E of 13, cheap for a company with a forecast earnings growth rate of 23% and a PEG ratio of less than 1.
As Seeking Alpha authors have noted, Fitbit had a clean quarter and the stock appears to be a bargain after having had a poor performance in its first year despite reasonably good results.
Still, the market really doesn't like companies that make devices - they've been burned too many times before.
Palm, which made the first personal digital assistant, had one of the hottest IPOs in history, but lost almost all its value after it was overtaken by competitors and ultimately was bought out for pennies on the dollar by Hewlett-Packard (NYSE:HPQ).
BlackBerry (BBRY) had an email-optimized smart phone so addictive it was nicknamed CrackBerry, but its stock has gone down by more than 95% since 2007, the year the first iPhone was introduced.
More recently, action camera maker GoPro (NASDAQ:GPRO), with which Fitbit is often compared, has had a rough time of it, with analysts worrying about saturation of the market.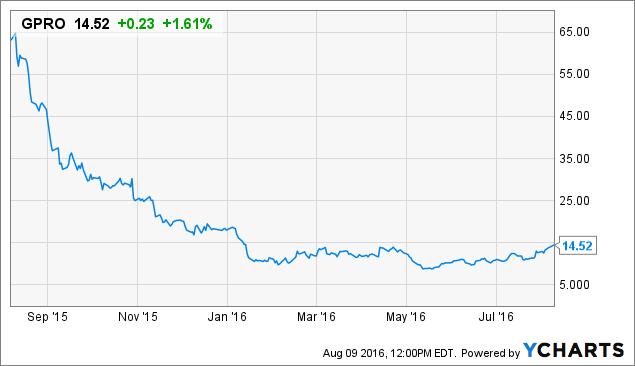 Now, monitoring fitness is something every adult with a desk job should do - a tracker is hardly a "fun" device like an adventure camera. Fitbit is the market leader and has a strong brand and community. Despite the presence of Apple (NASDAQ:AAPL) in the smart watch market (at higher prices), these are defensible advantages.

However, device makers are subject to sales and inventory risks that software companies largely don't face. For example, Fitbit's Asia-Pacific revenues were depressed last quarter because of the closure of the leading sporting goods retailer in Australia.
Another risk is hardware problems, which cause large warranty claims. This caused Fitbit to take a $50 million addition to warranty reserves last quarter (This wasn't surprising to me because Fitbit sent me a free Charge last year after the cheap wristband broke. I now have a Surge, with a much better clasp and band).
Given the risks, and generally lower margins, even the world's most successful device maker, Apple, sells for much lower price/earnings multiples than its market cap peers Amazon (NASDAQ:AMZN), Alphabet (NASDAQ:GOOG) (NASDAQ:GOOGL), Facebook (NASDAQ:FB), and Microsoft (NASDAQ:MSFT).
Ultimately, FIT is likely to be worth more to a possible acquirer, such as the big sports apparel companies Under Armour (NYSE:UA) and Nike (NYSE:NKE), which have made their own forays into the activity tracker business. UA has a forward P/E around 100, and Nike's is around 20, so there's room for a buyout that would raise the multiple accorded to FIT's earnings.
Longbow Research's Joe Wittine said, "[w]hile we see zero indication FIT is a company shopping itself, as FIT delivers on its 2016 product cycle we certainly can envision buyout speculation similar to yesterday's reports continuing to build, which could help to establish a valuation floor for the shares, returning FIT to at least a 1.0x PEG, or a mid/high teens P/E multiple at a minimum."
The takeover possibility has caught media attention. "I think more likely a takeout down the road than becoming a giant on their own," Metropolitan Capital Advisers CEO Karen Finerman said last week on CNBC's "Fast Money."
But there's a catch.
Fitbit has a two-class share structure, with Class B stock holding 10 times the voting rights of Class A, which is what is available to the public. As the company's 10-K filing notes, the structure gives insiders total control against a takeover.
"Because of the ten-to-one voting ratio between our Class B and Class A common stock, the holders of our Class B common stock collectively will control a majority of the combined voting power of our common stock and therefore are able to control all matters submitted to our stockholders for approval until the earlier of June 17, 2027 or the date the holders of a majority of our Class B common stock choose to convert their shares. This concentrated control will limit or preclude your ability to influence corporate matters for the foreseeable future, including the election of directors, amendments of our organizational documents, and any merger, consolidation, sale of all or substantially all of our assets, or other major corporate transaction requiring stockholder approval. In addition, this may prevent or discourage unsolicited acquisition proposals or offers for our capital stock that you may feel are in your best interest as one of our stockholders."
It's a telltale sign CEO James Park and his team and backers don't want to sell for some time yet.
However, in 2027, that all changes, since Class B stock automatically converts to Class A. Depending on ownership levels at that time, a takeover not authorized by management could become feasible.
A takeover isn't likely right away, but the obvious attraction of a market-leading brand for a big sports apparel company can give investors some confidence its share price isn't going to go into a long decline, unlike some of those other device makers.
Someday, Fitbit's stock won't be left to its own devices.
Disclosure: I am/we are long FIT.
I wrote this article myself, and it expresses my own opinions. I am not receiving compensation for it (other than from Seeking Alpha). I have no business relationship with any company whose stock is mentioned in this article.