The companies I bring to the readers' attention are Syntel Inc. (NASDAQ: SYNT), Tower Semiconductor Ltd (NASDAQ: TSEM), and Gentherm Incorporated (NASDAQ: THRM).
Syntel Inc.
Syntel is a provider of IT and Knowledge Process Outsourcing ("KPO") services. Headquartered in Troy, Michigan, the company has operations worldwide and employs almost 25.000 people to date. Syntel is a great growth story, revenues in the recent years have increased at an almost 10% pace, and the bigger sales translated into a similar growth in EPS as well. The source of company's growth has been totally organic, but the major 10 customers have systematically represented around 75% of SYNT revenues in the recent years. Although the company is not heavily dependent on a single customer for its survival, top 3 Syntel's customers (American Express, State Street Bank and Federal Express Corporation) represented on aggregate almost half of SYNT total revenues during the past 3 years. Management has only one way to address the issue: acquire new customers and enlarge the revenue base. This is definitely easier said than done, and in the meantime Syntel's growth has begun to stagnate.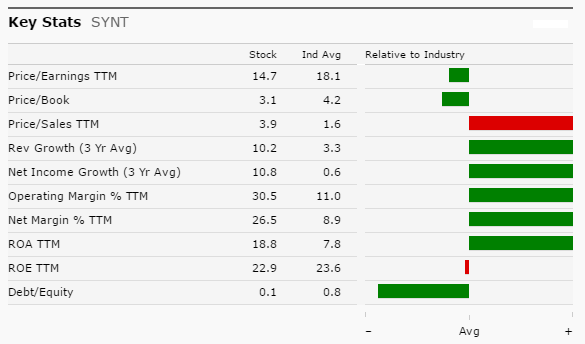 Source: Morningstar
Future growth is an open debate for Syntel and the whole industry. With a disappointing growth rate in the first half of 2016 and a second half definitely going to lie within the single digit range, management is being very cautious to give out predictions for 2017 as well. If I should pick a single takeaway from last earnings call, it would be that (management believes) market is tough. However, there is a lot to like in this company with regards to profitability and financial health. Syntel already good operating margin has been expanding over the last years; FCF/Sales has been consistently around 20%, both high when compared to peers and on absolute basis. Despite what SYNT management might say, all major players in the industry rake in huge FCF and maintain a good ROE, but Syntel has been able to do even better than average and keep a high return on equity with significantly less financial leverage than the competition.
Some more words should be actually said regarding management. Syntel has a significant insider ownership (over 30%) which actually has increased in recent years. The owner-founder still manages the company, and like major competitor Wipro (NYSE: WIT), Syntel has deep links with India: it has been founded and is operated by Indian managers and has extensive operations in the country. I have no doubts management is aligned with shareholders' interests, but some decisions might be regarded as questionable. Syntel, like larger competitors, used to pay dividends between 2003 and 2012, but then abruptly stopped. There was no switch in policy to buybacks, just a plain dividend cut to focus on growth which was not even well detailed to shareholders in the annual report. Dividends might be a debatable preference in fast-growing industries, but if growth starts to slow down, as the last quarters have shown, managers should understand that the best way to reward investors is to simply return the pile of cash they are sitting on in the hands of shareholders. I believe we are not there yet. There are still opportunities in the market that can be harvested, as the company is continuing to experience double digit growth rate in certain markets (Europe), but in the medium term the reintroduction of dividends is an option that should be definitely thrown on the table.
Regarding valuation, comparing Syntel's P/E with its main competitors, the company seems to be slightly undervalued. It is instead hard to perform a precise DCF valuation because as I said it is difficult to predict future growth rates and any supposition might turn out to be wrong. My target price for Syntel is $55, which leaves investors with a very thin MOS of less than 20% from current levels.
I still recommend to at least keep SYNT on a watchlist for a couple of reasons. First, from a pure financial standpoint, this is one of the most solid companies investors can come across in the industry today. It is very conservatively managed and I have no doubts this business can survive and probably thrive in the very long term. This is a stock that can be hold without fears for the next 10 years, but concerns here lie around what kind of return investors can expect from this management. The second reason is, with revenues of around 1 billion, Syntel has room to outpace easily competitors' growth. It is the smallest among the major players in the industry, yet it yields superior margins. The real game changer for Syntel can be the addition of a couple of new major customers. As I said in the beginning of the analysis, easier said than done, but if Syntel can do this, the company will easily return to high growth and consensus estimate beats for more quarters to come.
Tower Semiconductor Ltd
Tower has been the last add to my personal portfolio a few days ago. It was a good call as the company subsequently posted a very good Q2 and the stock moved up substantially. However, I did not exit my position collecting the quick profit and I would still recommend TSEM today. I think there is still much room for further upside from current levels as the MOS implied in my valuation was substantial.
The company history of growth is mainly explained through the aggressive acquisitive posture that brought several foundries under Tower management in recent years. In 2011, TSEM acquired Micron Technology's fabrication facility in Japan. Then, in 2014, the company closed the previously acquired plant and successfully established TowerJazz Panasonic Semiconductor Co., a JV with Panasonic in which Tower has however a majority stake(51%). Panasonic transferred its semiconductor manufacturing process and capacity to TPSCo, committing to acquire TPSCo products for a period of five years of volume production at least. Finally, last year a new deal was signed with Maxim Integrated Products (NASDAQ:MXIM) to acquire its fabrication facility in San Antonio for $40 million, with a similar commitment from Maxim to source components from the Texas foundry.
In order to move on the analysis to profitability and financial health, here are the ratios for the company: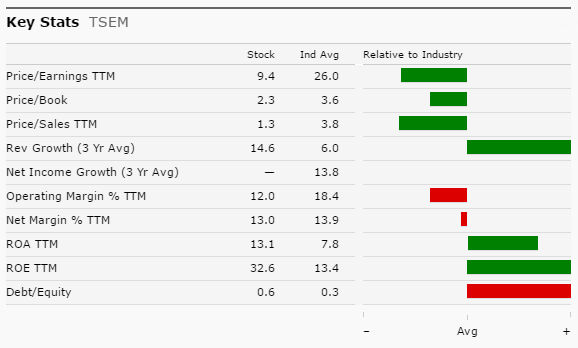 Source: Morningstar
The company's margins are not great, but this should be put in perspective. Operating and net margins have been constantly on the rise in recent years, as the company keeps filling up its production capacity and lowers its unit costs. ROA is already good, and although the company is a little leveraged because of the aggressive expansion, debt does not seem at worrying levels. The company has a strong cash position which not only reassures investors but should also helps the management to keep a good degree of flexibility in decision making. Although CAPEX in the semiconductor industry is high, the new investments have definitely played a role in lowering Tower's FCF levels in the recent years. Moreover, despite the company's acquisitive posture, Free Cash Flow is still on the rise at a strong pace.
The management's ability to keep filling up capacity and booking more production must be praised. The industry is competitive and already crowded, so the ability of Tower to expand while many competitors stagnate is not something to underestimate. The expanding margins moreover can act as a catalyst, they have in fact helped TSEM to beat Q2 consensus estimate on EPS by a wide margin. Surprise factor for EPS was 25%, while it was less than 2% for revenues despite the 30% Y/Y increase on sales. There are good chances to see similar beats in the coming quarters.
Another catalyst which has just materialized is the dismissal of a securities class action which was looming on the stock: institutional investors who are required to dump stocks with pending trials might now be interested to grab some TSEM shares and prop up the price. My opinion here is that the management has definitely been doing some right things and got the business on the right track, therefore Tower is in a strong momentum. My target price within 12 months is in the $20-$25 range, depending on how the story continues to play out.
I do not have a bear thesis for this stock, but I can see a few points of concerns that may have been dragging down the price in the recent past. My bullish outlook is partly based on the fact that I can see most of these concerns already fell off or falling throughout the current year. One of these issues is the just above-cited class action, which went bust as groundless. Another concern is related to the very low levels of free cash flow compared to the operating cash flow. The semiconductor industry requires continuous investments just to stay in the game, so a lot of Tower cash has been tied up to CAPEX. While heavy cash burning is rarely a good thing, the company has clearly invested in expansion rather than replacements. It has done this also through questionable strategic decisions: as cited before, it decided to close a foundry that was acquired just three years before. However, it is undeniable that figures are keep showing progresses. And by figures I mean cash, no engineered growth or books cooking. As long as the business is finding profitable ways to use shareholders' capital, I am glad as an investor to temporarily give up short term (and short sighted) returns. Finally, the company was also quite opaque in its reporting, but this has recently changed as well, providing investors with a clearer view of the company's margins. Given all these reasons, I expect the increasing interest on this stock to continue.
Gentherm Incorporated
Despite the Techno music that will make anyone who dares to play the video on their website homepage freak out (readers advised), Gentherm is an interesting company operating in the automotive industry. Although the firm has been actively trying to diversify into a variety of industrial applications, the most important chunk of Gentherm revenues is generated by seat comfort systems (Climate Control Seats, "CCS"). Sales of CCS and heated seats in general has contributed to 47% of the company revenue mix in 2015, up from 40% in 2013 and 45% in 2014. In recent years, the firm has been able to grow at a fast clip both through organic expansion and acquisitions, but considering the above numbers it is safe to assume that the bulk of this growth is related to a strong demand for CCS products. Although the company already occupies a position of market leader, I believe there is significant room for further growth as it is estimated that heated-cooled seats currently account for only 7% of the total market for auto seats. Even adding up the broader category of heated seats to CCS, the combined size does not make up for one third of the total market. The best empirical evidence I have for my belief of a friendly future trend for this company is my new Hyundai, which is far from being a high-end vehicle but still sports CCS-type seats.
This trend might come in handy to a cyclical company like Gentherm in the odds of a recession: even in the event of slower car sales, still a higher percentage of vehicles will be equipped with CCS seats. Anyhow, THRM also boosts a robust financial position (with debt almost equal to cash) and above average profitability levels, thus it should not have too many troubles surviving the next big crisis in any case. Here is a summary on how THRM compares to industry peers in the auto parts industry: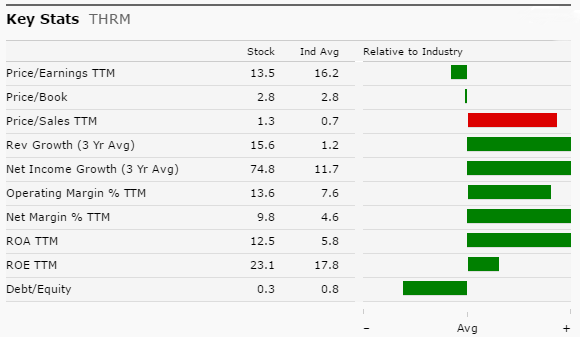 Source: Morningstar
With regards to profitability and competitive advantage, it is reasonable to believe the company is well positioned. By combining net margins that are already superior to the industry average with a high efficiency in managing the business assets, Gentherm is able to achieve a top notch ROE for a manufacturer while maintaining a very conservative financial leverage. The superior profitability is well protected from the competition, as the company maintains an interesting portfolio of patents which may require new companies to make substantial efforts to circumvent. Moreover, supply contracts usually spawn at least one year, enabling the company to maintain a decent lock out effect. The major competitor of THRM for heated seats was W.E.T. Automotive Systems, a company that ended up being acquired by Gentherm in 2011.
Since a bear case for the stock has already appeared on SA a few months ago, I definitely encourage potential investors to read it in order to know what can possibly go wrong with THRM. For sure I can agree on at least one thing: the company's future largely depends on how the automotive business will continue to roll out. However, I reject most of the contents and would choose to side with another SA contributor who already provided a more bullish outlook on the stock. Although I support this view regarding the business' analysis, I would be more cautious on the valuation side. While the bear side elaborates DCF models with results in the $20-$30 range, the bullish view points at a target of $55.
I am taking a middle stance in my scenario, pointing at a target price in the $40-$45 range even without particular upside catalysts having to play out. A price close to $50 is definitely something that might be probably seen again only in the longer term. Still, even at $41 it would be a nice 30% run from the current levels. In fact, the bear scenario of the referenced article has indeed already played out very well in the short term and the company is now trading very close to the indicated $30 target. While conservative investors might want to wait and see if they can grab this in the $25-$30 range, which would make THRM a steal, I think it is possible to start building a position even from current levels. The recent price drop might be nothing but a good news for latecomers like myself: as the sentiment towards Gentherm has cooled down, Mr. Market is providing a new inviting entry point for the stock. Given the company' strong fundamentals, you can fasten your seat belts: it should be just a matter of time before Gentherm heats up again.
Disclosure: I am/we are long TSEM.
I wrote this article myself, and it expresses my own opinions. I am not receiving compensation for it (other than from Seeking Alpha). I have no business relationship with any company whose stock is mentioned in this article.