By Michael Kramer
Update
Last night, ACADIA Pharmaceuticals (NASDAQ:ACAD) announced a $200 million secondary offering. On January 6, 2016, the company priced 10.3 million shares at $29, raising about $300 million. ACAD had about $412 million in cash as of June 30, 2016. After this capital raise is complete, it should have approximately $600 million.
Baker Bros.
According to the filing, "entities affiliated with Baker Bros. Advisors LP and two of our directors, Julian C. Baker and Dr. Stephen R. Biggar, have indicated an interest in purchasing an aggregate of up to approximately $40,000,000 of the shares of common stock offered in this offering at the price offered to the public." This means that Baker Bros. is looking to take about 20% of the deal and add to its already significant position. As of its last 13D/A, Baker Bros. owned 24.566 million shares or 21.8% of the company. At the price quoted in the prospectus of $36.49, which was Friday's closing price, Baker Bros. would be adding approximately another 1.1 million shares, bringing its total shares to about 25.6 million or 21.5% of the new 119.16 million shares outstanding. ACADIA is currently Baker's fifth largest holding.
Burn Rate
The company reported a net loss of over $70 million for 2Q'16. This was an increase of about $20 million from 1Q'16. The burn rate has increased over the past several quarters in anticipation of Nuplazid (pimavanserin) getting approval and ACADIA launching the drug. Going through 10-Qs on the sec.gov website, I put together this chart: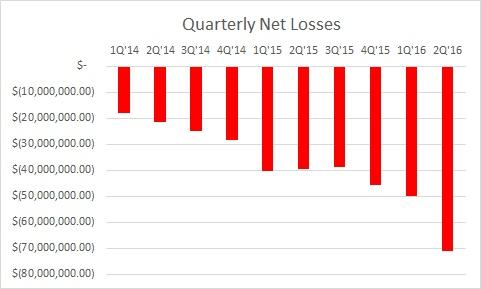 The burn rate through the first half of 2016 is almost equal to that of all of 2015. The below chart is the annual comparison complied from its latest 10-K: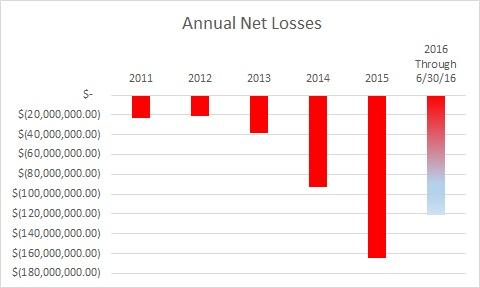 Clearly, launching Nuplazid solo has not come cheap and is not likely to get any cheaper. At the current burn of $70 million per quarter, ACAD has enough cash to last until about 3Q'17. Unfortunately, with limited visibility into the launch outside of the deferred revenue we spoke about yesterday, it is tough to predict when Nuplazid will become free cash flow positive.
New Trials
Management has repeatedly talked about the pimavanserin life cycle and developing the drug in additional indications.
The Alzheimer's agitation trial is likely to start in the second half of 2016. Phase II top-line Alzheimer's disease psychosis (ADP) results are due in 4Q'16. Whether the ADP trial is positive or negative, it is likely we will see either a Phase III trial or a redesigned Phase II trial. Remember, the current management team did not design the current ADP trial. It was created by the previous management and different chief medical officers.
We have also mentioned in past articles our belief that we may see additional trials targeting the negative symptoms of schizophrenia and as adjunctive therapies to major depressive disorder. We have based these thoughts on current job postings on the company's website. These areas would require large enrollment groups and multiple trials.
Timing Of The Raise
The timing of the raise does not seem all that surprising given the range the stock has traded in this year. With a low near $18 back in February, the stock is well off those lows. Looking at the chart, the stock's current price is roughly the middle ground over the past year.

It is also likely coming at a higher price than the $29 in January, which means fewer shares will have to be issued. The overall mood of the market is much more favorable to equity raises now versus that in January.
Conclusion
The timing of the raise seems appropriate, and the company has ambitious goals for pimavanserin and its further development. It appears that this is an ideal time for management to make such a move given the improved mood of the market.
I am, and the clients of Mott Capital Management, LLC, are long shares of ACAD.
Disclosure: I am/we are long ACAD.
I wrote this article myself, and it expresses my own opinions. I am not receiving compensation for it (other than from Seeking Alpha). I have no business relationship with any company whose stock is mentioned in this article.
Additional disclosure: Mott Capital Management, LLC is a registered investment adviser. Information presented is for educational purposes only and does not intend to make an offer or solicitation for the sale or purchase of any specific securities, investments, or investment strategies. Investments involve risk and unless otherwise stated, are not guaranteed. Be sure to first consult with a qualified financial adviser and/or tax professional before implementing any strategy discussed herein. Upon request the advisor will provide a list of all recommendation made during the past twelve months. Past performance is not indicative of future performance