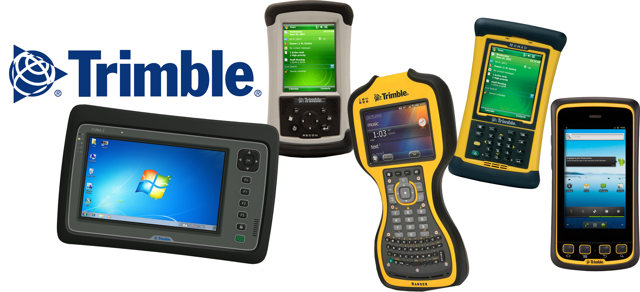 Trimble Navigation (NASDAQ:TRMB) has three initiatives identified for improvement in 2016. From a business perspective, the three targets are banally basic -- grow revenue, reduce costs, improve gross margin. When Trimble reported second quarter results on August 2nd, the positioning, connecting, modeling and analysis solutions provider had outperformed on but one of the three measures compared to the same quarter in the prior year.
Revenue for the quarter totaled $609.6 million, improving 4% over 2015. As revenue increases, the cost of goods sold naturally increases. Therefore, the gross margin measure reflects true improvement. Gross margin for the second quarter declined 10 basis points year-over-year to 51.8%. Trimble reports revenue in three lines -- product, service and subscription. In just one of the three lines, gross margin increased year-over-year.
Revenue

Q2 2016

COGS

Q2 2016

Gross Margin

Q2 2016

Revenue

Q2 2015

COGS

Q2 2015

Gross Margin

Q2 2015

Product

$407M

$199.4M

51.01%

$394.6M

$190.8M

51.65%

Service

$109.7M

$44M

59.89%

$105.7M

$42.2M

60.08%

Subscription

$92.9M

$26.6M

71.37%

$85.5M

$25.9M

69.71%

Total

$609.6M

$294M

51.80%

$585.8M

$281.9M

51.90%
Source: Author-created from company data
As shown, gross margins for both service and subscription yield more gross profit. Trimble's software offerings play a key role in service and subscription revenue. Its software can be sold as a perpetual license with maintenance support and installed on the customer's premise. Alternatively, Trimble offers hosted software or SaaS (software as a service).
The service and subscription lines generate recurring revenue for Trimble. Recurring revenue includes subscription, maintenance and support revenue. Increasing recurring revenue is a key evolutionary step in Trimble's transformation from a "box product" manufacturer to a solutions provider. Trimble solutions marry hardware, sensors, software, connectivity and data.
Recurring revenue equates to visibility and predictability of future revenue streams. In the 2016 second quarter, recurring revenue represented 27% of the total for the trailing twelve months. This percentage did not represent improvement compared to the 2016 first quarter results. However, as the total revenue for the trailing twelve months increases, the total recurring revenue does as well regardless of the lack of improvement in the ratio. Therefore, sequentially, recurring revenue has improved from approximately $595 million at year-end 2015 to approximately $618 million for the 2016 first quarter to almost $625 million for the 2016 second quarter. By the end of the year, recurring revenue should increase at a double-digit clip compared to year-end 2015.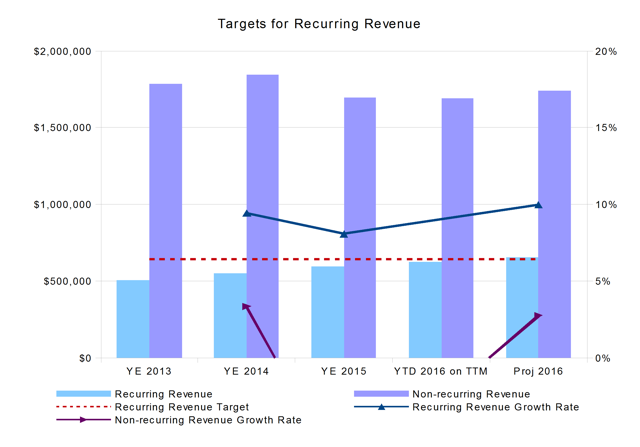 Source: Author-created from company data and author analysis
There is a theoretical downside to a recurring revenue model. With an upfront payment, Trimble recognizes the revenue over the contracted time rather than all at once. The unrecognized revenue is recorded in deferred revenue. In the 2016 second quarter, deferred revenue totaled $315.2 million.
Although Trimble's results in the second quarter may appear questionable relative to its focus, it is pertinent to recall the company targeted the second half of 2016 for marked improvement. In the first quarter earnings call, the company was adamant.
"So, yes, without a doubt, without any ambiguity whatsoever, management believes the second half of the year will be stronger than the first half."
Their insistence did not waiver.
"The second quarter was consistent with our expectations and supports the narrative for continued improvement in the second half of the year and into 2017...... our scenario for the second half of the year remains centered on a step up in revenue growth and margin expansion."
On the revenue front, Trimble expects second half improvement in all operating segments. The Mobile Solutions segment logged a record level of backlog.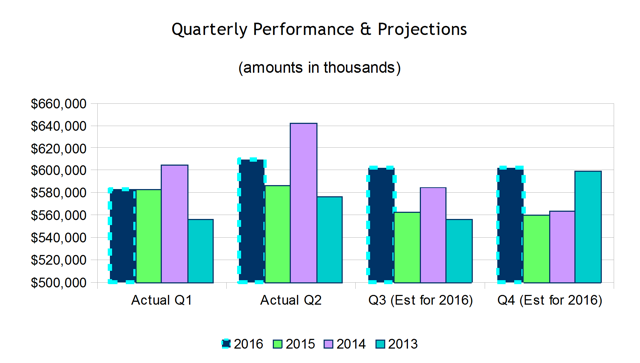 Source: Author-created from company data and author analysis
Revenue growth is but one step to overall improvement. Gross margin improvement is also in sight.
"We expect to see gross margins up sequentially in the third quarter and at a year-end high in the fourth quarter."

"Higher-margin subscription revenues will begin to have a positive impact leading to the expectation for operating margins to progressively improve in the segment (Mobile Solutions) with particular strength in the fourth quarter. Furthermore, in the fourth quarter, we have line of sight to upside from recent acquisitions where we can release high-margin revenue on previously deferred contracts."
Increased revenue and improving gross margins will deliver a higher gross profit. In 2015, Trimble's restructuring efforts delivered a $30 million annual decrease in operating expenses. Divestitures of weaker business lines in 2016 should drive the annual savings to $40 million in time. Trimble projects its operating margin could reach 19% by year-end compared to the 16.2% in the second quarter.
Further impacting the bottom line is the share repurchase activity. In the second quarter, Trimble repurchased $80 million of its outstanding shares. Year-to-date, the total is $92 million. The company still has $158 million available on its current authorization.
Trimble's share price has improved nearly 30% year-to-date. After the company's optimistic second quarter results, the share price climbed to a new 52-week high of $28.00 on August 8th. Using analysts' average EPS estimate for 2017 of $1.40, the forward year multiple equates to 20. Interested investors will want to take advantage of overall market pullbacks for an entry point.
Disclosure: I/we have no positions in any stocks mentioned, and no plans to initiate any positions within the next 72 hours.
I wrote this article myself, and it expresses my own opinions. I am not receiving compensation for it (other than from Seeking Alpha). I have no business relationship with any company whose stock is mentioned in this article.