Management of lung cancer is quite complex, since it can come in so many varieties. One of the most common forms of lung cancer harbors a mutation in the EGFR gene. This is its own large market, currently dominated in the first line by Roche's (OTCQX:RHHBY) Tarceva. AstraZeneca (NYSE:AZN) hoped to be able to capitalize on a common cause of resistance to Tarceva and other anti-EGFR drugs: KRAS mutation.
In essence, KRAS mutation allows the tumor to short circuit regulators of growth signaling, turning them on in a way that cannot be blocked by most drugs currently in use as targeted therapy. The most promising option in this case is a drug that blocks a target downstream of RAS, such as the protein MEK. Here is a simple schema of signaling that KRAS participates in: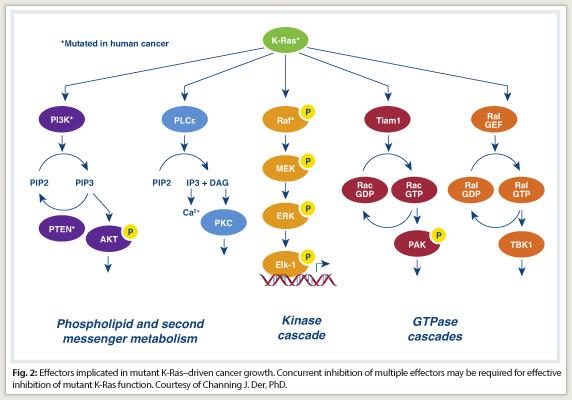 Source: ASCO Post
Note how MEK occupies a space below KRAS, which ultimately culminates in activation of DNA transcription and cell growth. Agents like selumetinib are designed to block MEK and destroy cancer cells at a major hub of their signaling.
The only findings we've seen so far from clinical trials of selumetinib in lung cancer were early stage tolerability investigations, which showed that the drug was not severely limited by toxicity. A press release from AZN in 2013 indicated that selumetinib plus chemo could induce favorable response rates, which supported the initiation of a pivotal study.
The News
AZN announced on August 9 that the Phase 3 SELECT-1 trial, which randomized patients with relapsed lung cancer to receive selumetinib+docetaxel or docetaxel alone, failed to reach its primary endpoint of progression-free survival, nor did it improve overall survival.
The press release indicates that AZN does not intend to develop selumetinib further in lung cancer, though it is worth noting that other trials were ongoing investigating various combinations with other agents like afatinib. It is not known at this time whether these studies will be suspended.
What Now?
Despite this setback, AZN remains a player in the lung space. Its immune checkpoint inhibitor durvalumab has shown improvements in outcome for patients with ALK-negative/EGFR-negative lung cancer, and with the recent failure of Opdivo in first-line therapy, many investors smell blood in the water of immunotherapy.
AZN also has the most successful T790M-EGFR inhibitor in the field: osimertinib. This agent has been approved both in the US and EU, whereas similar agents like rociletinib (Clovis Oncology) had development terminated due to adverse events. This could lead AZN to capitalize on the EGFR-mutant-positive lung cancer market anyway, and this remains a significant need for patients. AZN believes the market for osimertinib could reach $3 billion in the coming years, and at this time, it is looking like the only competitor for the next year, at least. Only BI's olmutinib comes close.
As it stands, the failure of selumetinib is an unfortunate turn of events for a beleaguered field of lung cancer management. This will need to be studied further to see what went wrong. However, AZN can still capitalize on lung cancer therapy with osimertinib, and it might also be able to capture some of the immune checkpoint inhibitor space, which currently nets competitor Bristol-Myers Squibb (NYSE:BMY) nearly $1 billion in annual revenue.
Thank you for taking the time to read this article. If you'd like to discuss further why selumetinib looked promising, I'd be happy to engage in the comments section! If you'd like to read more of my analysis of scientific findings from biotech oncology companies, please consider following me to get real-time updates.
Disclosure: I/we have no positions in any stocks mentioned, and no plans to initiate any positions within the next 72 hours.
I wrote this article myself, and it expresses my own opinions. I am not receiving compensation for it (other than from Seeking Alpha). I have no business relationship with any company whose stock is mentioned in this article.