Hennessy Advisors, Inc. (NASDAQ: HNNA) is an asset management firm located in Novato, California that manages a family of open-end mutual funds. As of June 30, 2016, HNNA's assets under management (AUM) stood at $6.3B. The vast majority of Hennessy's revenue is generated via "advisory fees," ranging from 40 to 90 basis points, collected on these assets under management. Over the past 5 years, HNNA has experienced exceptional growth in AUM, both organically and though shrewd acquisitions. The corresponding increase in earnings has propelled the stock up over 1000% since 2011. Despite this rapid growth, the firm still trades at a meaningful discount to its peers with a TTM P/E of 13.4.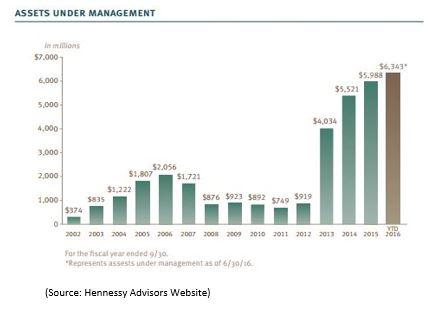 Possibly due to its market cap of under $200M and the sheer speed of its earnings' ascent, the market has yet to truly reflect the upside potential for this company with high top line growth and low variable costs.
AUM growth has been the result of a number of factors, the most important of which is the strong performance of the Hennessy Focus Fund, which stood approximately $2.3B AUM as of the end of Q3. This increase is the product of the fund's outperformance of its benchmark over every single time span from 3 months to 15 years. Over the past fifteen years, the fund has produced returns at 12.2% CAGR compared to 6.14% for its category (mid-cap growth) and 5.75% for the S&P 500. These returns have earned Hennessy Focus Fund a spot in the top 1% of all funds in its category for this period, and a "five star" rating from Morningstar.
Also contributing to HNNA's explosive growth has been the strategic use of acquisitions to add to its assets under management. HNNA has acquired more than fifteen competing funds over its history, most notable of which was Virginia-based FBR Funds in 2012. This acquisition is responsible for HNNA's second largest fund, Hennessy Gas Utility Fund, with $1.42B AUM as of the end of Q3.
Strong Earnings & Potential for Immediate Growth
On August 3, HNNA reported diluted normalized EPS of $0.76, up from $0.64 in Q2. This strong figure combined with several details put forth in the 10-Q suggest that Hennessy may be extremely undervalued at this juncture:
Net inflows were $97M for Hennessy Focus Fund and $19M for its third largest fund, Hennessy Cornerstone Mid Cap 30 Fund, despite mediocre short term performance for the former and very weak short term performance for the latter. This brings net inflows in the last three quarters to $355M for Focus Fund and $155M for Mid Cap 30 Fund. The continued growth of AUM for these Funds during a period of rough performance is a testament to the marketing capabilities of HNNA. All this suggests that HNNA's recent AUM growth is more than just investors chasing returns, and is in fact sustainable in the long run.
Net outflows for Hennessy Gas Utility Fund decelerated to $29M in Q3. Recent volatility in the energy sector has led to outflows of $270M from this fund in the past nine months. The relatively low outflows in Q3 suggest that the bleeding has stopped and that outflows from the Gas Utility Fund will no longer hamper the firm's efforts to grow total AUM.
Operating expenses excluding depreciation, amortization, and sub-advisory fees totaled $4.55M for Q3, down from $4.6M in Q2. This figure is 35% of revenue, as opposed to 36% of a smaller revenue figure for Q3 2015. This inflection point in overhead costs as revenue increases indicates that HNNA is tapping into the returns to scale inherent in the asset management industry.
This earnings figure does not yet reflect HNNA's latest M&A move. On May 2, HNNA announced plans to acquire Westport, CT based advisor Westport Funds, LLC for $11.2M in cash. At the time of the announcement, Westport managed approximately $640M in assets, which added to HNNA's present AUM would take the firm over the $7B mark in assets under management. The deal, set to complete in Q4, will considerably boost Hennessy's total advisory fees for an extremely attractive price. On top of this, the acquired assets should fit smoothly into HNNA's existing operating structure without incurring many additional costs. As part of the deal, Westport Funds investors will be transitioned into the Hennessy Cornerstone Midcap 30 Fund, which has one of the highest net advisory fees of any Hennessy fund (74 basis points). The Mid Cap 30 Fund's fees are still smaller than those currently charged by Westport. This along with the similarity of investing styles between Westport and HNNA managers are reasons for optimism that HNNA can successfully transition these assets.
Q3's strong earnings came despite lower stock market prices during the period. Market appreciation is heavily margin-accretive for asset managers, as it raises advisory fees without incurring any additional costs for the firm. As of closing 8/6/2016, the S&P is up 5.89% compared to its average level during HNNA's Q3. This will further boost Q4 earnings.
HNNA is Heavily Undervalued
As of closing 8/6/2016, HNNA is trading at a TTM P/E of 13.4. This is a heavy discount to the average of 18.6x earnings for its peer group (small publicly-traded asset managers). HNNA is also cheaper on an EV/EBITDA basis (8.5x vs. 9.2x for peers). This comes despite extremely high growth in recent years, its higher than average net margins, and its management's demonstrated commitment in increasing shareholder value via acquisitions such as Westport Advisors and its $20M 2015 self-tender offer which heavily decreased the firm's shares outstanding. One potential culprit for HNNA's smaller multiple is the fact that it deals exclusively in open-end mutual funds, which are battling aggregate outflows in recent years. However, such broad trends have not hampered HNNA's growth. Instead, they have created an enormous opportunity: a stock with excellent earnings growth trading at an extremely attractive multiple.
Due to HNNA's small size and lack of coverage, its price does not yet reflect its outstanding Q3 earnings figures, now trading at only 11.84x Q3 earnings. With considerable market appreciation so far in Q4 and the impending annexation of the Westport Funds, HNNA projects to have a monster fourth quarter. Conservatively assuming 3% benefit to average daily AUM from market appreciation and the successful transition of two-thirds of Westport's AUM as of May 2 to HNNA control, earnings could see a $0.13 bump before accounting for the effect of net inflows. Under these assumptions and not even incorporating potential organic AUM growth, HNNA is now trading at 10.1x forward earnings.
Over the past five years, HNNA's mean TTM P/E has been 16.0x compared with 17.3x for its peers. Even if the firm were to trade at 13.4x earnings (its current TTM P/E), it would be worth $47.70 per share using projected Q4 earnings. Based upon its historical valuation relative to peers and the market, balance sheet, and growth prospects, we believe a more realistic valuation for HNNA is 14.5x projected Q4 diluted EPS. This yields a target price of $51.62. At its August 6 closing price of $36.00, this would mean HNNA is trading at 30.4% discount.
Not only does HNNA have 30% upside, but also it should see strong appreciation in the next three months as the market realizes how cheaply the stock is trading considering the inevitable bump in earnings it will soon receive. It is unlikely that the opportunity to buy HNNA at current levels will be around as Q4 earnings get close.
Disclosure: I am/we are long HNNA.
I wrote this article myself, and it expresses my own opinions. I am not receiving compensation for it (other than from Seeking Alpha). I have no business relationship with any company whose stock is mentioned in this article.